Irish MODG Graduate Fighting Impeachment for Pro-Life Stance
Irish MODG Graduate Katie Ascough is fighting to stay on as president of the Students' Union at University College Dublin. Her sister, VOX Photography Editor Hope Ascough, reports from Ireland.
An Impeachment Referendum is underway to recall MODG graduate, Katie Ascough, as president of the Students' Union at University College Dublin.
Katie, who graduated MODG in 2014, studied medicinal chemistry in University College Dublin (UCD) until March 2017, when she was elected as Students' Union president of UCD. The SU presidency is a full-time, paying job,  so Katie is taking a leave from studies, while she works for UCD.  She has been making some great additions to UCD and enthusiastically reaches out to all 30,000 students.  However, the referendum for her impeachment has begun.
This came about when Katie removed abortion pricing from the UCD student handbook.  She did this, she said, because such information is illegal in Ireland, because abortion itself and specific details, such as pricing, are currently illegal in Ireland.
In order for there to be a referendum for Katie's impeachment, protesters must collect at least 835 signatures from UCD students.  Protesters claimed they had over 1,000 signatures in one day.  This made news throughout Ireland.  However, it turned out that protesters in fact had zero signatures.  They did not collect the needed information and had to start again.
Katie was officially called on the phone near the beginning of October and was told to begin her campaign to remain as president because a referendum of her impeachment had just begun.
Right now there is a referendum in UCD to impeach Katie on the grounds of her pro-life stance.  Some claim that because she is pro-life, she should not be representing a college that is largely pro-choice.  However, Katie's pro-life stance was very well known by everyone in UCD, before they elected her as their president.
"Everybody has the right to run for the student president of their own college's students' union.  While I have pro-life views, I understand democracy and all students on this issue.  Therefore, I'll be delegating the pro-choice campaigning to my deputy president as required," Katie said.
She hopes that she can continue serving the college in such a way.
Many students of UCD, both pro-life and pro-choice, support Katie.  However, many in the SU are opposing Katie.
For example, just a week ago, someone posted a threat against Katie on Facebook which read: "When I go into UCD tomorrow, I'm going to hit Katie in the back of the head."  A friend of Katie's reported this to the guards along with other threats.
About the Writer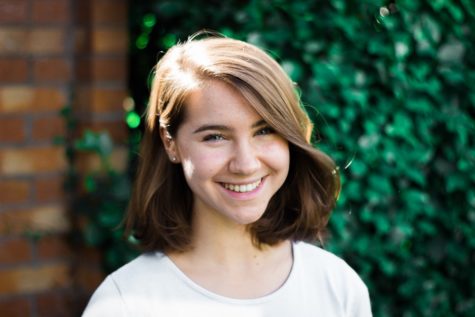 Hope Ascough, The Viewpoint Editor
Senior at Mother of Divine Grace.