Ten Questions with Sophia Estabrooks
Hang on for a minute...we're trying to find some more stories you might like.
VOX reporter Paul Milliken interviewed Sophia Estabrooks, an 11th grade MODG student from Texas, about ballet.
How long have you been doing ballet?
I have been taking ballet since I was 5 years old, so 12 years. However, I started becoming more serious about it when I joined my studio's competitive team at age 7. I have been on pointe for 6 years. 
What first made you want to get involved?
 My mom signed me up for my first lessons, but what has kept me going throughout the years is the beauty of this art. I remember watching the "big girls" when I was little and thinking, "I want to look like that". Watching the "greats" and current professionals perform (such as Rudolph Nuryev, Mikhail Baryshnikov, Gillian Murphy, Natalya Osipova, and Maya Plisetskaya) as well as guest artists and master class teachers has only fueled my enthusiasm. It is also fun to get dressed up in beautiful costumes. 
What are some difficult things about it?
Probably the most difficult thing for me about ballet is the physical aspect. It is very difficult because you have to think about many things at once — placement of the arms, holding turnout, posture, pointing your feet, straightening your knees, and the position of your head — and remember the combination (which is the particular sequence of steps done either at the barre, center floor, or moving from one side of the room to the other). You also have to be very strong but yet flexible at the same time. An exercise that is particularly difficult for me is "adagio". This is an exercise in which you hold positions for a longer amount of time and dance to slow music. Adagio is challenging because it requires great strength to hold your leg up very high and balance on one leg. 
Perfectionism is also a daily challenge. Dancers can easily fall into the trap of comparing themselves to others and striving to be better than the other dancers. Once caught in this mindset, it is very difficult to escape. It is quite easy to focus on improving oneself in order to be number one instead of improving to give greater enjoyment to the audience. To combat this, I remember that the opportunity for me to dance is a gift from God that could be taken away at any instant — through injury or another means. I also reflect on a quote from Baryshnikov: "I do not try to dance better than anyone else. I only try to dance better than myself." If I am concerned with being better than others, I can't enjoy the time I spend practicing this art. My goal is to strive for perfection so that a piece is beautiful and reminds the audience of the Eternal Artist. 
What is a typical practice schedule?
Practice schedules vary from studio to studio, but most pre-professional students practice 4 to 5 days a week or about 10 hours a week. Personally, my practice schedule varies from year to year. This year, I take a daytime program on Mondays for 3 hours, technique classes on Tuesdays and Thursdays for an hour and a half each, and company class
on Saturday
mornings for 2 hours. I am also a teacher's assistant at my studio, which adds an extra 2 hours on Tuesday evenings. Rehearsal times for performances vary, some are on the weekends, others during the day when schools are out. They can also be quite long! Sometimes, in preparation for big shows, we rehearse for 3 or 4 hours. Because the extra rehearsal schedule is always changing, flexibility with other commitments is a must!
Have you ever been injured while doing ballet?
I have been lucky and have never been injured while dancing (other than minor overuse injuries such as soreness, blisters, and the like). However, ballet is very demanding physically, so students must learn to take extra special care of their bodies both before and after dancing.
Have you ever won any dancing awards?
I have won several awards for ballet. Every year, the student company at my ballet school performs and competes at the "Classical Ballet Festival". This is a three day event in memory of the Russian ballerina Nathalie Krassovska, a member of the Ballet Russe de Monte Carlo who moved to Dallas, Texas. Her former students (including my teacher) bring their students together for master classes, a variation competition, and a performance. Every year, awards are given to the students who place 1st, 2nd, or 3rd in their age division of the competition. There are also other awards given to students and teachers. I have been able to participate for the past 5 years. At CBF, I have received 2nd Place Junior age division for my performance of Kitri Variation from Don Quixote, 1st Place Junior age division for my performance of Russian Classical Variation from Swan Lake, 2nd Place Senior age division for Esmerelda Variation from La Esmerelda, and 3rd Place Senior age division for Gamzatti Variation from La Bayadere.  I also received the Golden Heart Award, which is given to a ballet student who brings dance to the community, and the Natalie Skelton Award of Promise, which is given to an aspiring pre-professional ballet student.
Are you interested in any other kinds of dancing?
In the past I took jazz, modern, and contemporary classes, but I am no longer interested in those styles. I prefer the structure of classical ballet to the almost "relative" structure of modern and contemporary. I would like to explore more the "character" style of dance. Character encompasses the ethnic dances (czardas, mazurka, polonaise, Spanish dances, Russian dances, and Italian dances, among others) that are featured in traditional ballets. These are often performed during ball or outdoor gathering scenes. I have only taken a few classes, but it is quite fun!
Do you intend to continue dancing long term?
I would love to dance after high school, either professionally or in college. I am still investigating the steps to becoming part of a professional company. If I choose to attend college, I hope to pursue a Bachelor of Fine Arts in ballet. Many schools that offer BFAs in ballet are often large public universities. My dream would be a Newman Guide school that offers a classical ballet degree so that I could pursue ballet while receiving a quality Catholic education.
Would you recommend ballet for other people?
Yes! Ballet is a wonderful art form that strengthens both the mind and the body. I would recommend it to anyone who enjoys classical music, acting, and athletics.
What is your favorite thing about ballet?
The things I like most about ballet are the artistry and the performances.  Mikhail Baryshnikov (my favorite dancer) once said, "the essence of all art is to have pleasure in giving pleasure." This is very true for me! Being able to combine virtuosic moves with fantastic music — all while having fun being a specific character — for the sake of giving the audience a few hours of entertainment is such a rewarding experience! I love entering into the mind of my character and acting as if I really was her, not just playing the role. I start to think as I dance "What would I do here if I were Kitri or Odette or Aurora or Clara?" and then move my fingers in a certain way or raise my eyebrow just so. The thrill of performing comes at the end of a variation or piece when I hold my final pose and take my bows facing the pleased and applauding audience. 


About the Writer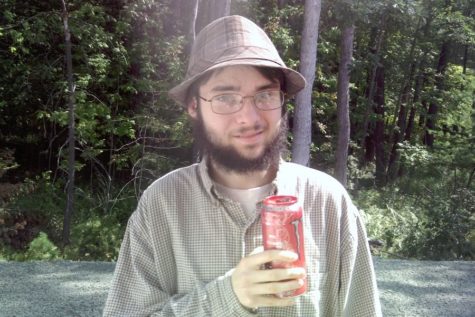 Paul Milliken, Video Editor
Senior at Mother of Divine Grace.