Where Are They Now: Brian Hula
VOX asked MODG recent graduate, Brian Hula, what it's like at the University of Dallas, the Catholic liberal arts college in Dallas, Texas.
How has your Catholic formation helped you in college?
I think that my Catholic formation has specifically helped me navigate the ups and downs of life as a college freshman.  Offering up my crosses and trusting in God has helped me get through those bad days where I otherwise might have been incredibly stressed or frustrated.  And of course, it's motivated me to set aside time for Mass and prayer and find new ways of getting involved in my faith, like the pro-life club here on campus.
How has it been adjusting to attending a brick and mortar classroom rather than a virtual one?
I'll admit that I was very lax about taking notes during LS classes, so taking meticulous notes here has been the biggest adjustment.  Other than that, it's been an easy transition.
How have you found living on your own; what are the pluses and minuses?
I have really enjoyed the freedom that comes with being on my own: being able to plan my own schedule and be flexible about things has been great.  But, I do miss my family, and I have only myself to blame if I miss an appointment or don't put enough time into studying for a test.  It really requires much more responsibility than I ever had in high school.
What are the opportunities to practice your faith on campus or off?
UD has two daily masses and an adoration chapel open 24/7: this has really been an amazing opportunity for me to grow in my faith here on campus.  We are also incredibly blessed to have both a Dominican Priory and a Cistercian Monastery within a mile of campus, with other chances for Mass and prayer.
What's it like eating in the dining hall?
The food here at UD is pretty tasty most days!  I've found that the cafeteria is a good place to relax and socialize with friends over a meal.
What do you do for fun?
Swing dancing on Wednesday nights is pretty much the highlight of my week.  But, I also love going into Dallas (our light rail system is a three-minute walk from campus!) and finding different things to do around the metro area.
What extracurricular activities are there to do on campus?
I myself am involved in a pro-life club, a swing-dancing club, and an outdoors club.  I'm also doing intramural sports- flag football this semester, and hopefully basketball, soccer, and ultimate Frisbee in the spring.  There are several choirs which many of my friends belong to.
How did MODG curriculum help prepare you for college?
Even though the classes here are not based on discussion as much as LS classes were, my background with MODG has really helped me when it comes time to debate a topic or to analyze themes in a work like the Iliad or the Odyssey.  All the writing I've done with MODG has also been a solid foundation for writing essays for some demanding college professors.
What is unique about your college?
I think that UD is the "best of both worlds": students here have an extensive core of liberal arts classes, but they also earn a degree (like biochemistry, politics, or physics) that will help them find a solid position in their field right out of college.  Also, UD has many unique student-body traditions: Charity Week in the Fall, Groundhog in the spring.  And no description of UD would be complete without mention of the Rome program.  It's truly a once-in-a-lifetime opportunity to study in the Eternal City for a semester and be able to travel extensively while you're there.
What advice do you have for MODG seniors just starting the application process?
The biggest piece of advice I have would be to have a schedule with deadlines for each school- there's nothing more miserable than scrambling to write a college application essay the day before it's due!  Also, don't be afraid to ask questions about the schools you're considering- the more you know, the more confident you will feel in your decision to pick a certain school.
About the Writer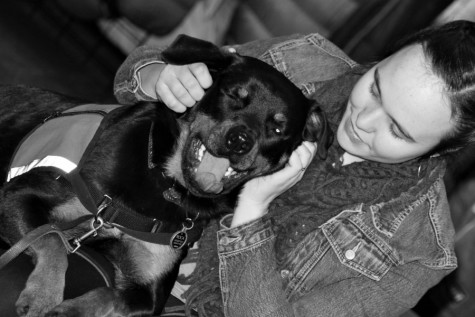 Tasha Magnan, VOX Reporter
VOX Reporter Tasha Magnan is a senior at Mother of Divine Grace School.