Saint Spotlight: St. Therese of Lisieux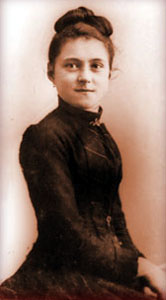 Did you know that St. Therese once said that she wished certain members of her family were in Heaven? Did you know that she was miraculously cured from an incurable illness at age ten? Did you know how persistent she was in her desire to enter Carmel? Did you know that she became a novice mistress at age 21?
A lot of Catholics have heard about Saint Therese. Few know how amazing her life actually was.
Born on the 2nd of January, 1873, Therese spent the first years of her life surrounded by her parents and four older siblings, who were all very devout. They taught her to say her prayers and practise virtues. Because Heaven seemed so real and near to her, she declared that she wished her mother could go there. Ironically, her wish came true. When she was four, her life was turned upside down by the death of her mother.
Within the next few years, more suffering was inflicted upon her. She went to a school where she was bullied. Her second eldest sister, Pauline, who had been like a mother to her, entered Carmel. In the midst of all her pain, Therese found joy on the day of her First Communion. But when she was nine years old, she suffered from headaches which turned into a serious illness a few months later. When it seemed that all hope was gone, the statue of Our Lady that was in her room seemed to come to life and smile on Therese. Suddenly, the illness disappeared.
On her fourteenth Christmas, Therese experienced what she described as the beginning of "the third period of my life…the one in which I received the most graces." (The Story of a Soul, p. 54) A few months later, she requested entry into Carmel. Her father and some of her sisters, including Sr. Agnes of Jesus, formerly Pauline, approved of her desire. Therese's eldest sister, who had become Sister Marie of the Sacred Heart (also a Carmelite) opposed Therese, and so did the superior of the Carmelite convent. She then sought permission from the bishop, but he did not grant her request instantly. She then asked the Pope, but he did not give permission. Eventually, however, the bishop allowed her to enter.
"
I can prove my love only by scattering flowers, that is to say, by never letting slip a single little sacrifice, a single glance, a single word; by making profit of the very smallest actions, by doing them all for love."
— St. Therese of Lisieux
Life in Carmel at Lisieux was not easy for Therese. The rule was strict, and Therese's health was failing. In her book, she talks about her struggles, and also her moments of joy. It was her duty to tend the flower garden, and it was a duty that she cherished. When she was nineteen, most of the sisters became ill with influenza, and Therese worked hard, caring for them. Shortly after, she became novice mistress, and helped the novices to grow in virtue. Throughout her life, she prayed for missionaries.
When Therese contracted tuberculosis, she tried very hard to continue her work as usual. However, soon it became too hard, and she was forced to lie down. The last few months of her life were racked with pain from her illness. Besides this, she experienced spiritual abandonment, and did not feel consolation. However, she persevered to the end, and promised to do good on earth when she reached Heaven.
Overall, Therese lived a very hidden life, and most of what we know of her comes from her autobiography, The Story of a Soul. She did not ask for permission to write it, but was commanded to do so by the Superior of the convent. It was published posthumously, and sold millions of copies worldwide.
St. Therese was canonized less than two decades after her death. Later, she became the third female doctor of the Church, and the youngest. She was called "the greatest saint of modern times" by Pope St. Pius X. Every year on her feast day, especially in France, rose petal evenings are held in her honor. People write letters addressed to her, and open them a year later to see which intentions she has granted. If you have never read her book, I highly recommend that you read it.
"
I want to suffer and even rejoice for love, for this is my way of scattering flowers. Never a flower shall I find but its petals shall be scattered for You; and all the while I will sing, yes, always sing, even when gathering my roses in the midst of thorns; and the longer and sharper the thorns may be, the sweeter shall be my song!"
— St. Therese of Lisieux
Leave a Comment