How to Host a Craft Fair in 7 Steps
A craft fair is a community wide event where vendors create and sell homemade crafts, baked treats and seasonal goods. These events are an exciting way for people of all ages to build community, hone their craft and make some money during the holidays (and frankly, anytime).
They take only a little effort to organize, and are loads of fun to participate in.
There are 7 main steps to organize a craft fair:
Decide a Theme for Your Craft Fair
This is a pretty simple step, especially at this time of year. If you plan to host your craft fair in the fall, make it an autumn or Thanksgiving themed craft fair. If it's going to be in the weeks leading up to Christmas, make it a Christmas or Advent craft fair where people can do some holiday shopping. If it's in the spring, make it an Easter craft fair, and so on. Having a theme will help vendors fine tune their inventory to align with the season and/or purpose of the craft fair.
Find a Location
A backyard, long driveway, or parish hall is a great place to host a craft fair. Just make sure there's enough space for vendors to set up tables and for shoppers to browse.
Spread the Word to Potential Vendors
One of the best things about hosting a craft fair is that anyone can participate! We have seen all sorts of vendors at craft fairs, from a professional artist to amateur baristas to rubber band bracelet makers. Include details such as the theme and any advice when it comes to pricing goods. Be sure to give vendors plenty of time to work on their inventory; 5-8 weeks should be enough time.
Start Amassing an Inventory!
This is the fun part! Decide what you'd like to sell and start creating. We have found that baked goods and drinks, embroidery, handmade baby items, personalized items, rosaries, notebooks, greeting cards, jewelry and seasonal necessities like knitted or crocheted hats, gift tags, flower crowns, homemade scented candles, and things like that are often big sellers.
Price Your Items
This step can be a bit tricky. It's important to make sure your prices aren't so low that you don't make a profit, or so high that they're unaffordable. Take into account how long it takes to make each item and how much materials cost. Prices like 25c, 50c, $1, $5, $10, $20 and so on are usually a safe bet for a craft fair where there will be a variety of vendors. For little vendors, this is also a great way to sneak in a lesson in counting money and economics!
Broadcast to the Community.
A few weeks before the craft fair, send out another announcement to anyone who may be interested in shopping. The more shoppers, the better!
Craft Fair Day!
On the day of the craft fair, have the vendors arrive around an hour early so that they have time to set up their displays and do some shopping of their own before others arrive.
Once shoppers start to arrive, vendors can get to work selling their handmade goods. Keeping track of your sales in a notebook or on a sheet of paper will help you know which crafts sold better than others and will allow you to prepare accordingly for your next craft fair!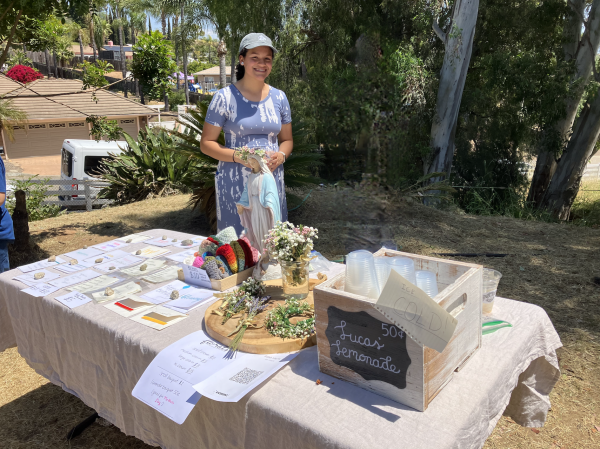 Here are some additional tips and tricks that my family has found helpful when selling at a craft fair:
Having a display on your table can be a big part of attracting shoppers. Prior to the craft fair, spend a bit of time deciding what your family's table will look like. We like to use tablecloths, signs and seasonal banners and bunting to decorate our table, and wooden crates and trays to display our inventory.
Oftentimes, shoppers will run out of cash around halfway through their shopping experience. In light of this, we like to print out a QR code from Venmo so that shoppers who run out of money or have their hands full with their other goodies or small children can simply scan the QR code and pay that way.
If you see that your products aren't selling, don't despair! Be prepared to have to lower your prices by anywhere between $1-$10 depending on their original price if you see things aren't selling. It happens to everyone!
Having a raffle or drawing for a special item at your table is also a great way to attract customers!
Have you ever participated in a craft fair, or are you hoping to? What would you sell? Let us know in the comments!
"He who works with his hands is a laborer. He who works with his hands and his head is a craftsman. He who works with his hands and his head and his heart is an artist." -St. Francis of Assisi