Turning the Page: A Selection of Books
There is nothing like sitting down with a hot drink and a book on a rainy day or staying up late at night enthralled in a good book. Here is a selection of books sure to captivate a wide selection of readers.
Where the Red Fern Grows by Wilson Rawls
Middle school+ Adventure
This is the touching story of a boy and his dogs. After two years of dreaming and hard work, Billy finally gets enough money to buy two hunting hounds. Old Dan and Little Ann turn out to be some of the finest coonhounds that a boy could wish for. Together they have some glorious but also tragic adventures.
The Search for the Madonna by Donna Alice Patton
Middle school+ Mystery/ Faith
This rare Catholic book is quite the page turner. It keeps you on the edge of your seat but also teaches a beautiful lesson of faith. It is the story of Maggie Brandenburg and her twin sister Em as they stay with their aunt during the summer. Many mysterious things start to happen and Maggie desperately wants to help save her aunt from having to sell the house.
The Borrowed House by Hilda Van Stockum
Early Highschool+ WWII / Historical fiction
Set in the turbulent times of WWII, Janna, a passionate Hitler youth, is suddenly called from her friends in the countryside to live with her parents in Amsterdam. Once they have moved in, Janna discovers that the house had once belonged to a anti-Nazi family. Suddenly she discovers a dangerous secret that makes Janna rethink all she had ever been taught about the Nazis and the Jews.
Freckles by Gene Stratton Porter
Early Highschool+ Adventure/ Romance/Nature
This is the story of a boy nicknamed Freckles who was abandoned at birth. Although he is small for his age and only has one hand, he takes on the job as guardian of the Limberlost swamp. He is determined to protect it at all costs no matter the consequences. Life begins to have a new thrill when he meets the bird woman and her companion the "swamp angel".
A Girl of the Limberlost by Gene Stratton-Porter
Early Highschool+ (sequel to Freckles) Nature/ Coming-of-age
Elorna Comstock is a young girl who is absolutely fascinated by the Limberlost just like Freckles before her. Her mother has always been harsh on her and when Elorna finds a way to attend school she has a hard time fitting in because of her poverty. However she finds a way to earn money by collecting moths for the birdwomen and she also finds happiness in playing the violin. She also begins to discover what became of her father and why her mother has also been so bitter to her.
The Awakening of Miss Prim by Natalia Sanmartin Fenollera
Highschool+ Romance/ Philosophical
This is the story of Miss Prim, a young, practical, independent sort of woman who acquires a job as a librarian in a French country home. Little does she know how this experience will change her life when she gets to know the Man in the Wing Chair and his children. Over time her perspective on life is completely changed.
The Moved-Outers by Florence Crannell Means
Early Highschool+ WWII Fiction
This is the story of the struggle the Japanese Americans underwent during World War II. It particularly focuses on a young highschool girl named Sue (Sumiko) and how she and her family were forced to leave their home and to live in a detainment camp for the duration of the war.
Jane of Lantern Hill by L.M. Montgomery
Middle school+ Family life
Written by the famous author of Anne of Green Gables, this book tells the story of Jane, a young girl who lives with her mother and grandmother in a very gloomy house. Suddenly one day she learns that her father is still alive and wants her to visit for the summer. Jane meets her father and begins to think of getting her father and mother back together again.
Please let us know in the comments if you have read any of these books or if you have any other great book suggestions.
Leave a Comment
About the Contributor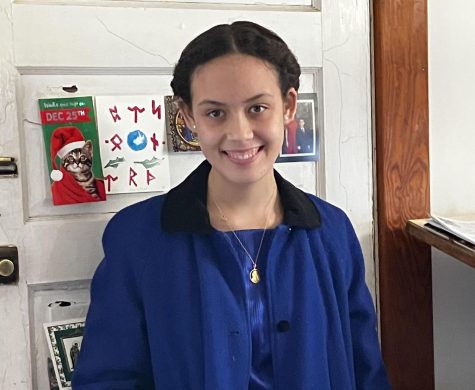 Luciana Karafa, Reporter
Luciana is a 17 year old junior from Virginia. She quite enjoys singing, reading, writing, talking to her friends, baking and writing letters to her penpals....