Meet Your Teacher: Kaleigh Hultine!
Name: Kaleigh Marie (Irzyk) Hultine
Age: 25
Married/Single: I've been with my husband, Nick, for almost three years now.  We grew up on the same street and he was best friends with my three older brothers.  We spent many summers playing in the woods, fishing, and playing baseball with the neighborhood kids.  We lived on a private street with about 10 other houses and lots of neighborhood kids. I was the only girl so I had to hold my own! My husband joined the military and we lost touch for many years.  Out of the blue he sent me a message while he was in Afghanistan asking how everyone was doing… and the rest is history. He was deployed the majority of our dating and engagement, which was OK because I got to really focus on school!  He is now finishing up his Master's degree in Criminal Justice and is working to become a police officer.
Where do you live? I live on the same street I grew up on!  My in-laws live next door, and my parents live down the road!  I live in a very small town in Massachusetts called Granville. We have more cows than people and no stoplights.  
Where did you grow up? I lived in Connecticut until I was ten years old before moving to Granville.
Do you have any pets? I currently have one rescue dog named Teesha.  She is a 70 pound Catahoula Leopard. She's very spoiled… Growing up, however, I had dogs, cats, a chinchilla, a freshwater fish tank (which had a blue lobster and a huge water snake who was an escape artist)! I hope to have many more animals in the future.
Do you have any children? I have one child, Bradley, who is 10 months old.  He's such a little love and hasn't tried a food he doesn't like!!
What do you teach? I currently teach Chemistry and Earth Science, however next year I hope to teach Bio as well.
Did you always want to be a teacher? I didn't always want to be a teacher.  I wanted to follow in my big brother's footsteps and be in the medical field.  I started college as pre-med (bio and chem major). I quickly found that I have too much anxiety when handling anyone in pain or discomfort.  I also knew I wanted to have a family and be home with my children, while still sharing my love of science. That's when I started working towards the goal of becoming a MODG teacher!
What are some of your favorite hobbies? I love anything crafty. Knitting, bullet journaling, paper crafts, etc.  I also love to be outside… hiking, fishing, camping.  I play piano and read as well to unwind after a stressful day.
About the Contributors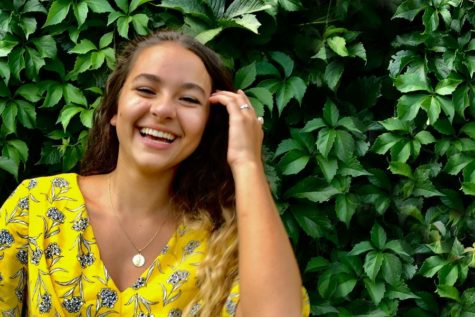 Faith Costello, Reporter
Junior at Mother of Divine Grace School.