The Dance Experience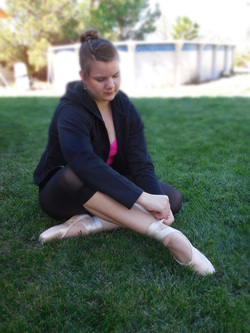 Holly Frame, a first year student of MODG, is a seasoned dancer in many styles of dance. At 17 years of age, she's danced the past five years at her local studio and is currently part of a competitive dance team. She attends all the offered classes, totaling 16-20 hours of dance weekly, and even assists teaching the
younger students.
Her favorite classes are Ballet/or Point, Jazz and Contemporary.
Studio life, she comments, is "-crazy", but she loves participating in the yearly conventions and competitions. The most notable convention she's attended is the Co. Dance Tour. Amongst the many, interesting choreographers there teaching, Tyce Diorio was Holly's personal favorite. A popular choreographer and past judge on So You Think You Can Dance, Tyce's classes at the convention were fascinating and down-to-earth. Holly has taken his classes at this convention for the past two years and would love to study under him again.
About the Writer

Clare Calzada, VOX Reporter
VOX Reporter Clare Calzada is a senior at Mother of Divine Grace School.