An Interview with Actor Logan Watts, MODG 9th Grader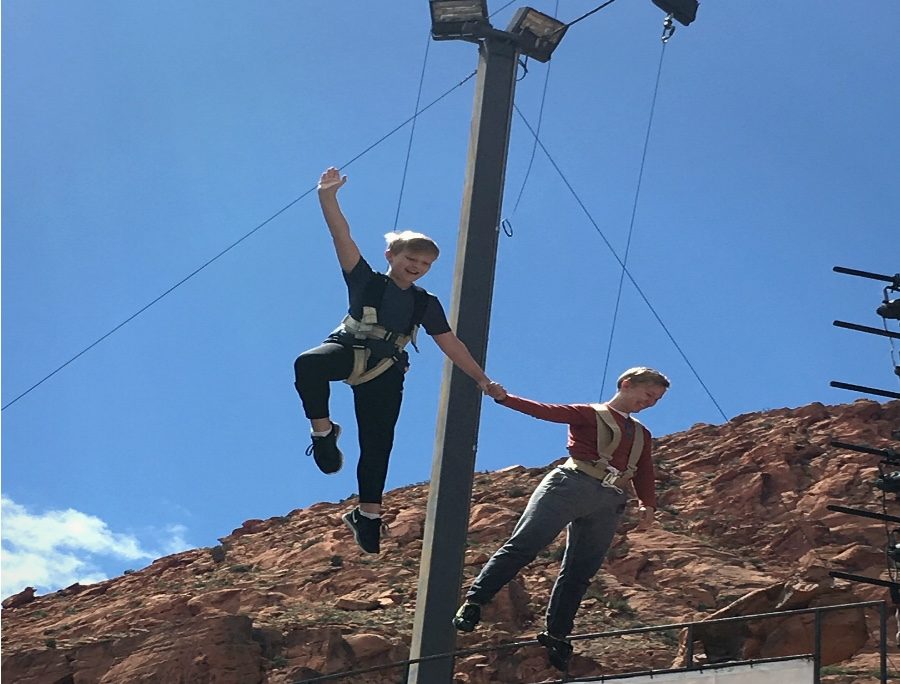 Haven Watts, VOX Reporter
February 6, 2018
Logan Watts, who will be a 9th grader at MODG this fall, has been acting since before he can remember. He became a professional actor at age 10, and since then has been in many theater productions across the Western United States.
One of his most recent roles was John Darling in Peter Pan at Tuacahn Amphitheatre in Ivins, Utah. The musical, which was part of a season of three circulating shows, was directed by broadway director Glenn Casale, and played in the outdoor amphitheater for a 6 month run. Logan's experience at Tuacahn was unique to anything he'd done before, and he enjoyed the opportunity to follow his passion while surrounded by the beautiful red rocks of Utah.
When did you first begin acting? 
When I was 4 years old, when I was in The Wizard of Oz at Redlands Bowl. I actually didn't audition, I was hanging out at rehearsals because I had family in the show, and I picked up the choreography. One of the cast members' mom pointed me out to director, so he put me in the show.
What do you enjoy about acting?
The people. They're all really nice. You always learn something from them. You make really strong friendships in theater.
How did you end up working at Tuacahn?
Well, I had worked with the director, Glenn Casale, on another show, Mary Poppins, and we saw that he was directing Peter Pan at Tuacahn. So I went to the audition, and he wasn't actually there at that first audition, but I got a callback, and when I walked in [to the callback] he saw me and gave me a big hug.
Did you have to relocate? Where did you live?
The theater was in Utah, and we live in California, so the production company gave us (and all of the people who lived out of town) an apartment in this apartment complex. So basically all the actors were living next door to each other, which was super fun. It was also a bit tedious because we were one of the only families who drove home and back almost every week to see our [extended] family and our pets and stuff. My family came most of the time, but every once in awhile it'd be just me and my mom or my dad.
Was it hard being away from home for 6 months?
Yes and no. I think if I wasn't doing something I loved it would've been much harder.
Did you have to fly? What was it like?
I did have to fly, and it was super fun. I was really nervous, because I had a fear of heights before I went into this. I was super nervous to get hooked up and fly around, so much that I went to acupuncture to reduce the anxiety. The first day of flight rehearsal it was raining, so we barely flew at all, but I loved it so much. The week after that, we did the second flight [rehearsal], which was [choreographing] the longest and highest flight of the show, that was eventually cut from the show, but it really helped me get over my fear. Flying ended up becoming the best part of the experience for me.
Was it hard to perform outdoors in the intense Utah heat?
Yes, but we didn't have to rehearse on the stage in the heat much. There was a rehearsal space that was air conditioned that we could rehearse in. But one time, we were [on the actual stage] doing a pick up rehearsal, which is basically a midday rehearsal before a show [that night], and it was really hot. In the scene, I had to lie in bed onstage for awhile, and I got super overheated. After that we flew, which made me feel a bit sick after lying in the heat for so long. Afterwards, I threw up and then fainted. So, that wasn't the best experience.
What was it like backstage?
It really didn't feel like you were hanging out at a theater. The Green Room, which is where the cast members hang out, was air conditioned and closed off [from the stage], so we could be as loud as we wanted [without the audience hearing us]. It was really nice.
Do you have any favorite memories?
There were three shows going on at the same time [that switched off performance days]: The Hunchback of Notre Dame, Tarzan, and Peter Pan, which I was in. After the show that performed on the 4th of July, there were fireworks. It happened to be a Tarzan night, so I went with my friends who were in Peter Pan. Instead of just watching the firework show from the audience, we went backstage and were able to watch it up close. So up close, in fact, that pieces of ash and stuff fell on us, and it was super fun. The stage was flooded for special effect (the perks of having an outdoor theater), and we were right next to it so we could see all the water rushing past.
What was it like to do the same show for 6 months straight?
It was fun, because you got to know your cast much better, but about halfway through it started to get boring. I had to find new, fun things to do onstage and backstage to get me pumped up and make the show feel as exciting as ever. If it were any longer than 6 months, though, it would've been too repetitive, which would be harder and more exhausting.
Can you describe a typical day working at Tuacahn?
I got to the theater 30 minutes before the show, then got into costume and makeup. For me, it took longer to get dressed than most people because I had so many layers, starting with my ice vest and clothes that go under it, then the [flight] harness and then my actual costume. About 5 minutes before the show, they'll call places, and I go to the side of the stage that I start the show on and get ready. The crew already put the props that we need in our places for us. Then the cast just sort of waited for the show to start and talked to each other, usually about how tight our harnesses were. We'd do the first half of the show, then intermission would come, and me and my castmates would hang out in the Green Room. We'd talk and play board games and watch videos, whatever we wanted to do. Then we'd do the second half of the show, and afterwards me, Peter Pan, Wendy, and Michael would go up to the lobby to meet the audience and take pictures with them. Then sometimes I'd have a churro if there were any left over from the snack bar.
Do you have any advice for aspiring actors?
When auditioning, don't worry about making the right acting choices or singing the right song. Just give them your heart, the casting director will see your passion. That's what matters.