Russia Banned from Next Olympics
Hang on for a minute...we're trying to find some more stories you might like.
Due to the recent discovery of a doping scandal in the Olympic games, the Russians will not be permitted to compete in the next Winter Olympics. Their government leaders are prohibited from attending, and at the opening ceremony, their flag will not be raised, nor will their national anthem be played.
This was the punishment decided upon by the I.O.C (International Olympic Committee) for Russia, whose athletes cheated by doping in the Sochi 2014 Olympic games. The information was revealed by two whistleblowers: Dr. Grigory Rodchenkov, who was the director of Russia's anti-doping laboratory for 10 years, and Vitaly Stepanov, who had previously worked in the laboratory as an employee.
According to Dr. Rodchenkov, Russian agents swapped out the athletes' urine samples that were being held in the Olympic drug testing laboratory, and replaced them with untainted samples taken months in advance, ones that would make it seem like the athletes hadn't doped at all.
This was a drastic overstep of the line, and Russia will pay dearly for it next Olympics. The Russian Olympic Committee will also be charged 15 million dollars that global officials said will go towards future drug-testing of international athletes.
However, the I.O.C. will still be allowing some athletes who didn't have a part in this doping scheme a chance to compete in the next Olympic games, but they will do so under a neutral flag, wearing a neutral uniform, and any medals they win will not be won for Russia. These competitors will only be called "Olympic Athletes from Russia."
So how does Russia's doping scheme affect the 2014 Sochi Olympic Games?
Several Russian athletes who won gold in their events had been doping, which meant that the other competitors who scored below them were cheated of their gold medals. This also applies to all the athletes who placed lower than the Russian team members who won silver or bronze, for it was found that a third of Russia's athletes who won medals had been doping.
Because of this, many of these Russian competitors have been disqualified from the Sochi Games, and the rightful winners will be awarded medals at a special ceremony during the next Olympics. However, the I.O.C. might not sort through it all in time.
I.O.C. is considering allowing Russia to participate in the closing ceremony, where their national anthem might possibly be played as a symbolic gesture. The world will have to wait to see what comes of this alarming discovery of Russia's doping scandal in the Olympic Games.

About the Writer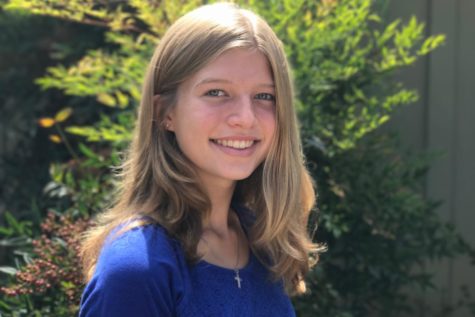 Abigail Lovold, Reporter
Junior at Mother of Divine Grace.