What is a Marian Consecration?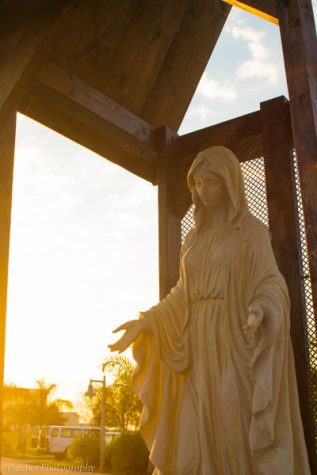 Hang on for a minute...we're trying to find some more stories you might like.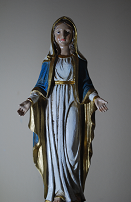 What is a Marian consecration?
Quite simply, it is the act of consecrating oneself to Jesus through Mary. Just as Jesus came to us through His mother Mary, we go to Him through our devotion to Mary. We unite ourselves to the heart of Mary as we go deeper into the heart of Christ. Marian Consecrations were invented by St Louis De Montford, who had a deep devotion the Blessed Mother.
To consecrate oneself to Mary is fairly simple. It is a short prayer renouncing Satan, offering oneself to Mary, and asking her to help you love Jesus more. Consecrations are made on a Marian feast day, and the preparation takes 33 days. The consecration is made on the 34th day. So simply choose the feast day you wish to consecrate yourself to Mary on, and count back 34 days to find the day on which you need to start the preparation.
In the 33 days there are 12 days of preparation, one week of learning about oneself, one week of learning about Mary, and one week of learning about Jesus. Then on the 34th day you make the consecration. There are multiple programs that are designed to help you through this 33 day period. Two popular programs are the books Totus Tuus and 33 Days to Morning Glory.
It is highly encouraged, though not required, that those who have consecrated themselves to Mary wear an outward sign of that consecration. St. Louis De Montford wore a small chain as a symbol of chaining himself in service to Mary. Other signs include carrying a rosary all of the time, wearing a miraculous medal, wearing a ring or wearing a scapular. You can renew your consecration each year. It is suggested that you either prepare on the three days before the feast day, or make the 33-day preparation again.
"Our entire perfection consists in being conformed, united and consecrated to Jesus Christ. Hence the most perfect of all devotions is undoubtedly that which conforms, unites and consecrates us most perfectly to Jesus Christ. Now, since Mary is of all creatures the one most conformed to Jesus Christ, it follows that among all devotions that which most consecrates and conforms a soul to our Lord is devotion to Mary, his Holy Mother, and that the more a soul is consecrated to her the more will it be consecrated to Jesus Christ." -St. Louis De Montford