Where Are They Now? Ten Questions with Prudence Robertson, MODG '15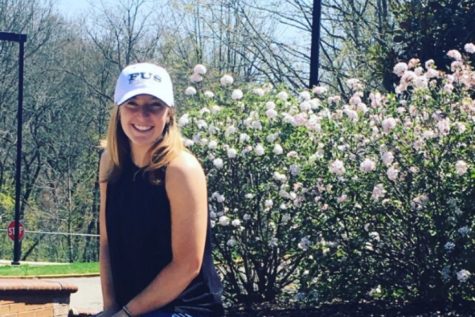 Read the responses of Prudence Robertson, MODG Alumni '15, to MODG VOX News' questions on her life as a junior at Franciscan University of Steubenville in Ohio, and how Mother of Divine Grace School shaped her to become the student she is today.
VOX: What quality of your Mother of Divine Grace education has helped you most as you have grown into adulthood and entered college?
Prudence: I can honestly say that my MODG education prepared me extremely well for college. I think one important aspect that the MODG curriculum has that has been helpful for me is the emphasis on reading and writing. From a young age, I have been reading books and learning how to analyze them, and then writing about them from my point of view. This is HUGE in college. I feel like I almost had a head start when it came to learning how to write a college paper. MODG also helped me to learn how to structure my time throughout the day, and helped me with the independent aspect of studying, handing in assignments, and seeking help when you need it.
V: How long have you been at Franciscan University of Steubenville?
P: I'm a junior at Franciscan, but I am a transfer student, so this is my first year!
V: If you could pick three words to describe the road that eventually led you to FUS, what would they be?
P: 1. Independence 2. Catholic identity 3. Self-realization (Sorry that's 5 words… I promise MODG taught me how to count.)
V: How did you adjust from living at home and studying at community college to living at university?
P: So I originally chose to attend Ave Maria University as a freshmen, so I was already used to "college life" when I left home after spending sophomore year at a community college. Since I was transferring in as a junior, it was a little difficult to find my niche and adjust to life as an upperclassmen. I found the most helpful thing for me when it came to adjusting was joining as many clubs and activities as I could, and pushing myself out of my comfort zone to meet new people and make new friends. It wasn't easy, but after being here for a couple months, I can honestly say I'm beginning to feel more at home here at FUS.
V: What are the major differences between being a MODG student and a FUS student?
P: I would say the differences between MODG and FUS actually compliment each other. A lot of the academic aspects of FUS are very similar to that of MODG (for example, I'm reading some of the same books this year that I read in high school: The Iliad, The Aeneid, etc.). The big difference though, is that as a college student I'm able to delve deeper into these texts and think critically about them. It's super helpful that MODG gave me a foundation by having me read these books, because it makes studying them now so much more fruitful! I think this is true for every aspect of your life as you transition from high school to college: that it's a time to delve in deeper. It's an opportunity to evaluate the decisions you've made, and the people you surround yourself with. It's a chance to ask yourself, "Are the choices I'm making bringing me closer to God, and helping me to succeed in doing his will?"
V: What is your major?
P:I am majoring in History, and minoring in Philosophy and Legal Studies.
V: What is your most engaging class? Why is this exciting to you?
P: The class I currently find most engaging is my literature class: Epic and the Person. I love reading, and the books we are studying this semester are absolute gems (Augustine's Confessions and Dante's Divine Comedy to name a couple!) I am learning great lessons from these pieces of literature that I know I will carry with me throughout my whole life.
V: Is there anything quirky about FUS that surprised you?
P: So another name for a student that goes to Franciscan is a "Franny." At first I thought it was cute, but now it's just plain annoying and it's my least favorite word on the planet.
V: What plans do you have for the future?
P: I hope to serve in the Navy someday as a military defense lawyer… please keep me in your prayers as I follow this career path!
V: Do you have any encouraging or helpful words for our MODG juniors and seniors looking at colleges?
P: First, congrats on being an MODG student!!! You are seriously getting one of the best high school educations ever. Secondly, I want to encourage you not to limit yourself to just one college option, one field of study, or one long term goal in life. Our high school and college careers are a journey with the Lord to find what his plan is for us. I have found that when I am striving for this one huge goal, it's harder to hear God speaking to me, and feel him working in my life.
Take one day at a time, and enjoy the place in which god places you, because his plans for us are so much bigger than we can possibly imagine. Thirdly, when looking at colleges, give yourself a wide range of options! Look at Newman List schools, state schools, schools that specialize in your field of study, etc. Sometimes there's amazing opportunities for growth and success in places you wouldn't imagine!
About the Writer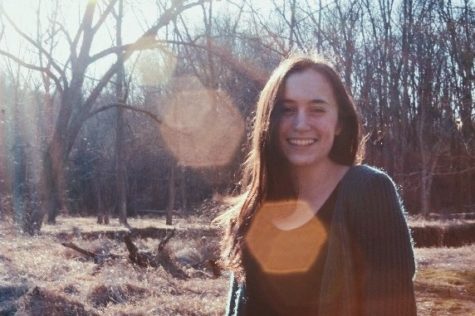 Katherine Sharafinski, Co-Editor
Senior at Mother of Divine Grace School.