Ten Questions With James Hare
Sports Editor Brian Hula asks Ten Questions of James Hare, a MODG Senior who lives in Broomall, Pennsylvania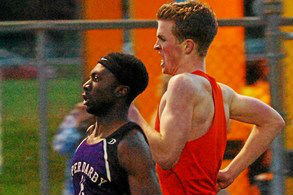 1. How long have you run track?  What first got you interested?  
This is the fifth year I'm running track, and I only got interested because I figured out I was terrible at baseball and asked my mom what other sports were in the spring.  She mentioned she had run track in high school and a little bit in college, so I decided to give it a shot.
2. What are the events that you are running this year?  Do you have a favorite out of all of them?
Mainly I run any one or two of the following: 4x400m relay, 4x800m relay, 800m, 1600m, 3200m.  (In normal language those are mile relay, two-mile relay, half-mile, mile, and two mile).  To be honest my best race is the 1600, so that has to be my favorite.
3. What are some of the big meets that you have done/will be doing this season? 
We've done some small meets, like the Haverford Invitational and TFCAofGP (Track and Field Coaches Association of Greater Philadelphia, our winter league). [There was also] Spring Invitational (where I ran my season-best 800 and 1600 times), but I did run a 4×400 at Penn Relays.  Right now in early May we have our county championship and league championship, while the district meet is on May 16-17.  If I make states that meet is Memorial Day weekend and nationals is mid-June.
4. What school do you run for?
I run for Marple Newtown High School, the public school district I live in.
5. Have you ever been injured?  How did you fight through to get back to full strength?
Yes, one major injury: toward the end of cross country season this past fall, I managed to strain a muscle in my foot.  It doesn't sound major, but I couldn't walk for a week, and it made me miss the county and league championships.  I overcame it by doing low-impact training, like pool running, some biking, and some elliptical exercises (which may not have been a great idea, given that it was a muscular injury).  It took almost two full months of training and praying to get back to full strength.
6. What are you most improved at this season compared to last season?  What will you be working on improving most the rest of the way?
As of now I've only improved my 5K and 800 times in comparison to junior year, BUT my endurance and strength have improved dramatically, allowing me to sustain faster paces for a longer time.  The district qualifying times that hurt so much to run last year took a lot less effort this time around, especially in the 1600.
7. What has been your best performance so far this year, in any event?  
Pretty easy question, but I need to give some background info: Thursday, May 1, at the county meet I had the worst track race of my career in the 3200.  It was very humbling and got me refocused and angry for the Saturday part of the meet.  I decided to go for the Marple Newtown record in the 1600 of 4:16.4.  I hit the paces I wanted but fell off slightly in the third lap and didn't have any duels going on late in the race, finishing in 4:22.9.  Fifty minutes later, I was going to return to the track for the 800, generally not something I run well after a good mile.  I hit the 100 meter mark in 12th out of a heat of 13, but I wasn't too worried, because I have the endurance to move a up a little bit.  I hit 200 in about 28.5 seconds, which is flying for me.  At this point I was thinking that top 6 overall was a possibility (Southeastern PA is one of the fastest areas in the country and world in the high school 800).  However, I was able to make a huge pass on the straightaway and hit the halfway point in 57.8, which surprised me.  Another 100 meters and I was passing the county's best long-distance guy and another guy, an 800 specialist.  I hit the 600 meter mark in 1:26.3, and I noticed two of the county's best 800 meter runners about 15 meters in front. AND I WAS CATCHING UP! My only thought was, "Oh my Lord, what is happening? I have to go for the win!" Into the final straightaway we went, and it was a three-man duel to the finish, with the long-distance guy from earlier coming back for the win and one of the two guys I had caught late outsprinting me.  What I didn't know and hadn't even thought about doing was that I had just set the school record.  [It's] kind of ironic how a homeschooler owns a public school's record.
8. What the toughest part of running track?  The most enjoyable part?
The toughest part of running track is staying focused and motivated, knowing that every step you take is an improvement.  If you don't see the results, you have to have faith that they will come.  The most enjoyable part has to be the friendships I've made.  Some of my closest friends are the guys with whom I've run a thousand miles or have watched compete in sprints or jumps over the last four years.
9. Do you have any Olympians or famous athletes that you admire?
Of course! David Rudisha, an 800 runner from Kenya, is far more dominant than Usain Bolt is.  Look up the 800 final at the London Olympics to see him at his best.  I also love watching Evan Jager (American steeplechaser), Galen Rupp (American-record holder in a couple distance races), and Leo Manzano (Silver medal in 1500 at London Olympics).  I'm a big Flyers hockey and Eagles football fan, AND I watch March Madness every year!
10. What are your plans for running track in college?
For college, I'm heading to the University of Pittsburgh; I didn't commit fast enough to be assured of a roster spot, so I have to try out for the cross-country and track teams in the fall and winter.  I'm pretty confident of making it!  Fun fact: my college roommate is going to be a guy from a neighboring school that I've raced countless times, so I'm really looking forward to college!
About the Writer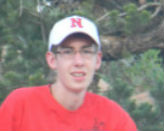 Brian Hula, VOX Reporter
VOX Reporter Brian Hula is a senior at Mother of Divine Grace School.