12 (Utterly and Completely Awesome) Questions with Jordan Windham
Hang on for a minute...we're trying to find some more stories you might like.
"Water makes me feel at peace and ready to rock." – Jordan Windham
It was a dark and a stormy night, and I, your friendly neighborhood VOX reporter, prepared herself for the most epic interview she would probably ever conduct.  The interview in question was with none other than Jordan Windham, an avid swimmer and MODGer from Alabama. Jordan's swimming career is nothing short of amazing, from beginning to swim on a team when she was six, to getting ready to graduate high school as not only a swimmer, but as a coach from the Cullman Swim Team.
#1. So Jordan, I get to interview you before you hit the Olympics and get famous [she laughs]. Describe your swim team. Where is it? Do you have a mascot or team name, and are you divided into different levels? We are Cullman swim team, and we just recently became the Tritons. We've been going through this soul-searching period, like, we were the Catfishes when I joined 10 years ago. So it's nice to have a fresh change. And it's Triton as in the son of the sea god, not the big fork [she laughs].  As for levels, we use a color scheme, so it's very classy. There's rainbow, black, bronze, silver, then gold, which is what I'm in. The colors all represent skill level, not age.  The year is divided into Winter sessions, Summer, and Spring training.
#2. I hear you're a coach. What that like? Coaching is one of my favorite parts of swim. It makes it so much more fun, because you have a lot of little kids that know you all year round. I'll show up at practice and hear, "Jordan! Coach Jordan!" It really makes it seem more like a team family. I started coaching two years ago for the summer program, and I guess I proved I was capable because my head coach hired me to coach this whole year, so… [double thumbs up].
So it's not a volunteer position anymore? No, it's not. But I'm just proud that I was dedicated and committed enough that my coach considered me and presented me to the board for that. I was really honored that I was approved to coach.  When she told me, I didn't believe it!  I coach kids from ages 8 to 10, and I love them. They're so fun…and rowdy. But I fit in with them. They love that I get in the pool with them (I do that at least three to four times a week during the summer, and at least once a week during the winter). It helps me work with them, see what they're doing right and wrong from a different angle, and demonstrate. They love that.
That sounds like they really look up to you. You know, you don't really consider that aspect as much. When we were like, 8-10, we were looking up to people who were younger than we are now. And you just don't consider yourself like that, like they're looking up to you like "so cool!"  But now, as that older person, I'm just like, "HI GUYS!" Me too! I'm always like, "I hope they like me!" Right? Like, "Aren't you ashamed?! I'm a nerd!"
#3.  Do you swim year round? I've swum year round for the past two years, and the year before I did the first half, but then I took a break. I needed to take some time to figure out why I wanted to swim. And after I did, I came back happier than ever. I freak my teammates out because I'm always like, "YAY PRACTICE!" I just really love practice, all the pain, the tears. I'm actually known as the team water girl. My water bottle is as big as my head…and my neck [she demonstrates. It really is a huge water container]. I get bummed off a lot too, because my teammates forget to bring water sometimes [she laughs]. I love them, but still!
I get the same with my watch. When I coach, the kids ask me "How much time do we have left? What time is it?" I always say, "Time to swim!" One of the kids got so annoyed, he bought his own watch. I'm fine with them bringing their own watches, but their teammates hound them for the time, asking the same questions.  "What time is it?" And they just say, "Time to swim!" I thought that was so cute. It's like the team slogan now: "What time is it? Time to swim!"
#4.  Does swim team interfere with school? Nope. I was talking with my mom recently, and she asked me "Do you have any regrets? Do you wish we hadn't put you in swim so you can do stuff during the summer like camps and summer programs?" And the answer is no. I have no regrets.  I'm going to look back on this and think, "this is the best experience of my life."  It's because of my coaches, my teammates, the experiences and what they made me. The way I look at it, harder experiences makes stronger friendships. I'm really proud of the determination, the hard work, the tears, and the good attitude that swimming has brought me, and I like even more that I had to work for all of it myself.
#5. How do you prepare for a meet or championship besides what you do in the water? There's two kinds of prep: winter, spring and summer. Spring is get 'em rough, get 'em ready.  Winter is all about pacing yourself, learning technique, and finding what works for you.  I feel like winter is where you really learn the values of swimming: Hang with it even when you feel you are going nowhere. It builds trust between teammates.  The way I look at it, harder experiences build tougher friendships. Summer is all about "getting 'em hyped." You'll see sprinters just hopping up and down and slapping their muscles.  By this point, you're so prepared, you don't even have to think when you race. It's not till you're done with the race that you even remember what you're doing. The winter competition season is different. Long hours in the pool…it gets monotonous. And that's really when you really start to rely on your teammates to push you, to let you it's going to get better.
#6. What do you eat before and after a meet?  Eat healthy, take fruit, towels, staying loose, stretching, and bringing a lot of water. It's less of "get yourself prepared" and more "we've been putting the work in a practice." At meets is when how hard you've practiced is going to show.
After a meet, you can't eat anything you want. I mean, yeah, there's the whole swimmer mentality of "I can eat whatever I want," but it has to be within reason. You still have to take care of yourself, because you have practice hanging over your head.  If you don't eat healthy, there will be consequences called drowning at the bottom of the pool.  I eat pasta, fruit, white meat.  I really like peanut butter oatmeal.
I actually started getting up earlier every morning because we have afternoon and night practices.  I stretch, do pushups, work out, eat healthy. It helps me be more prepared to get in the water mentally and be more comfortable with what we're doing physically.
#7. What's your favorite part about swimming? It's fluctuated, but my favorite right now is that sense of comradery and the spirit of teamwork, being connected with my team and the fact that we're all building each other up to a common goal.
#8.  Least favorite part? Well, I wouldn't say drowning, seeing as that's what we're trying to avoid, so I'd say it's…probably… I don't know.  I just really love it.  I've cultivated in myself this sort of joy at anything to do with swimming. Aw! Then don't trash it! I love that.  You know what then, probably how bad I am at backstroke. Like it's baaad.
#9. What's your favorite stroke? Breaststroke. Definitely.
I ended my winter season by swimming a competition mille.
I was second person on my team and the first girl to swim a competition mile: all 66 laps. I set my first record. I didn't know it until they announced it at the end of the year party, that I was 16 and set my first record, on my ninth year of swimming.
It was a sort of gratifying moment, my light at the end of the tunnel.  This year my theme was finding myself in the pool.  I showed up at all the practices, and I really worked. To do something I had never done before—only something one of the best guy swimmers on my team had done—it really backed up what I had been telling myself, and that was what I needed.  My time was 21:20. I had my coach he did splits for it, and he said I was landing within three seconds for each 100M split for the entire thing. It took a lot to get there, but once I did, I was happy with myself.
In the end, I think it really comes down to determination and perseverance, not talent.
#10. What's the most important part of being on a team? You don't always get along with people because of who they are. The important thing about being on a team is keeping that moral high, especially with people you don't really enjoy being around or clash with.  It's about cheering them on, helping them out, lending them your goggles, your towel.  It's doing your best to bridge the gap between your personalities.  And it's the key to getting along and being happy, promoting that inter-team unity and "Ohana means family."  This helps both you and the team, teaching you to expand your views and how to make an effort to really promote unity. Don't belittle or do jokes with people you don't get along with. Treat them as member of the team. It really helps practice to be happier and get along and be productive. If you do that, you don't have to worry about spending your summer hating or avoiding anyone, you can have fun, whether it be group dinners or ice cream after meets. It makes everyone's experience better, and you can see people acknowledging this and seeing that it helps, even those who knew you before you got along with that person.
#11. I know this next question may be a little redundant, since we've covered it in a way, but what are your goals in swimming? What does success mean to you, in terms of swim?
My goals in terms of swimming right now is deciding whether I'm going to swim in college or not.  I'm looking at colleges, facing pressure, wondering if I'm going to find a program I like.
I only have three summers left with this beautiful team that I have come to call family over these past nine years.  So, my goal is really to work as hard as I possibly can during those summers and just enjoy myself, so I can truly look back on these years as a part of a swim team and regret nothing.  These were—are—the best times.  That's my goal.
Of course, part of that is to work hard, get better at it as a sport, ultimately, that's not my focus. And when I say that, I mean it's about leaving the team with absolutely no regrets on any part of it.
I don't want to look back and think, "I could've done that better," or "not done that," or worked harder. No matter how much it hurts to know that I will have to leave and go to college, I know that these experiences and my team will always stay with me…There will always be the swimmer, Jordan.
#12.  Are you going to the Olympics? You know what? I would absolutely love to. We'll see where my coaching career goes. As a swimmer inside the pool, I would say no, because I value working shoulders. As a swimmer outside the pool? WHERE'S THE BUS!?

About the Writer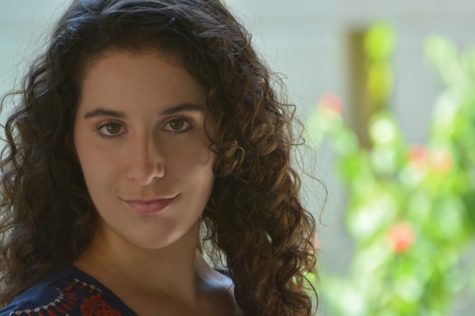 Anna Villalobos, Editor in Chief
Senior at Mother of Divine Grace School.