Ten Questions with Landis Lehman
Hang on for a minute...we're trying to find some more stories you might like.
A Mother of Divine Grace student, Landis Lehman, recently won "…a tournament, the Texas Home School State Basketball Championships, which is for all the homeschool teams in Texas." Landis is the younger sister of Cole Lehman, who is one of the two Editors-in-Chief for VOX News and who also has been featured on VOX News for playing the sport. Check out Landis' thoughts about basketball and winning States, and what she says is the biggest key to success in the sport.
How long have you been playing basketball and what has been your experience with the sport so far?
I've been playing basketball for 10 years. I'm 6'1' and I play the post position on both the JV and varsity teams for Dallas HSAA (Home School Athletic Association).  We play mostly against private and public school teams in the Dallas metroplex and sometimes against other homeschool teams. My teams are very competitive, and we had a great season this year, with the JV team going 29-7. Basketball is a lot of fun, and I love working together with the other people on my team and trying to help myself and others improve.
Is it the only sport you play? Is it your favorite?
It's currently the only sport I play. I used to also play soccer, but basketball has always been my favorite!
Have you been with the same teammates for most of the time you've played?
Well, since I've played for so long, the answer is no. I started out playing in a recreational league, and I switched to HSAA when I was in middle school. But I've played with most of my current teammates for at least one season before this, and most of us have been playing with HSAA for several years.
Are you going to try and continue playing in college and/or after college?
I might want to play in college, but I haven't really decided yet. If I do, it'll probably be at a small school. I know I don't want to play after college.
What has been your favorite moment in your basketball career?
I have a lot of awesome memories, but one that stands out is from this season. My JV team was playing in the semi-finals at a tournament in Houston, TX.  We had been down the entire game, and with only about a quarter left we were losing by 15 points. At that point most teams start to accept that they're going to lose. But we refused to give up and came back and won that game. The feeling of accomplishment afterwards was truly incredible.
You won the State championships for your basketball team this year. Did you expect that?
Based on other JV teams that were in the state tournament, I knew my team had a pretty good shot! We were playing many of the same teams that were at the Houston tournament, which we won, so we felt like we could beat all the teams at state.
Was the championship itself a tournament or just a single match? Who did you play?
It was a tournament, the Texas Home School State Basketball Championships, which is for all the homeschool teams in Texas.  The JV girls bracket was a round-robin format, where we played all of the other teams. Whoever had the best record at the end was the champion. For the last game, we were playing San Marcos Panthers, the only other undefeated team in the tournament. So whoever won would be the champion, making it essentially a championship game. This was the same team we had beaten in the finals at the Houston tournament, and we beat them again to win the state championship!
How did you feel when you won? Did you have a party afterwards with your team?
It was awesome to know I was a state champion and to achieve something that my teammates and I had worked towards all season. It was also special because my JV team last year also won state, so I was a back-to-back state champion. We didn't have a party, but we celebrated a lot right after we won! The other teams from my organization who were watching us made a tunnel for us to run through. We also received medals, a trophy, and state champion t-shirts, and took lots of pictures.
What are your plans for next year? Are you going to try and win States again?
Next year I'll be playing only for varsity. We'll have a lot of returning players and will continue to be very competitive. I definitely want to try to win state again, and I think we'll have a good chance!
What do you see as the biggest key to success in basketball?
The biggest key to success in basketball is definitely your mental attitude. For example, if you don't believe you can make a certain shot, then 99% of the time you won't make it—even if you actually can! It's also really important to keep a positive mindset when your team is losing. You do much better when you keep yourself and your team from getting frustrated or dejected, and you might even end up coming back and winning.
Update: After my team won State, we went on to win Regionals, a multi-state homeschool tournament.  We then played at Nationals, where we were national champions in our division.

About the Writer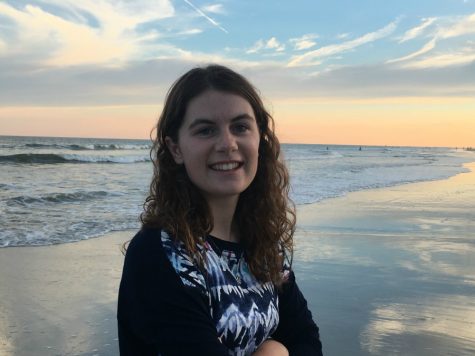 Mary Lang, Features Editor
Senior at Mother of Divine Grace.