The Secret Garden: An Exclusive Interview from the The Playhouse San Antonio
Hang on for a minute...we're trying to find some more stories you might like.
"Mistress Mary, quite contrary,
How does your garden grow?
Not so well, she said, see the lily's dead,
Pull it up and out you go."
                                 ~ The Secret Garden
Stepping into The Playhouse here in San Antonio, Texas, I already knew that it was a place of magic, fictional or not. The Playhouse has been around for many, many years, and while I knew they put on beautiful performances, I had yet to see one for myself.  I was incredibly lucky to have been given the opportunity to interview the Stage Manager and one of the actors from their latest production, The Secret Garden.  
The Secret Garden tells the story of Mary Lennox, a little girl who loses her parents to a cholera epidemic in India. She is then sent to live with Archibald Craven, her troubled uncle, who lives in a secluded, mysterious mansion on the British heath. Together with newfound friend Dickon, cousin Colin, and maid Martha, they embark on a magical adventure to a secret garden.
Through my good friend Karol Cooley, who plays the role of Dickon, I was privileged to be able to go backstage and exclusively interview him and the stage manager, Meagon Roe. Meagon very generously took me backstage, giving me a tour while answering my many questions. Check it out, along with some super cool pictures, below:
An Interview with Meagon Roe, Stage Manager of The Secret Garden
What do you believe the characters are trying to tell the audience through this story? What is the message they are trying to tell? The characters are conveying a message of family. This play is so much about the relationships the characters have with each other and the connections they make. It's also the biggest thing the audience can relate to.
So what does the story of The Secret Garden mean to you? Like I said, I think it all just goes back to family, creating a home, and just blossoming where you're planted.
What was the hardest part about bringing The Secret Garden to life? Every show has its challenges, but the biggest was probably how abstract the props are, particularly for the actors, you know, because they had to learn how to maneuver around them, as they [the props] move continuously during scenes. But it was amazing to see the actors learn how to take ownership of their surrounding and the props, so it went off without a hitch.
What do you think or hope that the playwright, Marsha Norman, and original author, Frances Hodgson Burnett, would have to say about this portrayal of The Secret Garden?  I hope they'd be proud, because I believe we stuck to their vision, and never tried to force our own version, but rather pushing their story. It was very natural.
What sort of person is going to love this show? What's going to surprise people about this show? Definitely the visuals, the sets. It's all new and abstract: a living, breathing set.
What is the best part about The Secret Garden? What's the best part about this cast? The music is definitely the most moving. (Note: she's right. I cried like a baby. You have to listen to this musical.)
Describe the experience of being in a theatre cast, specifically this one. What's it like?  One of the most important parts of this cast is the quality of it, they have such a willingness and openness to suggestions. They are a team, willing to collaborate.
Describe the backstage experience. What is something an average audience member wouldn't know about what goes on backstage?  All the space. It's very spacey back here, there's a lot the audience doesn't see. Everything down to the props is specifically placed; it's a puzzle.
What's the last thing you do before you step out on stage/the curtain goes up?  As Stage Manager, I call "places!" and tell everyone to focus through my headset. The very last thing I say from is from the sound box (because I'm the one that basically has to start the show) "Alright, good show." And the curtain goes up! It's always such a thrilling experience every time.
What is the key emotion you want the audience to feel after the curtain falls? The story, the magic of family, and the value in relationships.
What do you think is the most important skill to learn as a director/actor? Teamwork. Every actor is important, whether they be the lead or in the ensemble.  It's important to be willing, engaged, and on time.
And lastly, what would you say to someone who wants to get into theater? Volunteer! Reach out, be ready. Get into props, paint the sets, anything!
After thanking Meagon for her time, it was time for rehearsal. I was able to sit in the audience and watch them run over various lines and mic checks before the doors opened to the public. Just by taking one look at the cast, it became obvious to me just how true Meagon's words about the cast were: they really are a reflection of the family in The Secret Garden. The cast and crew are so close, both maintaining a lovely balance of professionalism and having fun.
The show was amazing. Like, this-reporter-jumped-out-of-her-seat-because-WOW amazing. When the curtain fell, I just felt this overwhelming sense of warmth and pride, not just because I knew one of the actors, but because of the warmth this story has. It's very powerful, and I believe it really shows how something incredibly beautiful can come out of tragedy.
The artists at the Playhouse bring The Secret Garden  to life in an abstract, diverse, almost out-of-body experience that takes the audience to another world. The contrast of the lights with the sets is almost hypnotic, and the actors are so engrossed in their characters that you become a part of their world by just watching.  The diversity in the voices of the actors alone is a magic within itself, although there is also quite a difference in age, too. But there becomes a point where you forget how young or how old the actors are. No matter their age, every actor I had the privilege to see perform was professional, taking directions like a sixth sense even back in rehearsal.
In the end, there is no young or old, man or woman, experienced or inexperienced. There is only art, and artists, coming together as a family to bring a beautiful story to life.
"Mistress Mary, quite contrary,
How does your garden grow?
Far too hot, she cried, see my rose has died,
Dig it up, and out you go."
~ The Secret Garden
Later, I interviewed my friend, Karol Cooley, who played "Dickon," Mary Lennox's friend, who ultimately introduces her to The Secret Garden.  Check it out, along with Karol's character poster for the show:
An interview with Karol Cooley, "Dickon"
What is a pivotal moment for Dickon? For Dickon, I don't think it's the most important time in his life, whereas Mary [main]  and Colin [Mary's cousin] are more affected. Its more "all in a day's work for Dickon. He loves spring, he loves nature, and instead of him getting "a pivotal moment" per say, he actually gives Mary her pivotal moment by encouraging her to find the key to the secret garden.
What does the story of the Secret Garden mean to you? The secret garden is a really heart wrenching story of redemption, longing,  and family
What would you say to someone who wants to get into theater?
Just go. Just audition. You may not get your first audition, but that's fine, that's normal. Just start.
What do you think is the most important skill to learn as a actor?
Probably to be in the moment. It's easy to lose focus on your character, but you have to learn to be and become your character. You have to connect yourself and your character and learn to embrace him.
What is your favorite characteristic about Dickon? Do you have anything in common? Dickon is really coy and sly, almost like a very suave country boy. He's very witty and aware and perceptive of what's going on around him. I think we share wittiness, I mean, I'm pretty witty.
What was opening night like?
Opening night was absolutely incredible. There was so much emotion, not so much during the play because I was focused on being Dickon, but during curtain call I was a mess. I just remember looking down the line of my costars and seeing tears streaming down everyone's cheeks. A lot of us were crying. It was phenomenal. Being in a cast is a special connection you can only get from spending hours together working towards a common goal. Striving toward the same thing gives you a sense of unity.
What's the most important thing you've ever learned about acting from The Secret Garden? That every performance has screw ups, it may look perfect to the audience, but everyone makes a mistake. If you're a good enough actor no one can tell when you mess up. What you think is your worst performance, the audience may think was the best.
Any advice for other aspiring actors and actresses?
If you have an opportunity, just take it. No matter what it is. You have an opportunity to dance, dance. To sing, sing. You never know what's going to happen!
What's the best memory you are going to take away from this experience? Probably dancing around in the men's dressing room, singing NSYNC with all the classical tenors. It was the best thing ever, we were in the dressing room, just singing the Backstreet Boys at the top of our lungs. The best part about it was, y'know, you're seeing these guys who are all classically trained and we're just in our dressing room, belting out the Backstreet Boys in a five part harmony. It was great.
The Secret Garden ran from February 11th until March 12th, 2017.  And if you're ever in the San Antonio area, you have to attend a show at the Playhouse! Seriously. Go. It'll be a theatrical experience you won't soon forget.
Visit The Playhouse San Antonio's website at http://www.theplayhousesa.org/

About the Writer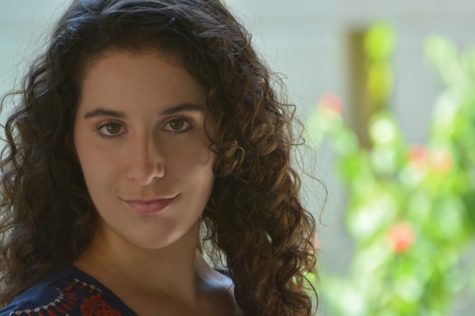 Anna Villalobos, Editor in Chief
Senior at Mother of Divine Grace School.