The Considerable Joy of Drama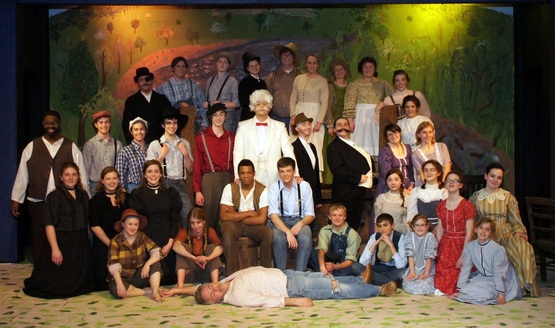 Hang on for a minute...we're trying to find some more stories you might like.
Julia Fassero, a MODG   freshman, has been active in drama ever since she was eight. She's stared in many plays, her most recent one being the musical, Big River.
Here is a reflection, written by Julia Fassero, on her past year of drama:
"Considerable trouble and considerable joy."  From the very beginning of a show to the last performance, the quote above, taken from the musical Big River: The Adventures of Huckleberry Finn,is brought to life.  Working in a community theatre is no easy job; from late nights, to delayed progress, to problems with tech, being in a musical is often a full time job.  As I experienced as a cast member in Big River, all of those hardships are overcome, and in the end, a wonderful performance is put on.  Learning musical scores and dance numbers, in my opinion, is the best part of a musical.  For this particular musical, the college students from Benedictine College in Atchison, Kansas, partnered with our community theatre to put on this show at the beginning of April.  Working with a variety of people is one of the best parts of being in any show; you meet new people, make new relationships, and in the end, form one big family.  The best satisfaction an actor can get?  A full house and a lively audience.  A performance is also educational.  Learning new acting techniques, music, and dances are only a few of the skills you can learn from being in a show.  In the time spent at rehearsals and performances I collected enough hours to earn .5 credit for Performing Arts.  In the words of Mark Twain, "I never let my schooling interfere with my education."
VOX reporter Mary Hammer asked Julia 10 Question about drama and acting. Here are here the questions and Julia's responses:
1. What drama group are you a part of?
I am part of my community theater, Theatre Atchison.
2. What aspects of your drama group first attracted you?
I began acting when I was 8, in a children's version of the "Jungle Book."  It was there that I was drawn to learning how to play a character, meeting new people, and learning from a director about acting.
3. What drama productions have you been in this year as a freshman?
In this year I have been in "It's A Wonderful Life" and "Big River: The Adventures of Huckleberry Finn."  I was also stage manager for a traveling production for children. (That was called "The Superhero Whack-down on Waste."  It was about recycling.)
4. Can you tell about the roles you played in the plays?
In "It's A Wonderful Life" I was an extra playing a child, a high-school girl, and was asked at the last minute to play a banker as well.  In "Big River" I was a member of the choral ensemble, and was a character in a riot scene.
5. How do you practice your lines?
I practice my lines at home by reading over them and reciting them to my parents.  At the theatre, I practice them with my friends (reciting them).
6. Do you sing as part of your acting?
I do sing as part of my acting.  I'm not very good, but I do sing. I have been in two musicals:  "Big River" and "Oliver!"
7. What would be your top three favorite things about drama or acting in general?
My top three things about acting are meeting new people, learning new things about acting, and just having fun on stage!
8. Are there any roles you would like to have in future productions?
Well, my theatre is doing "Les Miserables" in the fall and I would like to audition for that, but I would be happy to just be in the ensemble.  They are also doing "Miracle on 34th Street" – I don't have a particular character I would like for that one, either.  I'd be just happy to be in the show.
9. How have you grown through your experiences in drama?
I have grown to learn how to work with other people, both friends and strangers;  I have learned how to work with a director, well, directing me.:)
10. What advice would you give beginning actors/actresses?
Never give up, even though it might get hard- it's always worth it in the end!  Don't be afraid to act BIG on stage even if no one else is doing that.  The director will love having an actor who gives 100%!

About the Writer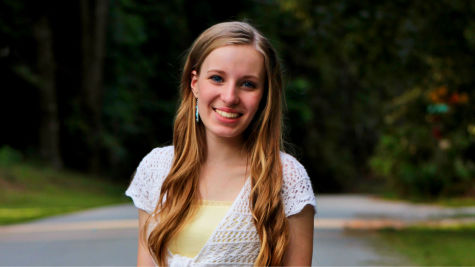 Mary Hammer, Managing Editor
Managing Editor Mary Hammer is a junior at Mother of Divine Grace School.

Contact her at [email protected]