A Glimpse into the World of Gymnastics
Three MODG girl gymnasts talk about their love of gymnastics
MODG students are involved in many different sports, one being gymnastics. MODG has three gymnasts: Annabelle Young, Grace Young and Mya Riley.
Annabelle and Grace Young have been doing gymnastics since they were four.
As to what inspired them to start gymnastics, Annabelle said that their mom put them into gymnastics when they were little and they stuck with it.
Their favorite things about the actual sport vary, but not by much. Grace said she loves it all: teammates, hard practices, new skills, winning competitions. Annabelle said that she likes competing and practicing with her teammates. She also coaches the younger girls.
As for competitions, they've both placed. According to Annabelle, "Grace and I are often the top two all-around gymnasts in our age group. We are each other's biggest competition."
Neither girl could name a least favorite thing about competitions, but both had favorite things. Annabelle loves "going last on floor because it is one of my favorite and best events." Grace's favorite part is "winning with my teammates and showing off my routines."
Both the girls put the same amount of time into practice: seven hours and twenty minutes every week. Compared to the practice time of the competition and many of the other girls in the gym, the girls said their practice time "…is very little".
Both of the girls have Gabby Douglas and Shawn Johnson as their gymnast role models. Annabelle also named  Aly Raisman, saying, "I like Aly a lot and I use her floor music."
When asked if they would ever want to do something as big as the Olympics, both girls had the same answer. "I would have had to have been on a different track when I was really little if I wanted to be in the Olympics." Annabelle said. "The program I am currently in allows me time for family, friends and other interests," Grace added.
A compilation of Annabelle and Grace Young gymnastics
Mya Riley does Rhythmic Gymnastics, which is different from the normal gymnastics. "Rhythmic gymnastics is a combination of dance and gymnastics. Second, Rhythmic gymnasts use different kinds of apparatus such as ribbons, balls and hoops. Thirdly, Rhythmic gymnasts don't do flips, though we do cartwheels, forward rolls, etc." Mya said, explaining the differences between the two gymnastic styles.
As for what got her interested in rhythmic gymnastics, "….a bunch of my friends were doing it and the gym was having a free trial. I tried it and loved it!" she said.
Mya has been doing rhythmic gymnastics for two years and has, so far, only done recitals.
When asked about competitions, Mya said, "My gym has a big competition every April, so in a few weeks I will do my first competition."
When asked about her favorite and least favorite thing about her recitals, Mya commented "being able to show my family and friends what I've learned. My least favorite part is the stage fright. I get nervous when the judges are watching, but it gets better as I do it more."
Her favorite thing about gymnastics in general? "…learning new routines and how to use different apparatus such as ribbon and hoop," Mya said. She practices at the gym once a week on Thursdays and sometimes stretches and practices at home. In her words, "not nearly enough!"
As to who her role models are in gymnastics, Mya names her teacher, who is still a competing gymnast, "I love watching her compete and [seeing] her skills", and her friends, who have been doing gymnastics longer than she. When asked if she would ever want to do something as big as the Olympics, Mya responded, "Well, if I ever reached that level…maybe."
Mya Riley practicing a routine for Rhythmic Gymnastics
About the Writer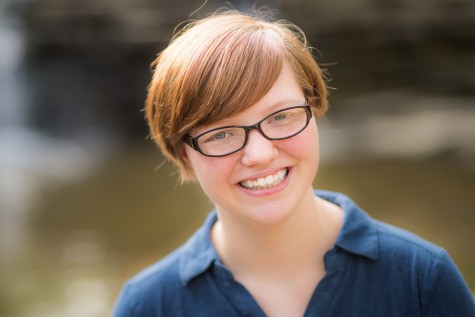 Kaylee Henderson, Reporter
Junior at Mother of Divine Grace School.