MODG Brothers Wrestle Their Way to the Top
Hang on for a minute...we're trying to find some more stories you might like.
In a small town in northeastern Kansas, two MODG students are making a big name for themselves in wrestling.  With a total of more than 400 awards and placements, five trips to state and a 6th place win at state, brothers Andrew and Joseph Jirak are experienced wrestlers.  Andrew (age 12) and Joseph (age 11) have been members of the Atchison Kids Wrestling team for six years.  Joseph has been wrestling since the age of four.  Over the past six years, combined they have spent more than 1,200 hours in practice.
"An hour-and-a-half on Monday, two hours on Tuesday, and an hour-and-a-half on Thursday," Joseph says of their practice schedule.  Combine that with baseball, soccer, hunting, fishing, schoolwork, trumpet-playing (Andrew) and piano-playing (Joseph), and you have two very busy boys.  All the practice pays off on Saturdays, when they compete against other wrestlers.  The entire Jirak family makes the trek to the meets, which are held in neighboring towns.
Andrew Jirak from VOX News on Vimeo.
"You usually get up at 6 o'clock, get ready, then we leave; it usually starts at 8 or 9, we wrestle typically until 1 or 2 or 3," explains Joseph.
In addition to regular practice with the Atchison Kids Wrestling team and coach, the boys are learning from a big name in wrestling – Tony Purler, a former USA World Team member who brings his expertise to Atchison's youth wrestling program.
"It's basically a wrestling camp where you learn a lot of moves.  The first hour is learning moves, the second hour is live, where you wrestle live matches, and they continue the kind of moves [. . .] for three weeks and then they move on to different stuff," Joseph says.
Their dad, Mark Jirak, who introduced them to wrestling, says he thinks it benefits them in the areas of fitness, discipline, sportsmanship, competition and developing a "get-back-up spirit."  That spirit helps Joseph, who suffers from asthma, to continue wrestling.
"I don't know how he's so good at wrestling with asthma," Andrew wonders.  Joseph says it's difficult, but he uses an inhaler before meets which allows him to keep going.  Andrew agrees with his dad and says that wrestling "is good discipline" and helps keep them in shape.

The brothers' admiration for each other is obvious.  When asked what skill the other is better at, both say offense.   In reply to a question about who would win in a match between the two, "Joe would beat me," insists Andrew, despite protests from Joseph, who insists he would lose to his older brother.
Their advice to anyone considering joining a wrestling team?
"Definitely first try it out and make sure that you like it;  [. . .] if you have any friends that wrestle you definitely want to talk to them for a while," Andrew suggests.  Joseph agrees.
"I would try just team practices," he recommends.  "And if you really like it, you should do it."

About the Contributors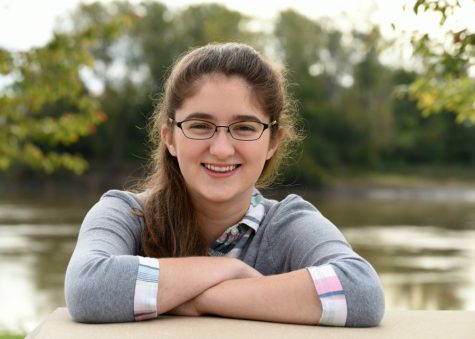 Julia Fassero, Editor in Chief
Senior at Mother of Divine Grace.