March, Snow, Prayer, School and, of course, Lots of Fun
Wondering what your schoolmates did when they were snowed in after the March for Life in D.C.? Read and find out!
Homeschoolers are resilient. Threats of a blizzard that shut down Washington, D.C. did not stop MODG students from marching, although the storm did stop them from getting home. That meant students had to get creative about attending LS classes and Mass. But one thing students knew instinctively how to do in the middle of a crisis was to have fun.
It all started about one o'clock on Friday, January 22nd. In Washington D.C., snow began to fall at the start of the March for Life 2016. This was the beginning of the historic snowstorm Jonas. The storm was still raging 24 hours later, and by Sunday had left over 24 inches of snow in the area. Temperatures dropped to the low 20's, and winds nearing 30 miles an hour brought the wind chill to single digits. In addition, the Washington D.C. Metro was shut down completely for the first time since Hurricane Sandy in October 2012.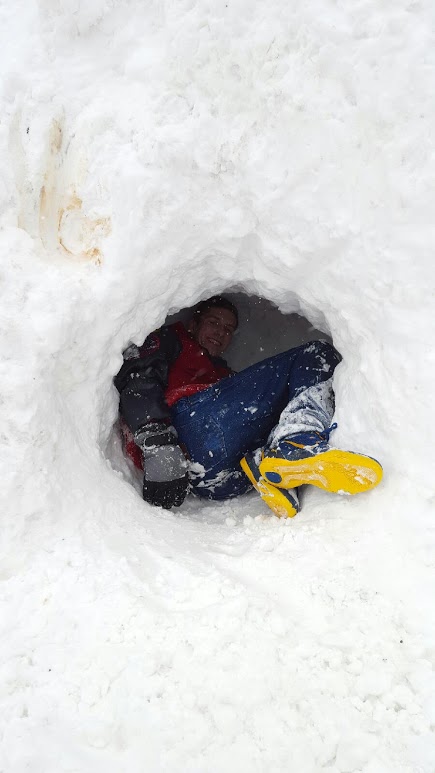 With travel nearly impossible for the Mother of Divine Grace students who had met up for the annual March for Life, 23 families were left unable to fly or drive home. On the morning of the March, eight of these families relocated to a hotel closer to the airport so they could walk if need be to catch their flights home. Most families attended the March for Life as planned, but some left early after hearing the Metro would close down at 5:00 pm. Upon arrival back to both hotels, families began receiving news that their Saturday flights home were being canceled, while those who drove could leave no earlier than Sunday afternoon for fear of black ice. By Saturday, all flights were canceled again for that day and Sunday, giving the only option to return home Monday.
Even though Mother of Divine Grace students and their families were stranded at their hotels, they found many ways to pass the time. Playing in the ever increasing snowfall was a popular option, with lots of snowball fights and even digging tunnels with plastic spoons! A few brave souls even ventured a few blocks out in the storm to rent a movie from a nearby Redbox.
With an impending snowstorm, members of the Mother of Divine Grace class of 2016 got together and contacted Deacon David Keegan, a seminarian from the St. Vincent de Paul regional seminary, in an attempt to organize a Mass for the students stuck at the hotel. Unfortunately, there was no way for any of the priests or seminarians to get across the bridge in the snow. After informing the seniors of this, Deacon David gave them resources to help them honor the Lord's Day.
First he informed them that due to the amount of snow that was predicted to build up during snowstorm Jonas, Most Reverend Paul S. Loverde, Bishop of Arlington, exempt D.C. and the surrounding area from attending Mass on Sunday, January 24, 2016. Second, Deacon suggested that the students gather together, read the daily readings and discuss the readings. With this advice, class of '16 members Thomas Glasscock, Lucas Miller, Cayla O'Brien, Hadleigh Thompson and Elizabeth Vrklan arranged for families staying at the hotel to have a prayer service that afternoon.
Beginning with a hymn, the students read Sunday's readings, meditated on a homily and participated in spiritual communion. Many parents and even some other hotel employees and guests sat and listened to the service. Though there were some families who braved the 45 minute walk to a local Mass, this was the perfect way for the students to both serve the families who could not make the walk and evangelize to the others residing in the hotel.
The thought of doing schoolwork sounded less than appealing, but several students took a break from the fun and made sure they didn't get too far behind. On Monday morning, nearly all the students had LS classes, so they assembled in both hotel lobbies with their laptops and tablets and tried not to distract each other from class. Being homeschooled means you don't get 'snow-days!'
The students were asked how it felt being stranded at the hotel. "If you're gonna be stranded, it's great to be stranded with such a great group of people," said one. His response was echoed by everyone.
By Tuesday, on January 26th, all 23 families had made it back to their homes, safe and sound. "It is good to be back home," said Mrs. Cathy Coale, "but I miss the camaraderie of the parents and their children at our hotel who could not return home due to the snowstorm and closure of the airport Friday, Saturday, and Sunday. The delay gave us extra quality time to get to know each other better. After three fun-filled days it was great to see our children in the lobby Monday morning doing their LS classes together before departing to catch their afternoon flights home. It was like a mini-MODG retreat that I feel truly blessed to have experienced!"
About the Writers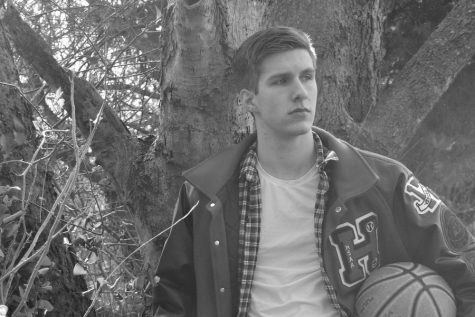 Cole Lehman, Editor in Chief
Senior at Mother of Divine Grace.