Knights of St. Jean DeBrebuef
This organization is a French Catholic group similar to the American Boy Scouts
 MODG senior Benjamin Kasak talked with VOX Reporter Nikki Proctor by email about his outdoor explorer group. Read Benjamin's answers below to the general question, "What was your summer camp like with the Knights of St. Jean DeBrebuef?"
Benjamin: Our Summer Camp is a nine-day event in Colfax, CA, owned by the Diocese of Sacramento.  It is very nice because we are on private property so we can fish and chop down trees with out getting in trouble!   Of course we have permission from the care taker, and we chop down trees with a purpose, not just for fun!  We prepare for the Summer Camp all year with activities during our meetings, from making pizza on an open fire to practicing knots.  If we prepare well, we will be ready for the Summer Camp.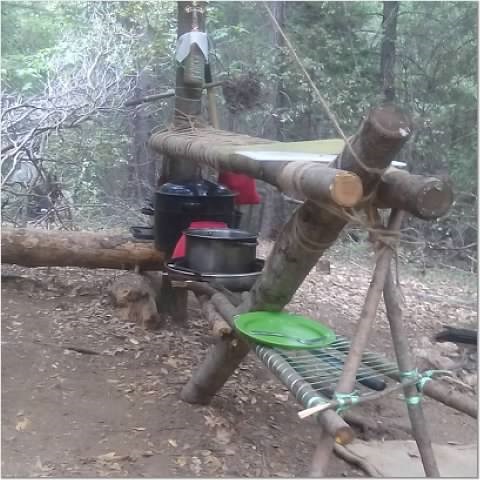 My experience was fantastic, as it was with my other patrol members. I am the Patrol Chief of the Stag patrol. There are seven members. This was our second Summer camp, and we were surprised at the challenges we were made to face by the adult leaders.  This year's camp was definitely harder then last year, but at the same time it was also fun and gratifying to know that all our hard work payed off.  I was truly amazed at the progress of my patrol and the lessons we learned.  With hard work and persistence, we learned we could do great things.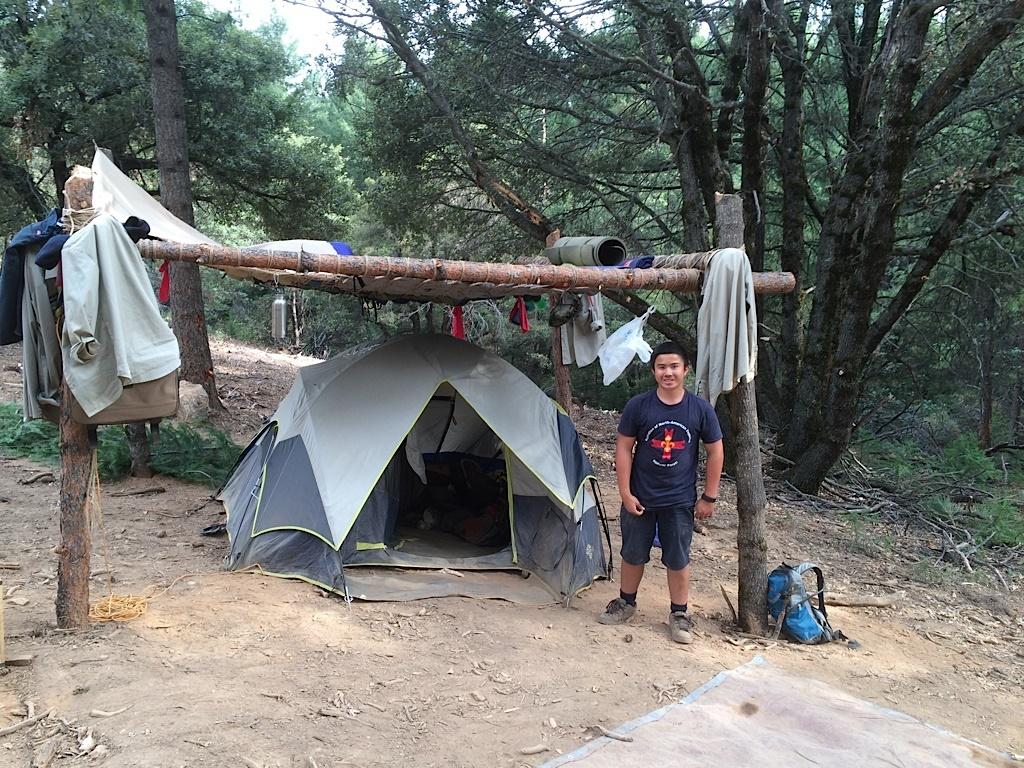 We go to camp knowing the theme of the camp.  The "theme" is a historical event, or something like that, chosen by the leaders.  We are given a documentary to watch so that we can be prepared for the camp.  We base our campfire skits on the theme.  We are also asked questions regarding the theme, and  we get more points if we answer correctly.  All during camp we are competing with our rival patrol, the Hawk Patrol.  We compete in seven competitions throughout the time at camp, and whichever patrol wins the most competitions, wins the camp.  Here is a list of the competitions this year:
Pioneering– Build a structure from wood and rope. Whichever patrol has the better structure (creative, sturdy and useful) wins. This year we had to build a suspended tent.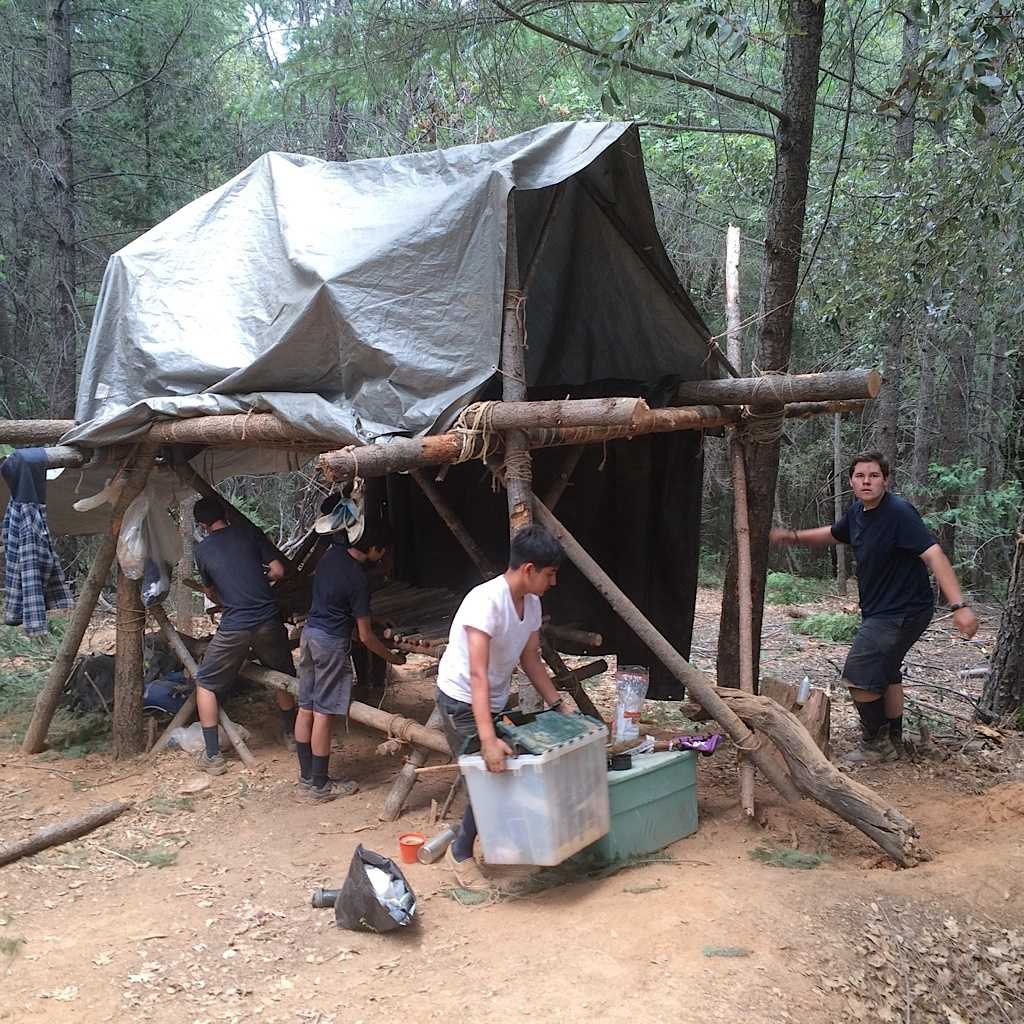 Kitchen – We are given a box of ingredients that we must use to make a meal. We serve the meal to the adult leaders.  Which ever patrol has the better presentation, creativity, service, and taste, wins.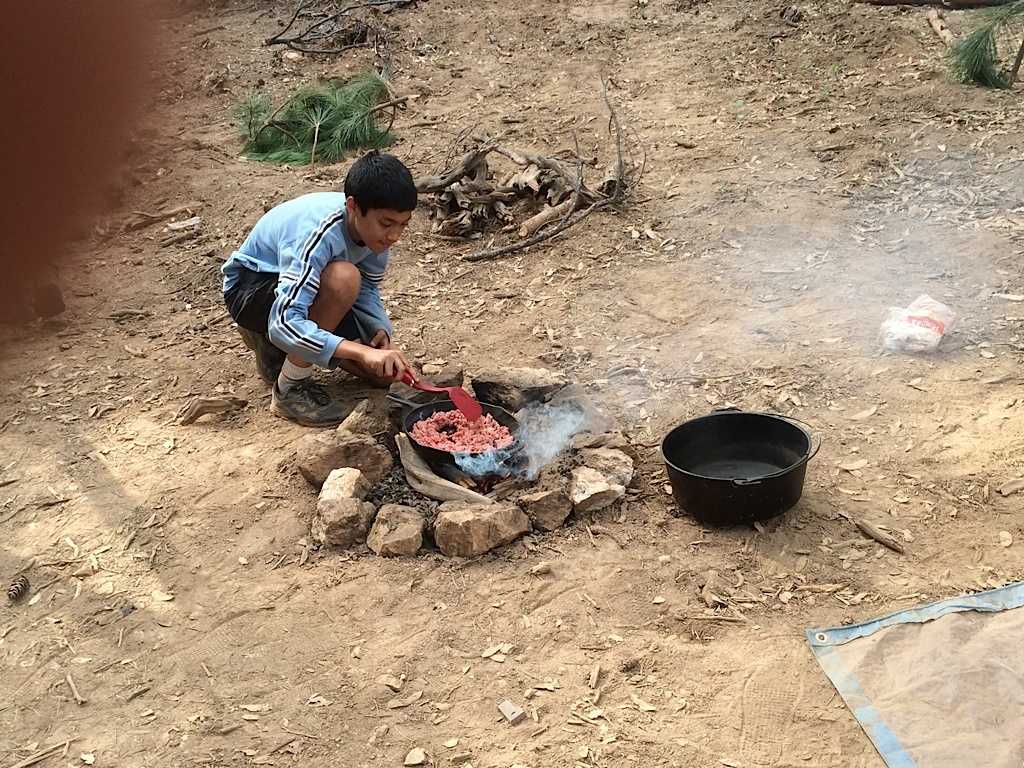 Big Game – An adventure to obtain a treasure.  We are given directions to a given spot were we look for a message, and when we find it, we have to decode the message.  The messages are always coded with Morse code or scrabblers.  Therefore we must all have Morse code memorized.  In the Big Game we have no friends. The Adult leaders attack us, and sometimes we must fight the other patrol.  The way we fight is by grabbing the flag from the belt of the enemy.  If the flag is pulled successfully, then you die – you have to stay in the same spot for 5 – 10 mins, depending on the rules.  During the Big Game at night we have to camp away from our home camp.  The Big Game teaches loyalty, leadership, responsibility, moving tactically and critical thinking.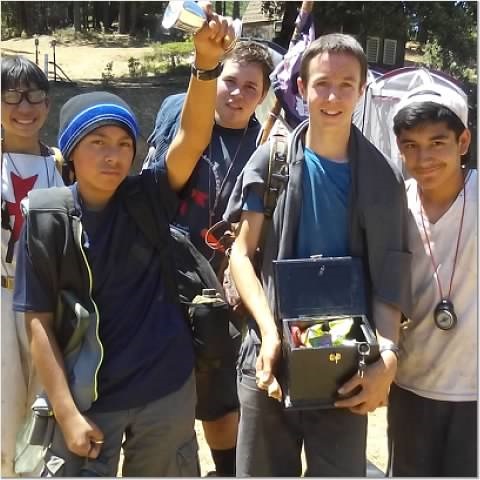 Campfire – A nightly campfire that each patrol rotates leading.  The patrol that has the best skits wins.
Olympics – A test of physical strength, including:  a soccer game, a chariot race, javelin throw, Polynesian Arrow throw, long jump, log toss, obstacle course….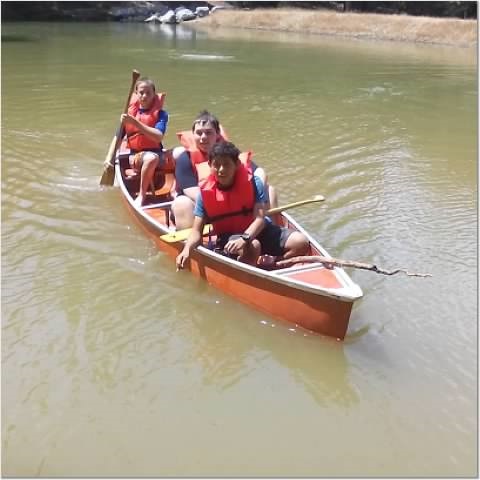 Service – Awarded to the patrol that was helpful to others at camp, such as washing extra dishes.
Explorer Spirit – Awarded to a member in a patrol who showed the most Explorer Spirit throughout camp. For example, not complaining, helpful, friendly, cheerful, and cooperative.
All of these competitions were a surprise. We did not know what day the events would take place.  We had to be always ready just like our motto "Semper Parati".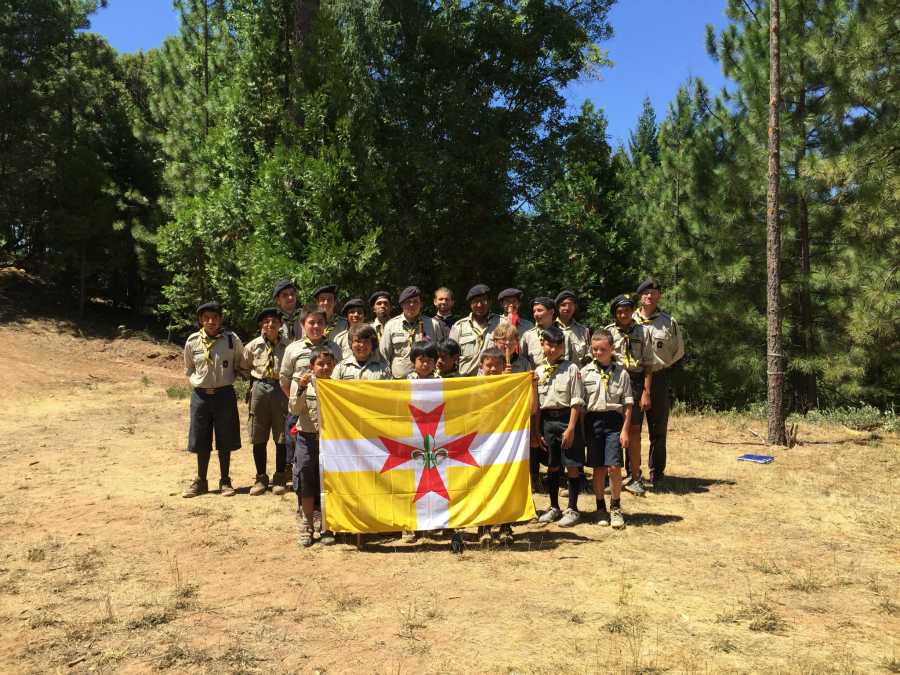 There were supposed to be bears, deer, squirrels, foxes, raccoons, lizards, skunks, snakes, and birds.  However we only saw lizards, birds and squirrels.  I was glad we were not bothered by such beasts.
All the activities we did, taught us something.  I think the most interesting thing we did was hike to a pond were we went canoeing and fishing. Then we ate the fish for lunch and dinner.  This was something we did not do last year, and I think it was a great experience.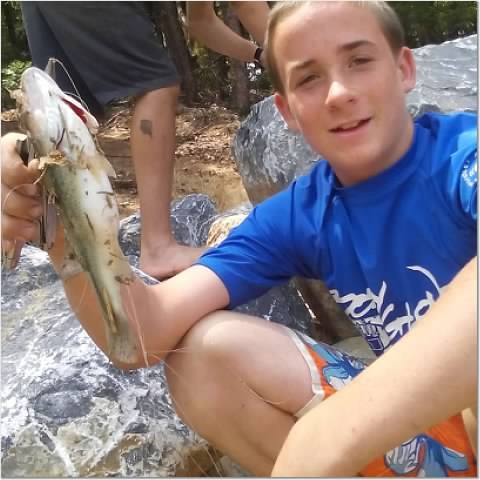 We are the Knights of St. Jean DeBrebuef. We are a group of traditional Catholics.  On our camp outs, a priest normally accompanies us. On long camping trips, the priest celebrates Mass for us out in the wilderness. It's truly an awesome experience.  At our meetings, our priest leads us in prayer and is there to watch us do our activities. Our chaplain is really involved in our activities and really enjoys it.