Training for Long Distance
MODG Senior, Mary Theresa Pitre, talks about training for a 1/2 marathon.
Hang on for a minute...we're trying to find some more stories you might like.
MODG senior, and VOX Social Media Editor, Mary Theresa Pitre, is running this weekend in the 12th Annual Prince Edward Island Marathon, taking place October 16th through the 18th. Interested to know how a runner prepares for races? I asked her some questions on her training routine.
When did you start running?
I started running in January of 2014, when I was 15 years old.
What do you eat the day of a race?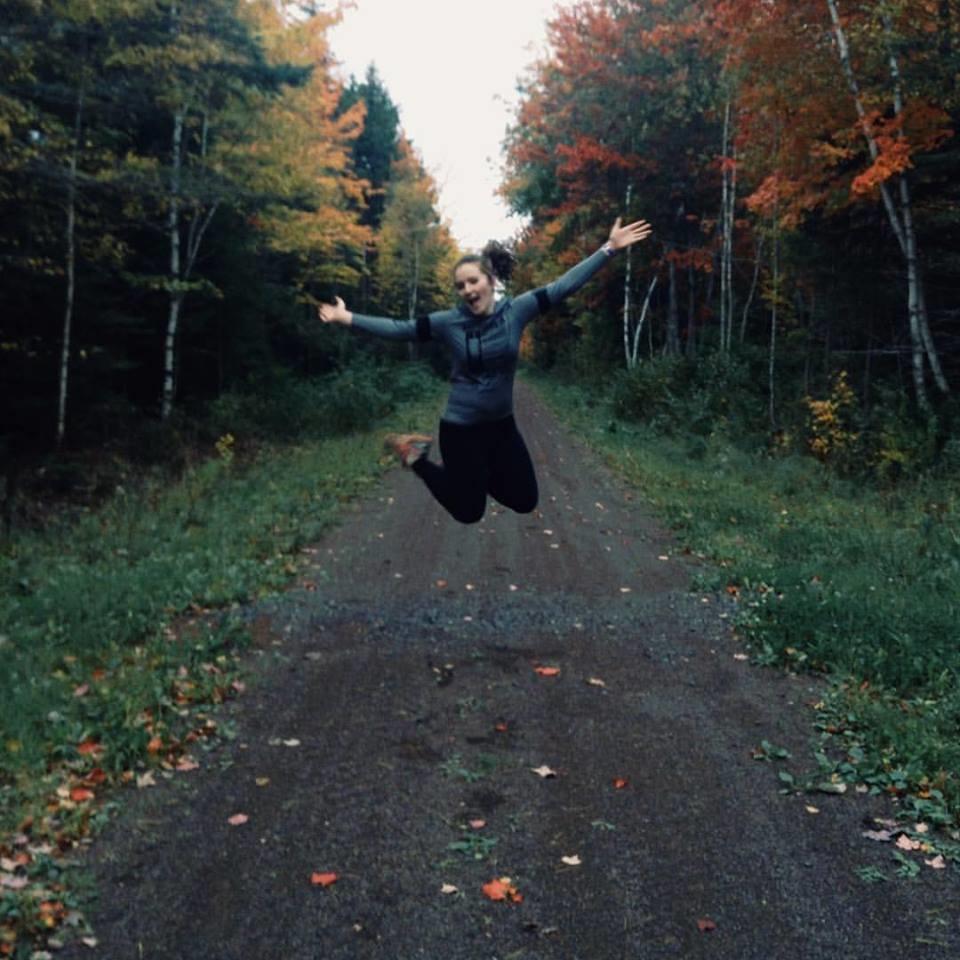 On the day of a big race I usually eat just a typical breakfast for me, which is eggs with half a bagel or some veggies! And some coffee! The only difference is that I get up early enough to eat around an hour and a half before I run to avoid getting cramps and just feeling too full during the race.
Also, in long runs or races that are over 90 minutes of running, it is important to bring energy gels or some type of snack that you can eat during the run to keep your energy up. I like to bring a little bag of chopped dates while I run, it's a more natural options then a energy gel but it does essentially the same thing.
What kind of a training program did you do?
It was a 16 week training plan that used several different types of running; longs runs, tempo runs, speed work, hill runs, and steady runs. Each type of run trains your body for a different thing. There were 5 runs per week and on the 2 other days I would either just rest or do a cross training activity, mostly body weight workouts.
Where did you get the program?
The training plan I chose was from John Stanton's book called Running– Your complete guide to building your running program. It was a 16 week program with the goal of a half-marathon.
How long do you need to train before different types of races?
I only do long distance running, but for the different distances I have done, I guess I would train differently. I started with 5 kilometer races (3.1 miles). For those, since I was just starting to run,  it was mostly about just building a running base, so basically building endurance and just teaching myself how to get through a run. Then I went on to 10 kilometer races (6.2 miles). When I got to this distance I started learning different types of running, like speed workouts, and tempo runs and also just building up more endurance so I could run the further distance.
Then when I decided to run the half-marathon which is 21 kilometers (13.1 miles), I started an actual training plan where there were a lot of different types of running and the runs were much more intense. The biggest part of training for a half-marathon for me were the long runs because they could take up to 2 hours, and I would have to carry water and even some little snacks so I could keep up enough energy to keep going.
How do you know when to stop and take a break?
This is something I am not very good at actually. I am a really determined person and usually when I set out to do a run, I won't let anything stop me. But there have been a few runs where it was either really cold or really hot and I would feel lightheaded or sick and would have to stop my run early.
It is really just about learning to listen to your body and know when you need to push yourself beyond your comfort zone or when you actually need to take a break.
"
I love that I can challenge not only my physical strength but also my mental strength to keep going, even when I just want to stop and sit down."
— Mary Theresa Pitre
How do you stay motivated during your training?
I wrote out my training plan on a poster-size piece of paper in my room so I would see it every day. Also I just decided it was something I wanted to do and I committed to making it happen. It's not always easy, but being positive after hard runs, and getting back out there the next day no matter what, is important.
Fall and Spring are the best seasons for staying motivated for me because there are a lot of races that I can participate in and it's the best weather for running.
In the summer, when it's really hot and humid, it makes it a lot harder to get out and run because the heat makes you so much more tired and dehydrated. So I will run early in the morning before hottest time of the day. And winters in Prince Edward Island, Canada, where I live, are not conducive to running outside because there is 5 feet of snow everywhere. So I will end up doing a lot of treadmill runs to keep my fitness up over the winter. It's so much harder to motivate myself to work out on a treadmill, so I will often watch movies on my laptop while I run inside.
What music do you listen to when you run?
I love music, so I have pretty diverse playlist. I try to listen to a lot of upbeat Christian artists like Hillsong Young and Free, Rend Collective, and Toby Mac. Also I really like to listen to some songs from other popular artists like Taylor Swift, Ed Sheeran and Walk Off the Earth.
Why did you decide to do this?
I decided to start running in the first place because I wanted a way to get more fit and healthy, and I was looking for a hobby of sorts.  Although that is still part of the reason I run, it's more than that now. In a way I run to prove to myself that I can.
I am a really competitive person and I like to have a challenge that I can conquer each day, and running is definitely a good way to have that. So that's why I first started running, but the reason why I wanted to run a half-marathon specifically was just for the challenge basically.
Like I said, I like to challenge myself to go farther, faster and harder each day, so that half-marathon was just the next step up for me.
What do you like best about running?
I like pretty much everything about it except the sore muscles and stinky feet! I love that it has helped me become really healthy and strong. I love that I can use my competitiveness when I'm in races.
I love the feeling of freedom it gives me when I can just be cut off from the world for a while with my music up loud and my feet slapping the pavement. I love that I can challenge not only my physical strength but also my mental strength to keep going, even when I just want to stop and sit down.
I love the fact that when I get a good run in, the rest of my day usually is 10 times better. I love the excitement of races but also just the feeling of satisfaction and accomplishment after my regular runs. I just love running.