10 Questions with Sara Fielder
MODG senior, Sara Fielder, tells VOX what it's like to play first base for her softball team at her local high school.
1. How long have you been playing softball?
I have been playing softball for close to seven years. I was 10 years old my first season and am playing this season at my local high school.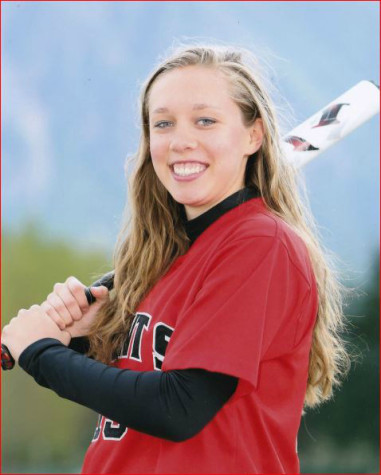 2. Why did you first get involved with your sport?
My dad played baseball from age five up until his second year of college, and my brother was playing in the local little league. I decided to try it and have played ever since.
3.What is your favorite position?
I would play anywhere on the field, but my favorite position is first base.
4. Why is it your favorite?
It is my favorite because it gets a ton of action. Almost every ball hit in the infield will involve 1st base in some way. I am also very tall which is a desired trait in a 1st baseman, so I like to use my height to my advantage. I always have to be thinking ahead and be prepared for throws that could end up anywhere so it keeps me on my toes -literally.
5. What are some of the difficulties you have had to overcome in your sport?
I was definitely not the best player when I started and have had to work hard to get where I am at. I still have lots of things that need to be improved and I work on the little details that make me better overall every day at practice. One thing that I am continuing to work on is my mentality when hitting. I work extremely hard on all my hitting drills but when it comes to hitting when I am standing in the batter's box, I have hard time applying what I have practiced to my actual swing during games. I also have done some eye therapy to help me with my depth perception. The season before my eye therapy I had over 20 strike outs and this last season after all my therapy I only had one the whole season. So I defiantly saw improvement.
6. What draws you to your sport?
I love softball for so many reasons. I love its complexity. There are so many different situations and no matter what it happening on the field, no matter your position, there is always something for everyone to do. In a lot of other sports, take soccer for instance, even though there are many types of positions everyone runs and everyone kicks and if you are not good at that that it's not your sport. Softball is different. I am extremely slow, but I fit in perfectly at first base.  One of the fastest girls I know plays center-field and she uses her speed to help the team just like I use my height to help the team. No matter what your strength is there is always a position that you can play that highlights your specific skill set.
7. What is the best memory you have connected to your sport?
I have many great memories playing softball, but two special ones really stand out. The first one was my first home run I ever hit. I remember coming into the dugout afterwards and all my friend congratulating me. The feeling I had is hard to describe! The second was when I was playing in a district tournament and we were down one run in the bottom of the 7th inning (you only play seven innings in softball unlike baseball where you play 9). We had runner on third with two outs, and one of the fastest girls on our team was up. She hit the ball in the infield and she beat the throw to first base, and we won!! I remember all of us running out of the dugout and onto the field and jumping on her cause we were going to play in the championship game. Even though we won that championship game, that second to last game was the most exciting and most memorable.
8. What does a typical practice look like?
A typical practice starts out with the warm up which includes six laps around the field, our daily drills which include bunting, short hops in the infield, drop step catching in the outfield and catching against the infield fence for infielders. Then we grab partners and warm up our throwing arms. We start close together, just warming up our forearms, and end with a long toss all the way across the field. Then we all gather at the pitcher's mound once we are all warm, and we split into 2 groups. One group heads over to the hitting cages where we work on hitting drills for 45 mins while the other group works on fielding in the field. Then we switch. After we are finished with those two rotations we gather in the outfield for 15 mins of conditioning. It could be anything from running drills to an abb- workout. Then we rake the field and pull the bases and gather in a circle one more time where we talk about the highlights of the practice and do shout outs to the people who worked extra hard that practice. I really enjoy ending practice that way.
9. Have you ever suffered an injury while playing your sport?
I have suffered many injuries while playing softball. In my second year, I was sliding in to second base and hit the bag with my right foot and dislocated my right knee. Then that next summer I was rounding third base and coming home and my knee dislocated while I was running and slid into the fence. Then during one of my select tournaments I was playing left field and a girl hit a ball straight at me. As I was trying to field the ball, it hit a rock in the middle of the grass and hit me square in the eye. I immediately fell over and the games paused and everyone ran over to me. I blacked out for a few minutes and the EMT that was assigned to that specific tournament came over and started asking me questions of which I knew none of the answers…..not even my name. I was carried off the field and opted out of an ambulance ride to the hospital. But I ended up with a split eye lid, broken eye socket, mild concussion, and seam marks from the ball imprinted around my eye. I have to admit, it looked pretty cool : )
10. What aspirations do you hold for the future regarding your sport?
I would love to play in college but definitely not at a competitive school. I would need to work extremely hard over the next year and a half if I wanted to get even close to the level of the girls that play at the University of Washington or any other big school like that. And when it is that hard core and competitive I feel like it would take most of the fun out of the sport. It would become more of a job than anything else, and I play because I enjoy it.
About the Contributor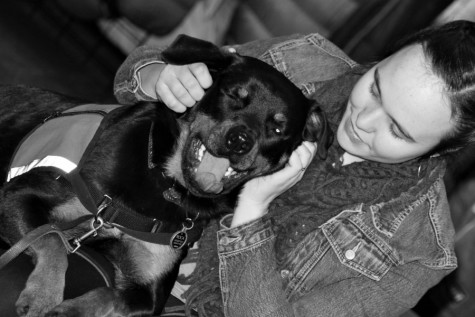 Tasha Magnan, VOX Reporter
VOX Reporter Tasha Magnan is a senior at Mother of Divine Grace School.