Where are They Now: Zowey Lidyard
MODG graduate Zowey Lidyard tells VOX what it's like to be a Catholic student at a big, secular university like Texas A&M.
How has your Catholic formation helped in college life?
I once read somewhere that a university is like a concentrated drop of the world, and I've found that there's nothing more true. There's a huge variation of people here! This diversity is amazing when in the context of a classroom, but this also means you're not always going to be among people who think like you do. Naturally, you're going to butt heads from time to time.
Having a strong faith formation makes it easier to confidently voice my beliefs and opinions in front of others who may think very differently from me. It gives me the strength to defend these beliefs when they are opposed, as well as the grace to know when to remove myself from a debate or situation that is not healthy for me.
How has it been adjusting to attending a brick and mortar classroom rather than a virtual one?
Honestly, it hasn't been that difficult for me to adjust between the two. I think the starkest difference for a student transitioning from MODG to a large, public institution is the loss of one-on-one contact.
In the virtual classrooms of MODG, the student numbers are kept small enough to allow the teacher ample opportunity to get to know each of their students. The teacher will come to know your name, recognize your voice, and probably learn a bit about you outside of your academic pursuits over the course of the year. Of course, it is up to you to communicate further with the teacher and actively engage in their class.
However, most classrooms in a large university, especially for freshman-level courses, are not going to be under twenty students. They aren't even going to be forty students – the average high school class size in my state. Many basic core courses are between 150 and 300 students, and there are some that are even larger. This means that you are no longer a name to the professor; you are often merely a number. So you have to take it entirely into your own hands to make yourself known! Visiting professors during office hours, asking questions after class, and e-mailing them are all means of becoming a face and name rather than a number, which can be very important in the future when you are looking for research or career opportunities.
Of course, if the large number of students intimidates you, there are ways to find smaller classes! Joining honors distinction gives you access to similar courses that have smaller numbers of students, which makes it much easier to get to know both your classmates and your professor. For instance, my roommate and I are both taking Chemistry 101 this semester, myself in an honors section and she is in the regular course section. She has a class size of over 500, while I have a mere 51. That's a huge difference!
How have you found living on your own; what are the pluses and minuses?
I think the most difficult part of my living arrangements is sharing a room with an utter stranger. Thankfully the technology of our day allowed me to get to know my roommate at least marginally, but it is still rather odd at times. We're very different people with starkly opposing interests and study habits, so sometimes working around one another can be a little difficult, especially during the late evenings when we are both at home. Figuring out how to coexist is a slow and sometimes rocky process, particularly in a dorm room where there is really no definite space to be alone and away from your roommate. The loss of "private time" away from others is probably the thing I notice most.
Altogether I don't mind living "on my own", however. My residence hall is fairly quiet and most of us get along well, and it is generally a positive environment for studying or relaxing. It isn't difficult to get to the grocery store (either by bus, bike, or car), the bathroom is cleaned for you, and laundry is free in the building. Altogether, there isn't much to complain about.
What are the opportunities to practice your faith on campus or off?
I have the great luck of going to a large secular university that also happens to have one of the biggest Catholic Student Centers in the US. St. Mary's is located in a convenient place just a few minutes' walk from my dorm, and on a day to day basis they have plenty of opportunities to practice, learn about, and strengthen your faith. There is a daily Mass at 5:30 in the evening Monday-Friday, perpetual adoration, and there is almost always a priest or one of the sisters on site to talk to, whether it is to discuss religion or simply talk about how you forgot your umbrella and got soaked through walking to your class. The sisters regularly open their home for movie nights, dinners, and prayer meetings for any young ladies (not just Catholics!) that might want to come.
On campus the opportunities are no less abundant; you merely have to look for them! On Wednesdays and Thursdays there is a daily Mass held at the chapel on campus, and the Catholic Student Association has a strong presence as well. But aside from that, "practicing your faith" is not just doing "Catholic things" with other Catholics! You can put your faith into action every single day by the way you live – even through something as simple as saying a prayer before meals.
What is it like eating in the dining hall?
On my campus there are several different dining halls, with a different experience at each. I tend to eat at the north side dining hall, as it is the one closest to both my dormitory and my classes. This hall is usually fairly busy, and there are several meals to choose from, as well as stations where you can request a separate meal to accommodate your allergies or other eating restrictions. I suppose, at least to me, it sort of brings a mall food court to mind.
It isn't necessarily intimidating, but I suppose it can be a little odd to eat on your own. It's really no different than eating at a restaurant by yourself, however.
What do you do for fun?
Personally, I like to go to St. Mary's. There's always something going on there on the weekends – usually involving a free meal (which is a pretty big deal!). I enjoy simply sitting there and talking with my friends, catching up on their week's happenings. Another fun thing we have here in College Station is "the puppy store" – nothing more than a small store in the mall that exclusively carries puppies, where students can pay a quarter to pet a puppy for as long as they wish. It doesn't sound like the bee's knees, but honestly, when you miss your dog back home or just feel stressed, a puppy is a guaranteed cure.
There are, of course, all of the other usual things to do in town as well: movies, ice skating, dancing, et cetera. I'm also required to mention the famous Aggie football games, which, though I'm not a fan of the sport itself, are admittedly pretty fun to attend with your friends.
What extracurricular activities are there to do on campus?
This is a tough one! Not because there isn't much to do, but because the possibilities are endless! There are over 800 organizations to join on campus, ranging from student body government to live action Battleship to bible studies. And if they don't have that underwater ballroom dancing club you were hoping to join? You can easily start it up yourself!
Keep in mind most clubs do have a small fee to be a member, which can vary in amount depending on the nature of the club. Also, clubs can be demanding on your time, even if it doesn't seem like much at first! Especially at a big university like A&M, where everyone is bound to find a few interesting groups, it can be easy to get overinvolved. Find and really contribute to one or two groups that meet several of your passions at once, rather than spreading yourself thin over four or five.
How did MODG curriculum help prepare you for college?
Above anything, MODG has taught me to /think/. Really think. I can approach a problem critically and work confidently and independently. I am also able to take a creative and novel approach to problems presented to me, allowing me to generate ideas and solutions at a faster pace than some of my peers. MODG has also taught me not to be afraid to look for answers on my own, and to be able to learn in a versatile manner. I am able to gather information by lecture, by book, and by independent research, while some students are limited to one or two of the three. I have learned to express my thoughts in a clear and concise manner in both speech and writing, a valuable skill in a large classroom where sometimes it is difficult to be noticed. I suppose the simplest way to put it is this: Mother of Divine Grace provided encouragement and aid in maintaining my intellectual curiosity, which naturally has increased my confidence.
What is unique about your college?
Oh goodness gracious don't get me started about Aggie traditions, or I'll be typing until my fingers fall off! I'll try and narrow it down to a few things.
Texas A&M is a school filled to the brim with traditions old and new. These range from fun events, like pond hopping and Midnight Yell, to more somber happenings such as Aggie Muster and Silver Taps. But there are also simple traditions, such as the Howdy, which is the simple idea of keeping campus friendly and open to everyone by greeting them. There's an awful lot more, but, as I said, if I listed out all of them and tried to explain, I'd have a few less fingers by the end of it. Really, A&M definitely had a spirit unique to any university I've had the opportunity to visit. There's simply a spirit here that I can't find words to explain.
Another big thing I've noticed is, despite the fact that A&M is (and always has been) a secular university, it still upholds a strong Christian presence on campus. It's not uncommon to walk across campus and see a (sometimes impromptu) bible study or prayer group gathering right outside one of the academic buildings. And one of the biggest student organizations is Breakaway, a massive all-faiths bible study on Wednesday nights that fills up our basketball arena. It's amazing to see so many young people eager to keep and openly practice their faith.
10. What advice do you have for MODG seniors just starting the application process?
Rule number one: don't limit yourself! Just because you think you want to go to a certain type of school, don't put on your blinders before you at least take a look at another type of university! Be open to looking at and applying to different places, if only for the experience. You never know, you just might end up falling in love with what you thought was the last university on earth you would attend. At the beginning of my college search I never would have thought of going to a secular, "football" university, much less one so massive as A&M. Yet here I am, and I couldn't be happier with my choice.
About the Writer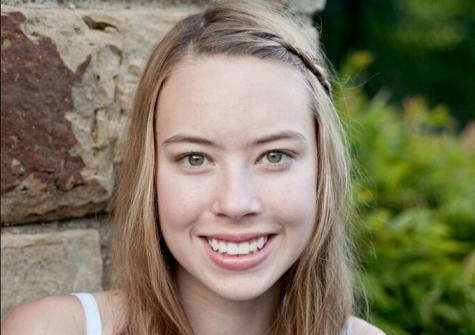 Allison Mach, VOX Reporter
VOX Reporter Allison Mach is a junior at Mother of Divine Grace School.