Keeping up with a sport as well as school can be hard, especially when travel games are thrown in. MODG student Molly McDermott does this and more for her homeschool volleyball team. She agreed to answer some of the questions about her team and what it's like playing volleyball competitively.
How long have you been playing volleyball?
I have been playing volleyball for 6 years.
What made you start playing volleyball?
One of my friends from basketball asked me to play but I said no until a friend from track also asked me, and I said yes. It was a good thing I did because it is my favorite sport.
How many travel games have you been to? I only played one session of travel volleyball, and it was for BRYC (Braddock Road youth club) and for the whole season we played 68 matches. We would have a tournament every weekend with multiple games a day
Do you think you'll play volleyball in college? Why or why not?
I never really thought about it. Last season I was talking to a coach from Geneva college and just letting her know how my tournament was going but that was it. A few months later I got a text from her asking for me to come up for a visit and to watch a volleyball game for the college team. I continued to ask about the college and see if they were still looking for a middle blocker (the position I play) she said yes and that I would be a perfect match for the team. I was excited someone was interested in me because I never really thought I would be able to play in college. But the day I was supposed to go up and visit crept up and after a lot of thinking and looking at the college they didn't really have what I wanted to study so I decided on not going.
But I will definitely join a club at whatever college I end up at.
What are some of your favorite parts about volleyball?
I love when the energy is high, and everyone is doing their best and hustling for everything. It makes the game so exciting and fun to play in. I also love tournaments and hanging out with my team when we are not playing.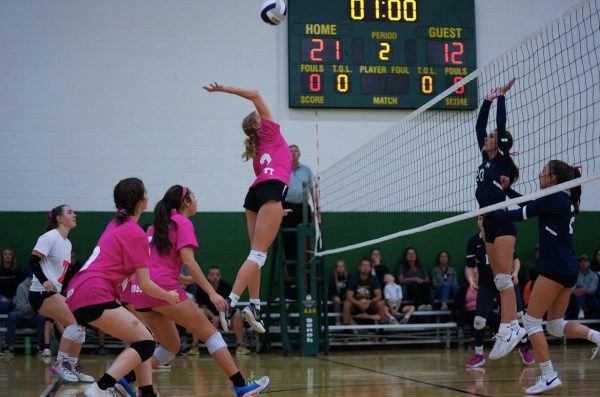 What advice would you give to players just starting out?
Keep playing. Don't give up even if you aren't doing your best and take all the advice you can get.
Do you have any role models for the sport?
Maria Ceola I would say is a role model in my volleyball life. She would give me one on one lessons and taught me how to serve. Recently my homeschool team played our alumni, and she was one of them. It was so fun to play against her and see her good kills. I believe she played in college at Franciscan University and was also a Mother of Divine Grace student.
What's the hardest part about volleyball?
For me the hardest part is when there is no energy on the court. When the energy is low people most likely aren't talking and we all fall apart a little bit. Volleyball is a loud sport.
Has your team ever won any big competitions?
My homeschool team won state last year and hopefully again this coming weekend. For my club team we won a couple tournaments and got to take home gold medals.
What has volleyball taught you that is helpful when not playing?
This is a tough question. It has taught me how to adjust to changes, and it has taught me how to handle big losses and to not be a sore loser.  And also, that God is the only one we are playing for, and he will love the same win or lose.