NHS Member of the Month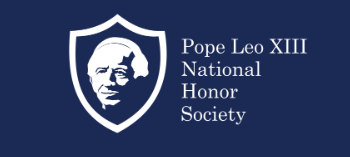 Since there are nearly 150 members from which to select as Member of the Month in Mother of Divine Grace's National Honor Society (NHS) chapter, it's understandable that Emma C. was surprised when she was selected as Member of the Month. (To be selected as Member of the Month, a member must demonstrate excellence in at least one of the four pillars on which the NHS – and, of course MODG's NHS chapter, named after Pope Leo XIII – was built: character, leadership, scholarship, and service.) Emma noted that she was selected as Member of the Month because of her cheerfulness on the Pope Leo XIII Chapter's Slack channel (a messaging site), in addition to her organization of a prayer bouquet. She stated that even though she did not do anything to celebrate her selection, the selection still "really made my day!" She further elaborated, saying that, "I felt really honored that the NHS voted for me and that they valued my participation in the Chapter." She also noted that the Pope Leo XIII chapter is "fun and supportive," in addition to exuding Christian charity, all of which are important aspects since "it can be hard to find a good community," regardless of where one attends school.
Although Emma explained that the monthly meetings and participation in both an individual and group service project can be daunting, she still recommends that MODG students apply to the Pope Leo XIII Chapter. She continued, saying that "the NHS is a really wonderful part of Mother of Divine Grace School" because "it can really help you grow into a better person…"
Stay tuned for the next Member of the Month! And if you're interested in learning more about the Pope Leo XIII Chapter, then you can head to its website: https://nhs.modg.org/.
Leave a Comment
About the Contributor
Philip Roberts, Reporter
Philip is a senior from the Washington, D.C. area. In his free time, he enjoys writing, singing, traveling, and photography.