A MODG Irish Dancer
1413 is the earliest year that dancing is mentioned in Irish history. During the 18th century it became common for Irish dance masters to travel about and teach steps to those willing to learn. Over the years many different organizations devoted to Irish dance have been founded, until Irish dance is as we know it today. There are 5 main types of steps in Irish dance: reels, jigs, slip jigs, hornpipes, and treble jigs. There are also Ceili dances which are group dances as opposed to solo dances. Many Irish dancers compete in competitions all around the world from local competitions to world competitions.
Lucy is a MODG freshman who Irish dances and loves it. In this interview she has answered some questions about this hobby of hers.
How long have you been dancing for and how did you decide to start dancing?
Lucy responded that she has been dancing for 6 or 7 years. She went on to say that she did ballet when she was 3 or 4 until her ballet teacher moved. "We wanted to do another kind of dance and we had really good friends who Irish dance so that's what we did!" she concluded with a smile.
How often do you take lessons?
"I usually go 2 to 3 times a week," Lucy answered.
How do you balance dance lessons and practice with school?
"Well, it does take discipline," she said, going on to explain how she tries to get up early every morning in order to get her school done early. "Then usually I end up practicing right before dinner and all the [dance] classes are in the evening so I usually just work hard to get my schoolwork done."
Have you done any competitions and if so what ones?
"Yes, I have!" She went on to explain, " Each [dance] school runs a feis every year, which is a dance competition. So I usually do one or two a year but hopefully I'll start doing more."
What would a day at a competition look like?
She began by saying that she wakes up at 6:30 and then eats breakfast quickly. "My parents are like you gotta eat, you gotta eat, you gotta eat" she said. "Then I have to get my wig on, which is really annoying." She said that it takes about half an hour to put her wig on and that she then has to get all ready to go and leave by 7 in order to get there by 8. She explained, "When you get there, they sing the anthem and then it's just competitions all day with a lunch break and then more competitions."
Do you like hard shoe or soft shoe better?
"I think I like soft shoe better actually," Lucy replied. Soft shoes, also called ghillies, are made of a leather-like material and they almost completely conform to your feet. A dancer dances almost noiselessly when wearing soft shoes. Hard shoes however are more like a regular shoe but also have quite a heel used in dancing. They were originally made from wood but now are made with fiberglass. When dancing in hard shoes the sounds made by the shoes fit into the beat of the music and become part of the dance.
What is your favorite thing about Irish dancing?
"I like the music and I really like how you move across the stage" replied Lucy thoughtfully.
What is your favorite kind of Irish dance?
"My favorite softshoe step is probably the reel, and my favorite hard shoe [step] is probably treble jig."
Do you practice every day?
"I should be practicing every day. I go to the studio about 3 times a week and I usually practice, not on Saturday or Sunday, but on every weekday."
How long do you ideally practice every day?
"Ideally I should be practicing for 30-45 minutes" She shared that realistically she practices about 30 minutes a day.
Leave a Comment
About the Contributor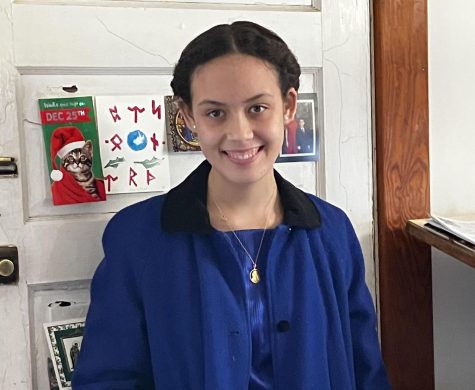 Luciana Karafa, Reporter
Luciana is a 17 year old junior from Virginia. She quite enjoys singing, reading, writing, talking to her friends, baking and writing letters to her penpals....