Interviewing a Digital Communications Manager
In this day and age, physical newspapers are being replaced with news websites or online columns. Journalists have to learn how to create web content as well as write stories for their news station. Photographers might be called onto the air to talk about a story or give an opinion on something. In addition to regular news sites, churches have also expanded their bulletins onto the internet for a broader range of what information or stories they cover. With this new platform, the churches need help running these sites and reporting on stories. Mrs. Katie Camario, the Digital Communications Manager for the Diocese of St. Petersburg in Tampa, Florida gives us some insight as to what it means to be a media reporter.
Background
Mrs. Camario graduated from Abilene Christian University with a degree in journalism and mass communication. As a junior in college, she started her career as a TV news reporter for a local ABC news. She started out covering local and general news on-air and continued with this while being an Air Force wife. She put her reporting job on hold to be a stay at home mom for over 10 years. In the past year, she has again entered the journalism world, this time by helping out with the media side of things.
Life as a Digital Communications Manager
Mrs. Katie Camario is a digital communications manager for the Diocese of St. Petersburg in Tampa, Florida. She found this job just over a year ago when her husband retired from the military in Florida.
"I create content for the church's digital platforms like the website, emails, and social media," says Mrs. Camario. This involves photography, web posts, and news stories. Along with news about the church and its community, Mrs. Camario also covers local stories that pertain to the Catholic faith. She writes about the people in the Tampa area and conducts interviews about different subjects.
One of her favorite stories is an article she wrote about a military priest and his vocation in the special operations forces. She covered how he served in the military with the soldiers in the special operations and ministered to them on the battlefield. Articles like this one tell people about who ministers to people and soldiers that can't make it to Mass every week. It gives a unique view of the Catholics who serve. Here is part of what she wrote about:
"He was ordained for the Diocese of Arlington in 1986 and served there for seven years before seeking a commission into the Army.
"All I wanted to do was go in the Army, but the calling to the priesthood was so strong and so profound," said Father Albertson.
Ministering to military members is different from the parish setting where everyone flocks to the church.
"In the military setting, the congregation is there, and we're inserted into the congregation," said Father Albertson.
That means wearing their uniform, being in their world, speaking their acronym-filled language and sharing their risks. He has been in dangerous and difficult situations in the middle of cold nights as soldiers are digging trenches.
But that's where he's needed." (Link to story: https://gulfcoastcatholic.org/priest-and-colonel-serves-god-and-country)
When asked how writing for digital news differs from writing for a physical newspaper, Mrs Katie said that when it comes down to the actual writing, "there is no difference between the two…media appeals to the younger generation." Switching from paper to digital saves money for the newspaper companies that have to buy paper and ink, along with paying their journalists and photographers. With media news sites, it cuts down on the costs to run a news company.
When looking into going into the media side of things or becoming a journalist, Mrs Katie says to "get plugged in with your local news outlet during high school." She recommends finding a subject that you find interesting and write about that.
Being a Digital Communications Manager may seem like an intimidating job to do, but it's an interesting one. The media side of journalism is growing which allows for more jobs to be opened up for journalists. Hearing about these jobs can help prepare you if you're thinking about going into journalism.
Leave a Comment
About the Contributor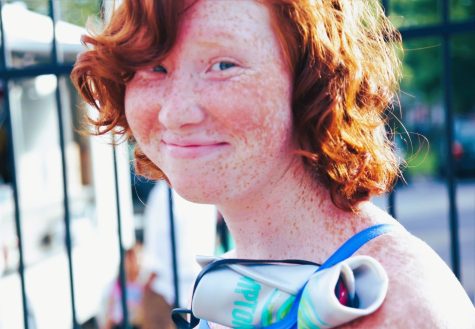 Olivia Henderson, Reporter
Olivia is a junior from Huntsville, Alabama. She is number six of ten children and has been a student at MODG for eleven years. She enjoys creative writing,...