Iranian Immigrant to Winery Owner
Flora Habibi was 15 years old when her sister came from America to visit her and her family in Iran in 1977. Flora's sister at the time was a college student at the University of Minnesota. During this visit, her sister recommended to her family that if Flora was to also attend an American University – something they were planning thus far – it would be a good idea to go to America a year early to practice the English Language.
In June of 1978, Flora began the process of applying for a visa. She went through the American Embassy in Iran, and met up with her sister in America later that month at the age of 16.
Flora told me about how the actual process to get to America was not very difficult. Her father, a dean at a university in Iran, had much experience in traveling to America; he would often arrange for his students to go to universities in America. So, Flora's father set up all the arrangements needed for her to travel to America.
Flora recounted that starting a life was surprisingly easy once she arrived in America. The people of Minnesota were nice and welcoming, and along with her sister, Flora was able to enjoy her time in America. The rest of her family (her mother, father and younger sister) were scheduled to come out the following year, however an unprecedented occurrence prevented this from happening.
In February of 1979, less than one year after Flora left for America, the American Embassy in Iran was overthrown. Flora's father was taken as a political prisoner, and the rest of her family was unable to obtain a visa to leave the country. Flora told me that, "from that point, I didn't see my father for nine years." It was not until 1987 that Flora's family was able to escape to America.
During the time Flora's family was trapped in Iran, her father was unable to send money for Flora's college payments. This took Flora's original plan, moving to medical school after college, out of the picture: it wouldn't have been financially possible. "I had to abandon my medical school dreams, finish my four year program, and just start working," Flora told me. Even completing four years in microbiology was difficult financially. Flora spoke to me about how "when you're not a US citizen, you pay out of state tuition. And, at that time, residents of Minnesota were paying two to three hundred dollars a quarter – whereas my tuition was close to $1000 a quarter."
Through determination (as well as many loans), Flora was able to complete all four years in college and gain her degree in microbiology. She then started right away, working at a laboratory for a hospital. However, this work grew tiresome as her job only consisted of being in a dark laboratory in a hospital basement all day long.
Flora remembered how at that time, her only relief from her monotonous job was gardening. Flora then considered going back to college for a second degree in horticulture; however, this proved risky as she was concerned she would not be able to afford the costs (she was paying for both her own college payments as well as her younger sister's college payments). The University of Minnesota, however, offered to pay for her to return for a degree in horticulture, as this degree was similar to her other degree in microbiology.
Upon earning her degree in horticulture, Flora obtained a gardening job in Oregon. Flora had no connections in Oregon, so her good friend from Minnesota gave her contact information to a kind family in Oregon which her friend knew well. Once Flora got to Oregon, she was unable to take time off of work to meet up with this family. The family was the one who eventually reached out to her, inviting her to come over for Easter.
Six months later, Flora met the son of this family, Steve Hendricks. Steve had a passion for wine, and it had been his dream for 30 years to start his own winery. Steve and Flora later married, and began searching to purchase a small winery to start producing their own wine. They searched high and low, but "nothing made sense." That was until they came across Beran Vineyards, a small seven-acre vineyard in the Willamette Valley of Oregon, that seemed perfect. Without waiting a second longer, Steve and Flora purchased the property in 2012 and right away began work on the vineyard.
They hired their first winemaker based on how his wines tasted. "We tasted some of his wine, and it was phenomenal, but later we found out that he didn't have a clue what he was doing," Flora told me. Flora recalled that the first two harvests, the 2013 and the 2014 harvest, were ruined while barreled due to a lack of care and attention to detail from the winemaker. The 2015 harvest almost met the same fate, but it was saved by their current winemaker, Andrew Kirkland. Andrew was able to rescue the wine that was barreled by caring for it and balancing its acid contents, and produced Ruby Vineyard's first sellable wines.
This success was just in time, for not only had they just opened their tasting room in 2016 when the wines were ready to taste, but also they would have had to sell the property if the wines did not succeed.
The wines succeeded tremendously with Andrew's expertise, and Ruby quickly grew to have over 700 wine club members. With Ruby Vineyard's first harvest, they produced around 500 cases (a case of wine contains 12 bottles each). 350 cases were from their own grapes and 150 were bought from a neighboring vineyard. And now, for Ruby's 2022 harvest, the Ruby team expects to produce 4,500 cases of wine, or 54,000 bottles of wine.
I asked Flora if there was anything that she learned through her immigration journey or her past in Iran that she was able to tie into your winery business now. She responded, "In a way it's coming full circle." She began telling me how where she used to live in Iran, they had been producing wines for over 8,000 years. She also told me about how her great grandmother used to own a vineyard in Iran. So, with these two facts combined, Flora feels like she is able to go back to not only her family's roots but also her ancestors' roots.
Immigration from Iran may have been surprisingly easy for Flora, yet she brought to my attention that today's Iran is "unfamiliar to what I used to know." She told me about how for the past 43 years, the government has become more and more corrupt – that the country is so far lost that every common person within it is suffering.
Flora spoke to me about how there have been multiple attempted rebellions within the past 15 years, but none of them were able to take flight and were silenced almost immediately. Within the past two to three months, there has been a revolution taking place, led by the young women of Iran.
Flora told me how she believes that she would not have been able to have the success she achieved in America if she had stayed in Iran, yet she is hopeful for change in her country of origin. Flora says "It's very hopeful, but also very hard to watch. But, they (the young people of Iran) are committed… and they want change and a better future."
Leave a Comment
About the Contributor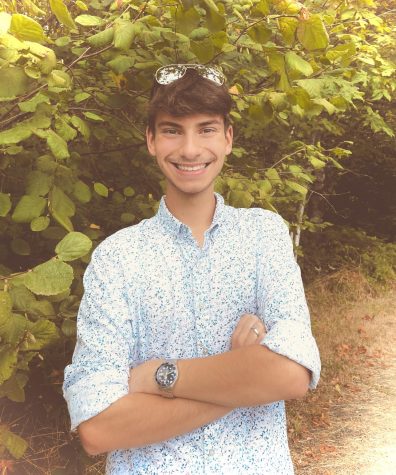 James Curl, Reporter
James Curl is a senior at Mother of Divine Grace. He plans on going to college in the fall of 2023 for engineering. His interests are camping, industrial...