Interview with a MODG Consultant
Mrs. Pamela Arend lives in Michigan with her family and has homeschooled her children through Mother of Divine Grace for many years. All of her children have graduated from MODG, but Mrs. Arend still gives her time to help others as a consultant for the school. She agreed to share her story on how she decided to use MODG's program and how she became a consultant for the school.
When Mrs. Arend began homeschooling her kids, she first used another Catholic homeschool program. Mrs. Arend shared that her second grade son was "burned out" with school, and she decided it was time for something to change. After hearing about Mother of Divine Grace, she switched over for the next school year to MODG and their "classical way" of learning. When asked what inspired her to become a MODG consultant, Mrs. Arend responded, "For me, it was like a vocational calling, so it wasn't something that I researched."
Religion and math are Mrs. Arend's favorite subjects to teach; math because she is naturally a math person, and religion because it was a time for her and her children to learn about and grow stronger in their Catholic faith together. "I liked religion because I didn't know my faith [upon coming to MODG]," said Mrs. Arend.
Mrs. Arend said her kids now talk about how greatly they were prepared for college. Her children all graduated from MODG and attended, or attend, Catholic colleges. She said the Mother of Divine Grace program "[is] really teaching kids to think well and then to communicate well, through writing and discussion." She continued to praise the program, remarking how MODG builds upon each level, from elementary, to middle, to high school: "The whole program is well thought out… Everything you're doing in the early years is building to the middle school years, which is building to the high school years, and then that's building to the college years."
Mrs. Arend has much experience with new homeschool parents, as well as ones that are interested in attending Mother of Divine Grace. Even before she became a consultant, she used to have moms over to talk about the MODG program, recalling,"I just love helping other homeschool moms, so even before I was a consultant, I would invite moms over who were thinking about doing the program. And I would lay out all my curriculum on my living room floor, so they could look at all of it." She also explained that new homeschool moms want to investigate different programs and curriculums. Mrs. Arend says that it is all right to switch or change a few books, as long as that doesn't  interrupt the core values of MODG; as she says, "You don't need to reinvent the wheel." She clearly believes that using the Mother of Divine Grace program, with a helpful consultant, and following its core values, will help children to succeed in all grades, college, and life.
Mrs. Arend homeschooled her children for fourteen years, before becoming a consultant. She waited until her oldest child was a senior, so that she could go through the entire program and see how it all fit together. For Mrs. Arend, being a consultant for MODG is more of "a ministry" than a job. It is something she enjoys doing to help the school's mission, and she loves helping other homeschool moms.
Becoming a consultant because of her desire to share her homeschool knowledge with other homeschooling parents, Mrs. Arend says that she "…would only do it if you feel called to do it and you understand that it's more of a ministry than a way to make money." Mrs. Arend believes that to be a good consultant you must "believe in the methodology" and understand how the system works. This is why she waited until she had seen all the grades, so she knew how the program built upon each grade level. She believes in order to be a consultant who is truly helpful to the parents, they should be able to "[listen] to the moms…[and be able] to encourage them." Consultants also have to be organized in order to assist parents in setting up their schedules. Mrs. Arend enjoys being a Mother of Divine Grace consultant for various reasons. Helping new and returning homeschool parents brings much joy into her life. She really understands how difficult it can be for mothers to not just homeschool many children, but also run the household, and be a mother and wife. Being a consultant has also allowed Mrs. Arend to make good friends, as she gets to know the families she consults. It is easy to see the beautiful community the MODG school builds through its consultants.
Mrs. Arend has much experience homeschooling children and being a consultant to homeschooling moms. She continues to give her time to Mother of Divine Grace, and to many families, to help and encourage them on their own homeschooling journeys. Mother of Divine Grace certainly provides wonderful guidance and inspiration through Mrs. Arend and all the school's dedicated consultants.
View Comments(1)
About the Contributor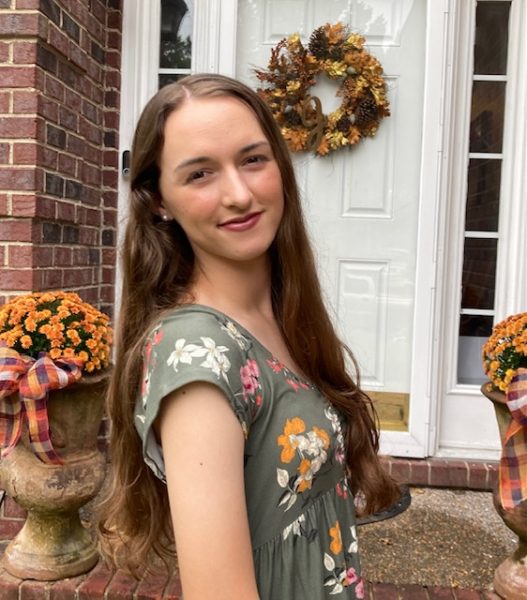 Ava Clare Joly, Reporter
Ava Clare is a senior from Nashville, Tennessee.  In her free time, she enjoys Irish dance, reading, writing, and baking.