Students' Favorite Thanksgiving Recipes
As the beautiful season of fall has quickly come and gone, many MODG students reflected on some of their favorite Thanksgiving foods. We asked some of the older Mother of Divine Grace students to share some of their favorite foods and traditions.
8th Grade: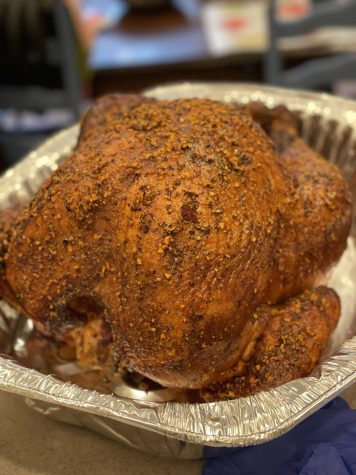 Thomas J:
Thomas' favorite Thanksgiving meal is "hot, smoked turkey, fresh off the grill." His favorite meal is a classic, but another favorite of Thomas' is the dressing, as many southerners call the cornbread-based savory side dish, baked separately from the turkey. When it comes to helping out before the meal, Thomas says he will "help out with whatever my dad does," which is usually starting the fire and prepping the juices for the Thanksgiving turkey.
Isabel C:
Isabel's favorite Thanksgiving meal is her mom's homemade mac and cheese. For Isabel, she "love[s] this recipe because it's really simple, healthier, and tastier than most store bought mac and cheese." She will usually help to prepare the dish, like "pouring in the mac's and getting the garlic and cheese ready."
9th Grade:
Olivia B:
When it comes to the best Thanksgiving recipe, Olivia's choice is mashed potatoes and she loves that her "family puts a lot of flavor in them…" She will usually help her family out on this busy day by entertaining her younger siblings or by preparing the vegetables for the meal.
Lucy C:
Lucy's favorite Thanksgiving foods are seasoned almonds and stuffing, which her family makes every year. In her family, everyone helps out to prepare for this meal, as she says, "Every Thanksgiving, all of my siblings and I always pick something to help with. Some of us do a dessert, while others will help with the sides."
10th Grade:
Lucía V:
Lucía has two favorite recipes: mashed potatoes and apple pie. She says, "My mom usually makes the turkey or whatever meat we're having, but I'm usually the one who makes the majority of the side dishes, and then we tag-team on desserts." Along with her other tasks, Lucía helps out with making grocery lists and doing dishes after the big meal.
Maya D:
For Maya, the best Thanksgiving recipe is the pumpkin custard pie. She assists her family by making some of the food, typically the desserts, and by setting the table.
Cecilia S:
Cranberry bread is Cecilia's favorite part of the Thanksgiving meal. Her family will make it not just at Thanksgiving, but at other times of year, because it is delicious! She says, "I love it because of the sweet, yet also tart flavor! It always puts me in the mind of Thanksgiving because of the fresh cranberries in it!"
11th Grade:
Olivia H:
Olivia's favorite dish is her mom's pineapple cheese casserole and she says, "It's been a favorite food in my family for a while and we all love it!" Olivia says she does not always have the same task, but helps out where she is needed.
Patrick B:
Patrick's favorite Thanksgiving food is stuffing, as some call the cornbread and herb mixture. It can either be baked in the turkey or separately in a dish. He says, "The kind we make is always super flavorful and I always look forward to it more than any other dish, including the turkey." When helping his family prepare Thanksgiving dinner, Patrick's department is usually setting the table or helping to prepare the potatoes.
12th Grade: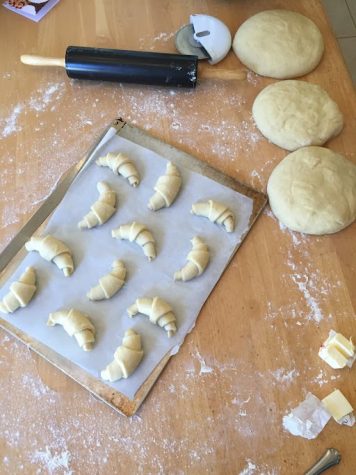 Mary Grace G:
Mary Grace's favorite recipe is her grandma's homemade croissants, which happens to be a family tradition. She recalls, "We help her roll out the dough and roll up the little triangles. We also help distract all the moms while she adds extra butter to it."
Philip R:
In Philip's opinion, the best Thanksgiving food is a pumpkin bundt cake. He says, "I first made a pumpkin bundt cake about six years ago, and I doubled the amount of pumpkin by accident… ."The cake still came out delicious, "so doubling the amount of pumpkin for the cake is a Thanksgiving tradition now." For the meal, Philip makes the desserts, as cooking is not his favorite thing to do in the kitchen.
Hopefully it has been enjoyable to read about some of these MODG students' favorite recipes and seeing the differences and similarities in traditions. Also, thanks to all the students who participated! What are your favorite Thanksgiving foods and traditions? Let us know!
Leave a Comment
About the Contributor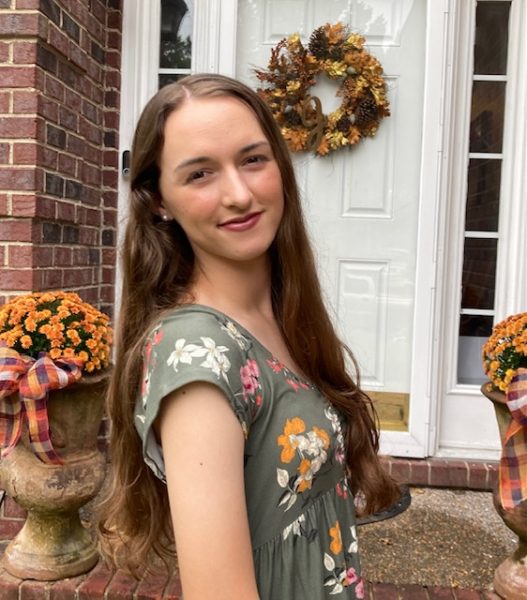 Ava Clare Joly, Reporter
Ava Clare is a senior from Nashville, Tennessee.  In her free time, she enjoys Irish dance, reading, writing, and baking.