Fall Treats: Tried and True Recipes
Here is a collection of fall-inspired recipes that will satisfy your desire for a delightful baking experience and a delicious treat! I enjoy baking throughout the year, but nothing has yet to compete with flavors associated with fall: pumpkin, chai, cinnamon, apple, maple, and more! Enjoy!
Cinnamon Raisin Bread
I don't know about you, but when anything has the word "raisin" in it I tend to shy away. Though it is not my preferred flavor, this bread blends it in so subtly and deliciously I can't help but come back for a second slice! I find the prep for this recipe very easy and minimal. Hope you enjoy it!
Prep Time: 20 min
Cook time: 1 hr
Servings: 12 slices
INGREDIENTS:
For the bread…
¼ cup butter (softened)
1 egg
¼ cup light brown sugar
½ cup milk
2 cups all purpose flour (Do not pack the flour into the cup, just spoon the flour into a measuring cup and level off)
1 teaspoon baking powder
½ teaspoon baking soda
½ teaspoon salt
1 cup granulated sugar
⅓ cup raisins (don't shy away!)
1 tablespoon cinnamon
For the glaze…
½ cup powdered sugar
2-4 tablespoons heavy cream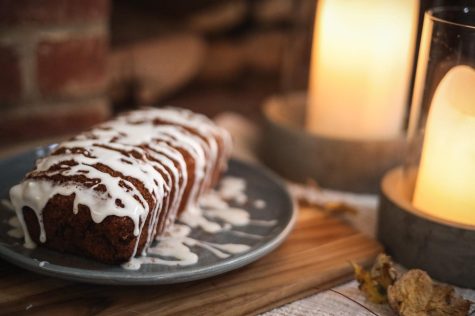 INSTRUCTIONS:
-Preheat the oven to 350 degrees Fahrenheit. Prepare a 9×5 loaf pan with non-stick baking spray. For easy removal, line the pan with parchment paper and spray the paper. (note: don't be like me and accidentally use wax paper!)
In a small bowl full of boiling water, soak the raisins for 15 minutes then drain the water and dry the raisins on a towel.
-In another small bowl mix together the light brown sugar and cinnamon. Take a spoonful of the brown sugar mixture and stir it together with the raisins. Set aside.
-In a medium sized bowl, sift together the flour, baking powder, baking soda, and salt. Set aside.
-In a large bowl, beat together the granulated sugar and butter until it's light and fluffy (about 3-5 minutes).
-Add the egg to the sugar and butter mixture and mix on low until just combined.
-Slowly add the flour mixture into the large bowl, alternating with the milk, and mix just until everything is combined. DO NOT over-mix the batter.
Gently fold in the raisins with a rubber spatula.
-Spread half of the cinnamon raisin bread batter along the bottom of the prepared loaf pan. Sprinkle half of the brown sugar mixture on top of the batter. Then pour the rest of the batter on top. Spread batter evenly across the pan. Finally, sprinkle the remaining brown sugar mixture over the top of the batter.
-Bake the cinnamon raisin bread for 60 minutes (I would recommend setting the time for 50 minutes and then continuously checking on the bread after that, loaf bread easily overcooks, making it hard and dense), or until a toothpick comes out clean.
-Cool for at least 10 minutes before removing the bread from the pan and placing it on a cooling rack.
-While cooling, mix together the powdered sugar and 2 tablespoons of heavy cream to make the glaze. Continue adding 1 tablespoon of heavy cream at a time until you get your desired consistency. After the cake has completely cooled*, drizzle the glaze all over the bread.
Enjoy!
Notes:
*Sometimes I desire to serve this bread warm, so I'll thicken the consistency of the icing and glaze icing onto the bread (while still warm) right before serving.
Recipe source:https://www.reallifeathome.com/wprm_print/45091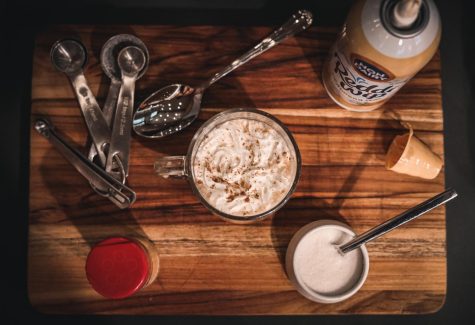 Pumpkin Cookies with Caramel Frosting
These delicious cookies I would describe as the perfect cake-like-cookie topped with a caramel flavored buttercream frosting, yum! They are super easy and require no time at all.
Prep Time: 25 min
Cook Time: 12 min
Servings: 24 cookies
INGREDIENTS:
For the cookies…
1 cup granulated sugar
½ cup oil (vegetable or canola work best)
1 teaspoon milk
1 large egg
1 cup canned pumpkin
1 teaspoon vanilla extract
2 cups all-purpose flour
1 ½ teaspoons ground cinnamon
½ teaspoon salt
2 teaspoons baking powder
1 teaspoon baking soda
For the frosting…
3 tablespoons butter
¼ cup heavy whipping cream
½ cup light brown sugar
Pinch of salt
2 cups powdered sugar
1 teaspoon vanilla extract
INSTRUCTIONS:
-Preheat the oven to 375˚ degrees. Grease a baking pan with non-stick spray.
-In a stand mixture, beat together sugar and oil. Add the egg, milk, canned pumpkin and vanilla. Blend well.
-In a large bowl, mix together the dry ingredients (flour, cinnamon, salt, baking powder, and baking soda). Add the dry ingredients to the wet ingredients and mix, just until incorporated.
-Drop batter by spoonful onto a greased cookie sheet. Bake for 10-12 minutes.
-Meanwhile, in a medium saucepan, combine the butter, cream, brown sugar and salt, and cook over medium heat, stirring constantly, until the mixture comes to a boil.
-Remove mixture from heat and stir in vanilla and 1 cup powdered sugar. Let the frosting cool and then stir in enough additional powdered sugar to make your desired frosting consistency (you may not need the whole cup).
-Spread the frosting over the cooled cookies. Enjoy!
Recipe Source: https://tastesbetterfromscratch.com/wprm_print/10100
Maple Walnut Scones:
Scones seem so fancy and gourmet that few realize how little work is involved in making them! These maple walnut scones are perfect for a chilly day when the leaves are falling and the wind is blowing.
Prep Time: 30 min
Cook Time: 20 min
Cooling: 40 min
Servings: 8 scones
INGREDIENTS:
For the scones…
½ cup chopped walnuts
1 ¾ cups all purpose flour
½ cup sugar
1 tablespoon baking powder
1.2 teaspoon kosher salt
6 tablespoons (¾ stick) cold unsalted butter, cubed
1 large egg
⅓ cup heavy cream
1 teaspoon pure maps extract
1 teaspoon pure vanilla extract
For the glaze…
½ cup powdered sugar
2 tablespoons heavy cream
¼ teaspoon pure maple extract*
INSTRUCTIONS:
-Preheat the oven 10 375˚ Fahrenheit. Line a baking sheet with parchment paper.
-Spread the walnuts on the prepared pan and toast in the oven until lightly browned, 8-10 minutes. Set aside to cool in a small bowl. Keep the pan lined with parchment paper for scones.
-While the walnuts are toasting, in a large bowl, whisk together the flour, sugar, baking powder, and salt. Add the butter cubes and stir around to coat. Using a pastry blender or your fingers (I have also used a fork which works), cut the butter until it blends with the mixture to resemble coarse crumbs. Add the toasted walnuts and combine.
In a separate, medium-sized bowl, which together the egg, cream, maple extract, and vanilla extract. Stir the wet ingredients into the flour mixture and mix until dough is formed.
-Lightly flour a clean work surface. Pat the dough into a round, about 8 inches in diameter and ½ an inch thick. Cut it into 8 wedges. Carefully place each scone on the baking sheet, keeping at least 2 inches between each scone. Refrigerate, uncovered, for at least 15 minutes.
-Transfer scones to the oven and bake until the bottoms of the scones are lightly browned, 15 to 20 minutes. Let the scones cool for 5 to 10 minutes before transferring them to a cooling rack to finish cooling, about 25 minutes.
-Meanwhile, whisk together powdered sugar, cream and maple extract in a medium bowl to make glaze.
-Drizzle the glaze on the cooled scones.
Notes:
*If I have maple syrup on hand I will sometimes supplement ¼ of pure maple extract with a tablespoon of two of maple syrup.
Recipe Source: Magnolia Table: Volume 2
Quick and Easy Pumpkin Cheesecake Dip Recipe
This is one of my very favorite recipes to have on hand as a snack, to serve as a dessert, or to bring as an appetizer. Whether you pair it with ginger snaps, graham crackers, or apples, you will fall in love with this easy-to-make dip!
Prep Time: under ten minutes
Cool Time: 2 hrs
Serving: makes about 40 ounces
INGREDIENTS:
8 oz package of cream cheese (softened)
15 oz can of pumpkin (pure pumpkin)
8 oz container of frozen whipped topping (thawed, I just used Cool Whip)
½ cup powdered sugar
2 teaspoons pumpkin pie spice
INSTRUCTIONS:
-In a stand mixture, beat together the softened cream cheese and pumpkin until smooth.
-Add in powdered sugar and pumpkin pie spice to the mixture.
-Fold in the thawed whipped topping. For this step, use a spoon or spatula instead of the mixture.
-Refrigerate for two hours before serving.
-Sprinkle dip with a little pumpkin pie spice before serving.* Enjoy!
Notes:
*Serve with graham crackers, cinnamon graham crackers, ginger snaps (my personal favorite!), apples, pretzels, and more!
Recipe Source: https://www.reallifeathome.com/wprm_print/44948
Healthy (but delicious) Pumpkin Muffins
This is a scrumptious muffin recipe that manages to be healthy while not sacrificing its delicious taste! This recipe is perfect for a pre-made breakfast, school snack, or healthy dessert.
Prep Time: 15 min
Cook time: 16 min
Servings: 12
INGREDIENTS:
1 ¼ cups whole wheat flour (if you have this on hand, then definitely use it, but otherwise I just tend to use all-purpose flour)
¼ cup cornstarch
1 tablespoon pumpkin pie spice
1 teaspoon baking soda
¼ baking powder
½ teaspoon salt
2 large eggs
½ cup honey
⅓ cup melted butter
1 cup canned pumpkin puree
½ cup semi-sweet chocolate chips (optional, but highly recommended)
INSTRUCTIONS:
-Preheat the oven to 350 ˚ Fahrenheit. Spray a standard 12-cup muffin tin with nonstick cooking spray (or, better yet, line with muffin liners)
-In a large bowl, whisk together dry ingredients: flour, cornstarch, pumpkin spice, baking soda, baking powder, and salt.
-In a separate bowl, mix wet ingredients together: eggs, melted butter, honey, and pumpkin puree.
-Make a well in the center of the flour mixture and add the pumpkin mixture and chocolate chips. Mix until just combined. Be cautious not to over-mix the batter.
-Spoon the batter into the muffin pan, filling each cup ⅔ full. Bake for 16-18 minutes, or until a toothpick inserted comes out clean.
Notes:
*These muffins are super freezer friendly! If desired, let muffins completely cool, place them in a freezer safe container, and store them in the freezer for up to 3 months.
Recipe Source: Skinny Pumpkin Chocolate Chip Muffins – Tastes Better From Scratch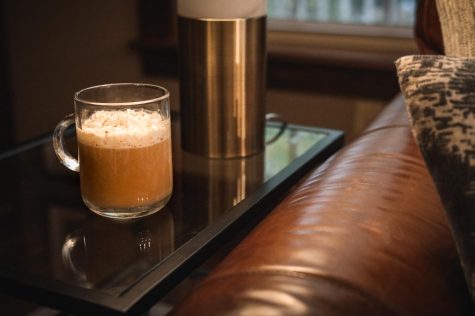 Pumpkin Spice Latte
For all the coffee lovers…
Prep Time: 5 min
Cook Time: 5 min
Servings: 2
INGREDIENTS:
2 cups milk (dairy or non dairy*)
2 tablespoons pumpkin puree, or more to taste**
1 to 3 tablespoons sugar, depending on how sweet you like your coffee
1 tablespoon vanilla extract
½ teaspoon pumpkin pie spice
½ cup strongly hot coffee
Whipped cream, for serving
INSTRUCTIONS:
-Combine the milk, pumpkin puree, and sugar in a saucepan over medium heat. Heat until hot, but do not boil. Remove the saucepan from the heat.
-Whip in the vanilla, pumpkin pie spice, and coffee.
-Divide the mixture between two mugs. Top with whipped cream and a sprinkle of pumpkin pie spice.
Notes:
*If sensitive to milk, you can supplement with oat milk, coconut milk, almond milk, or soy milk.
**In order to increase pumpkin flavor in this recipe, increase the puree by 1 to 2 tablespoons or cook a large batch of puree down in a saucepan over medium heat until reduced and concentrated in flavor.
Recipe Source: https://www.inspiredtaste.net/8419/pumpkin-spice-latte-at-home-recipe/itr_print/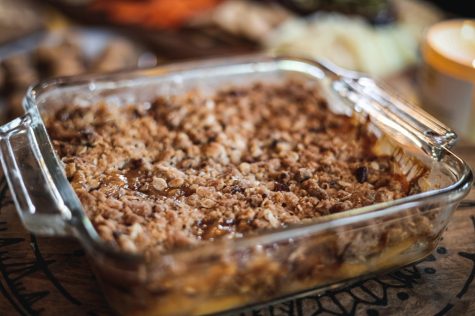 Classic Apple Crisp
Apple Crisps are a delicious and fruity way to celebrate any occasion. This recipe in particular has proven to be the most consistently delicious. Prepare yourself for a treat!
Prep Time: 15 min
Cook Time: 45 min
Servings: 8-10
INGREDIENTS:
For the filling…
8 medium peeled apples, chunked or sliced*
½ cup light or dark brown sugar
¼ cup all purpose flour (spoon & leveled)
1 teaspoon pure vanilla extract
1 teaspoon ground nutmeg
¼ teaspoon salt
For the topping…
¾ cup all purpose flour (spoon & leveled)
¾ cup light or dark brown sugar
1 teaspoon ground cinnamon
½ cup (or 1 stick) unsalted butter, cold and cubed
1 cup old-fashioned whole oats
Optional: settled caramel and vanilla ice cream for serving
INSTRUCTIONS:
-Preheat oven to 350˚. Lightly grease a 9×13 inch baking pan. Any 4 quart baking dish works.
-Mix all of the filling ingredients (apples, brown sugar, flour, vanilla extract, nutmeg, and salt) together in a large bowl, then spread into the baking pan.
-To make the topping: Whisk the flour, brown sugar, and cinnamon together in a medium bowl. Cut in the butter using a pastry cutter or fork until the mixture becomes crumbly. Stir in the oats. Sprinkle over filling.
-Bake for 45 minutes or until the top is golden brown and the fruit juices are bubbling around the edges. Remove from the oven (be carefully, it will be super hot), place on a wire rack, and allow to cool for at least 5 minutes before serving.
Serving Suggestion: serve with vanilla ice cream and salted caramel!
Notes:
*Any kind of apples will work for this, but an equal mix of granny smith and pink lady is recommended.
**If you have leftovers, store (covered) in the refrigerator for up to 5 days.
Recipe Source: https://sallysbakingaddiction.com/apple-crisp/
____________________
I hope you find yourself in the kitchen baking delicious treats for your family and friends after reading this article! In the comments section below, I would love to hear how these recipes turned out for you and know your favorite fall recipes.
Leave a Comment
About the Contributor
Olivia Schlater, Reporter
Olivia Schlater is a junior from Columbus, Ohio. She enjoys photography, graphic design, baking delicious treats, hiking, playing piano, skiing, and reading....