The Daily Routines of MODG Highschool Students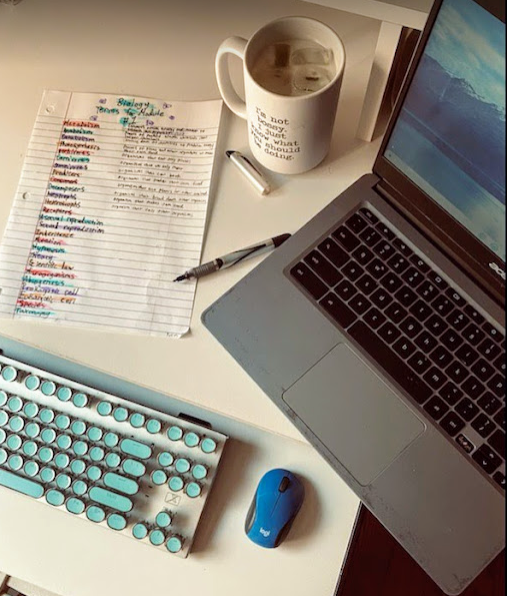 A handful of MODG high schoolers have contributed to give an example of what a typical day in the life of a homeschooler high schooler is like. Since we are homeschooled, our routines definitely vary. I hope these examples will give you the motivation to be productive.
Freshmen
Maddie S. (14, freshman)
Here is an example of my Wednesday morning:
– Wake up at six o'clock
– Go for a three-mile run
– Do my math
– Eat breakfast
– Do the rest of my school until usually about noon
– And then eat lunch

Michael S. (15, Freshman)


A Monday in my life:
Get up at 6:00 am
Do chores for about an hour
Get ready and go to the 8 am mass
Get home around 9, make a quick breakfast, and get to school!
At 2:00, (for the next few months at least) I drop school and go to soccer practice.
Get home around five from practice, eat dinner, and usually do any school reading I have.

Faustina B. (13, freshman)


Wake up at 5am to leave for the gym until 6am
Get back, take a shower and wake up younger siblings so they can go to their school.
Eat breakfast at 6:45
Leave to go to rosary at 7:30 am and Mass at 8am
Get back and start Algebra (always first), continue on to doing other schoolwork
Finish School around 1:30 or 2pm
Read for about an hour
Hang out with my friend who goes to school at around 4pm to 6pm (varied times)
Go to bed at about 8:30pm (can stay up reading until I fall asleep)
….And all over again.

Ignatius B. (14, Freshman)


-Wake up
-Eat food or go to gym
-Eat food (if went to gym)
-Go to Church
-Serve at Mass(if not school mass)
-Come home
-Start on schoolwork
-Eat lunch
-More school
-Even more school
-Stop school for day
-Eat dinner
-Chores
-Stuff….
-Bed
-Sleep
Next day
-Wake up…………..
………..Etc.

Maura W. (14, Freshman)


Usually I wake up at six-thirty and go to my figure skating lesson; after that I go home and eat some breakfast. Usually I have some online classes in the morning, so after breakfast I attend those. I try to prioritize my work. Math takes the longest so I do that first, then any papers that I need to get done, and then science, grammar, and history. School usually takes me about three hours not including classes and/or a lunch break. After my school is done, I practice violin, and the rest of the afternoon is left for hanging out with friends, going to symphony, or pretty much anything else
Sophomores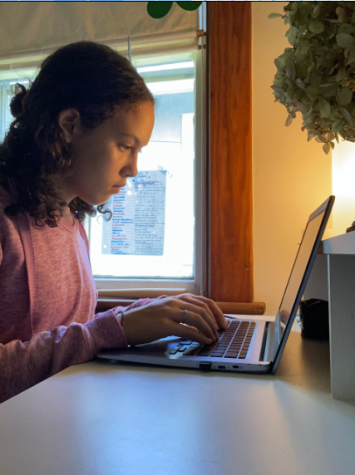 Maya D. (15, Sophomore)


A Monday in my Life:
8:30am: Wake up
9:30-10am: Begin schoolwork
10am-1pm: Complete science, fine arts, and history/literature
1-1:45pm: Lunch
1:45-2:30pm: LS Class
2:30-3:30pm: Extra non-school activities/work
3:30-5pm: Complete math
5-5:30pm: Complete religion
5:30-7:15pm: Dance practice
7:15-7:40pm: Finish any leftover schoolwork
7:40-9:45pm: Dance practice
10pm: Evening prayers
11pm: Bed

Andrew F. (15, Sophomore)


Here's a Monday in my life:
Get up at 6:30, do math
Sometime after that eat breakfast.
8:45 History class
Have school till 12:30
Eat lunch
Go play soccer for fun, recreation
Finish any remaining school for the day.
Do one of my many hobbies, from sketching to forging knives.
Soccer practice at 5:30, competitive
Come home, eat dinner
Try to go to bed before ten, but as usual, I don't usually succeed 🙂

Meredith S. (16, Sophomore)


A regular Monday in my sophomore school year looks like this:
Get up between 5:15 and 6:15 in the morning.
Sing a Marian hymn.
Go to 6:45 A.M. mass.
Get home and feed the animals.
Start school around 8:15 A.M.
Help watch my niece from 10 A.M. to 11 A.M.
Last-minute homework for my class.
Religion class from 1:45 P.M. to 2:45 P.M.
Eat Lunch/ watch my little siblings and niece till 3 P.M.
Go to archery class from 3 P.M. to 4:30 P.M.
Come home and help with dinner (anytime from 4:40 P.M. to 6:30 P.M.)
Clean up after dinner/help my little siblings with homework
Homework (roughly from 7:30 P.M. to 9:30 P.M.)
Sing a Marian hymn
Go to bed between 9:40 P.M. to 11:15 P.M.

Veronica K. (15, Sophomore)


A Monday in my life:
Wake up at 8:00 cause I need my sleep
Start with my first class at 8:45 with Mr. Endres in History
Then at 10 I have Geometry with Mrs. Hebert
12:30 is my biology with Mrs. Hansen
1:45 is my religion with Mr. Crook. I then finish up whatever subjects need to be done and normally have youth group at night
Juniors
Veronica S. (16, Junior)


-5:00 AM-ish I wake up, pray, and make my bed. Then breakfast and makeup while scrolling through social media.
– All my classes are in the morning so if I don't have an LS class by 8-ish, I start studying whatever is the most time-sensitive.
-By 12 I've finished my LS classes and I take a break till about 1; to eat, text, or sleep lol.
-In the afternoon I study/run errands and do chores like taking care of my cat (yes I had to include her lol)
-5 PM I'm officially done and have dinner+say prayers.
-After prayers I do my skincare and any chores I really need to do, and sometimes I do some extra studying before bed until like 9ish.

Claire Z. (16, Junior)


My LS classes this year are Medieval History/Lit with Mr. Endres and Henle Latin with Ms. Stephanie Pipes. I am also taking Intro to the Bible and Apologia Biology with my mom, as well as Algebra II with my math tutor.
6:05 – wake up and get ready for Mass.
6:30-7 – early Mass at our parish, St. Joseph's.
7-8 – get ready for the day: make my bed, do my hair, do my chores (the dishes), and set up my bullet journal for the day.
8-8:30 – Morning time with my Mom and siblings – we do our morning offerings together, read and listen to books and music, and do fun grammar or geography games.
8:30 – Prepare my materials for history class.
8:45-9:45 – Medieval History/Lit class with Mr. James Endres.
9:45 – Do my daily schoolwork. Today I did PSAT/SAT prep., Latin daily work/quiz prep., wrote a religion essay, and corrected yesterday's math.
12:00 – Lunchtime and cleanup
12:30-1:30 – Math lessons with my math tutor.
1:30 – Quiet reading time: I usually catch up on religion, history, and biology reading.
2:30-3:30 – Religion (Intro to the Bible) discussion with my Mom and friend who is taking the class as well.
3:30 – Drive myself to a local high school for LYS (Lincoln Youth Symphony)
4-6:30 – LYS Rehearsal
7:00 – Dinner/cleanup. Then our family plays volleyball in the backyard until dark.
8:00 – Family prayers: the rosary and night prayers.
8:20 – Violin practice
9:00 – Finish up any extra schoolwork I didn't finish/play games with my family before bedtime.
10:00 – Shower and get ready for bed: skincare, brush teeth, braid hair, get into my PJs.
10:30 – Reading for fun: I am currently reading Jane Eyre by Charlotte Bronte and Great Expectations by Charles Dickens.
11:00 – Bedtime!

Sophie J. (16, Junior)


A Monday in my Life
6:45 am – Wake up
7-7:30 am – Exercise, pray
7:30-7:45 – Shower
7:45-8:15 – Make and eat breakfast
8:15-8:30 – Chill and prep for school
8:30 – start school!

Belen M. (16, Junior)


A Friday in my Life:
Wake up at around 9:30 am
Go to discourse and read all what I have to read
At around 10:00 I start school
At around 1:00 pm I take an hour break
At 2:00 I start working on homework again
At around 3-4 pm I finish all my homework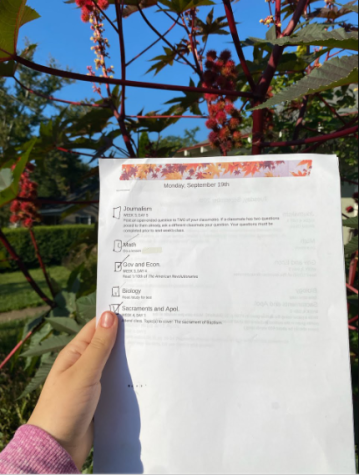 Olivia S. (16, Junior)


A normal Tuesday in my life:
6:45- Wake up (or try to!) and do morning prayers with some coffee.
7:20 ish- Get ready for the day and eat breakfast. Sometimes I go on a 2-3 mile run or I'll go to Mass if it's a Wednesday, Thursday, or Friday.
8:00- School starts! (Typically, I do 2 hours of school and then see if my mom needs any help with the kids for a break.)
11:00- Journalism class
12:15- Spanish class
1:45- Lunch break
2:00- School resumes
4:30- Leave for cross country practice
8:30- Home from cross country practice, hang out with the family.
9:00- We usually try to say a rosary and then the little kids go to bed. We have to lock up the animals and then I either get some more school done or just chill.
11:00ish- typically I'm in bed by 11, but sometimes it's a little later.
Seniors
Anonymous (17, Senior)


On a typical (or rather unreasonably ideal) weekday, I get up at 6:10 to pray Lauds after which I drive to 7 am Mass with my dad. Once I get home, I eat some breakfast and start school by 9. I try to hit the most time-consuming subjects in the morning hours, or else I probably don't get to them at all! I study pretty much all day, usually stopping and starting around interruptions. Around 5 pm, I might run a couple of miles. In the evening, I usually help my mother make dinner or drive my siblings around to activities. After the roundup later, we eat and clean the kitchen while having some family time. Compline closes it all out around 10. And that's a wrap.

Emma B. (16, Senior)


A Tuesday in my life:
I get up at 7:30, make coffee and eat some breakfast.
Then I go get ready for the day (hair, face, teeth, etc.)
I usually start school around 9:00.
I eat lunch at around 11:45 and then keep going with school
At 2:30, I eat something filled with protein, and then I change for practice.
By 3:30, my bike is ready and I'm on my way with my brothers!
Mountain biking practice ends around 5:30, so I'm home by six to eat dinner.
I take a (hurried) shower and go to choir practice at 6:30.
I come home around 7:30, and say some evening prayers with my family.
I usually go to bed at 8:30-9:00 and there's my day!

Anna P. (16, senior)


A Typical Monday
7:00 a.m. – Wake up
7:00-7:25 a.m. – Work out with my siblings
7:25-8:00 a.m. – Get dressed, sort and start laundry
8:15 a.m. – Morning prayers with the family
8:30-8:45 a.m. – Grab some breakfast and a glass of water
8:45-12:00 p.m. – School, including Gov and Econ class with Mr. Crook at 10:00
12:00-1:00 p.m. – Lunch
1:00-1:15 – Get ready for work, leave at 1:15
2:00- 6:00 p.m. – Work (at a horse farm, usually entails teaching 3 little girls and then riding one or two
myself)
6:00 p.m. – Get cleaned up, shower/change clothes
6:15 p.m. – Head over to church for choir practice
7:00-8:30p.m. – Choir practice
8:45 p.m. – Head home, grab a bite to eat
9:00 p.m. – Crash (by that point I'm beat lol)
P.S. That's an ideal Monday, it doesn't always go that smoothly lol
View Comments (1)
About the Contributor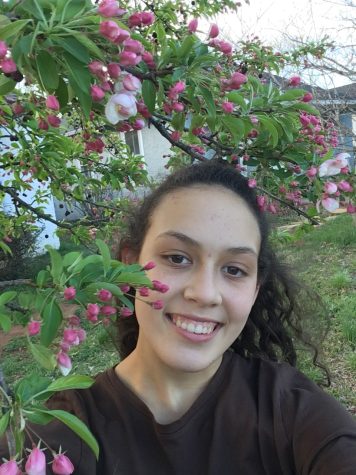 Luciana Karafa, Reporter
Luciana is a 16 year old junior from Virginia. She quite enjoys singing, reading, writing, talking to her friends, baking and writing letters to her penpals....