From '22 to '23: How to Survive Your Senior Year
The school year is coming to a close; books are being closed for the last time, LS Classes are wrapping up, conclusory assignments are being doled out, and final exams are being taken. For us Seniors, the end of this year marks the beginning of a period of extraordinary transition as we enter into the next chapters of our lives.
But you Juniors still have a ways to go before being spirited away to the land beyond High School. And for many of us who have just completed the trek on which you are about to embark, there were not a few bumps in the road. Thus, we thought it best to share with you what we have learned in the hope that the sailing of your Senior years might be at least somewhat smoother.
These pieces of advice will be presented in list format, but their order will be arbitrary. Please adopt whatever course of actions seems to you the best and most feasible.
Considering college
It is likely the reader has already several colleges in mind. Now is the time to begin to narrow your decision! College trips can be challenging to work into Senior year, so consider visiting over the summer rather than the fall. Take time to delve into the resources on your colleges. Comb their mission statements, course catalogs, and curriculum to whatever extent you like so that you are well-informed. Do not feel pressured to make the decision now, however. You will likely have the whole of the school year to consider it: take that time to keep the matter in the back of your mind and ruminate.
College admissions: start now!
It is rather tempting to leave off the practical problems of preparing for college until they are particularly pressing. But please don't procrastinate! Putting them off until one is in the thick of the first semester will be wont to cause a great deal of stress. Try to do as much as you can ahead of time. If you have already narrowed down the colleges to which you plan to apply, do your research on the requisites for doing so. Gather your information (resumes, transcripts, proof of extracurricular activities, etc.) so that it is easy to access when you need it. To whatever extent you can, learn about on what essay topics, if any, your chosen colleges will require you to write, and begin to consider how you will fulfill the prompts. Even a small amount of preparatory work will go a long way.
Finding finances
Getting an edge on admissions will be a great boon. Likewise, you will thank yourself for putting in the work for scholarships ahead of time. Financial aid is a beast, one that you certainly will not want to face amidst heaps of essays and reading, so you will want to do as much as you can over the summer here as well. Use cost of admissions estimates or records from previous years of any college you are considering to gauge with what total price you will be faced. Then, consult with your parents. Make an estimate as to how much can be paid and how much must be covered by loans, scholarships, or both, and keep your conclusions at hand throughout the year.
The scholarship scramble
Even if you need not apply for any scholarships to meet the admissions total of your ideal colleges, it may still be worth your time to do so. In most cases, however, scholarships will be a must. If one is to do only one aspect of preparing for college the summer before his senior year, it ought to be this, as it can be a time-consuming process. First, ask around. Your parents may already have several scholarships in mind for which they would like you to apply. If you have a college-age sibling or siblings, it is likely that you will know of some scholarships for which they applied. And it is likely that friends will be aware of many to which they can direct you. Then, turn to your own research: there are many books which collect helpful scholarships, like a scholarship phonebook. Services exist which host scholarships for which to sign up with the tap of a button. Do not be afraid to apply for more esoteric scholarships, even if their awards seem paltry. Every little bit of funding counts! Finally, examine the rules and requisites for the scholarships you have found. Many may require essays: if the prompts for the current year have yet to be released, check to see if previous years' are available and gather what you can about the sort of questions asked. If a scholarship needs letters of recommendation, confirm from whom, and request them as soon as you can so as to give your recommenders plenty of time.
Regarding schoolwork
Mark Wagner, a MODG Senior, cautions: "Read everything." This seems a no-brainer, and, hopefully, the reader is already following this advice, but it holds significant. Senior reading can be a challenge. It may be difficult to keep up at times, and it may feel overwhelming. But take a breath, and consider the scale of the problem. If you are behind, you may have to sacrifice free time to catch up. If you are on the right track, but a week's work looms ahead of you like a ship coming into port, take it in likewise stride. Plan to whatever extent you must (do not, of course, procrastinate under the guise of planning), but focus on getting to work. Often times much of the challenge of a task is simply getting started, and once one does he will find it to go smoother than he anticipated.
Do not fear
Why is it so difficult to begin? The common answer to this question is this: fear. Fear of failure, fear of losing time, fear of change; of whatever it is, fear will greatly inhibit your year. Do not let it stop you from getting your assignments completed and turned in. In the end, you will not have avoided pain, only created more of it. This is not to say you should rush through your work, either. Spend as much time on a given thing as you can. Give the best you have to please God. And if you should find yourself fearing the end of High School, consider that you will not be thrust into a new world without His help. No challenge will be brought you which God will not help you to conquer.
Leave a Comment
About the Contributor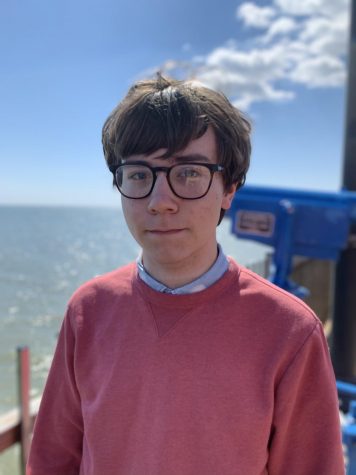 Joseph Sacco, Reporter
Joseph Sacco is a Journalism student and current Senior at MoDG. He loves reading, writing, and learning other languages.