A Simply Smashing Afternoon Tea Party!
Tea parties are my favorite things. The elegance, the deliciousness, and time to catch up with family and friends are aspects of a truly wonderful afternoon tea! But how to go about creating the perfect, fancy, Jane Austen-worthy party?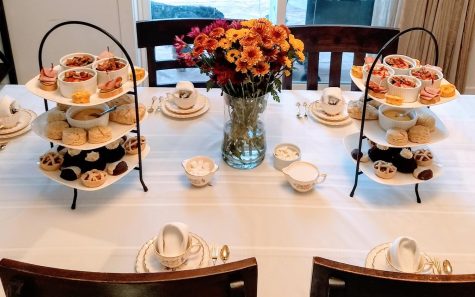 The Courses:
When I worked at a tearoom, high tea was served in three courses: savories, breads, and desserts. There were typically 5 savories, 2 breads (served with clotted cream and curd), and 3 scrumptious desserts. Now, I know what you're thinking. That's a lot of baking. When I host a tea for friends or family, I normally have to condense the items in each course. The last tea I hosted consisted of only 3 savories instead of 5.
The Tea:
Three types of tea are paired with the three courses of the meal. For the savories, choose a traditional black tea, such as earl gray or an english breakfast tea. Breads are paired with a scented black tea. Carmel, chocolate, or fruity black teas are perfect for the breads' course! Finally, select an herbal tea for the final (and dare I say most important) course: the desserts. Choose an herbal tea that compliments your sweets. Subtle or bold, the choice is up to you!
Note: Traditional black teas should be served with cream and sugar. Scented black teas and herbal teas are generally best without cream.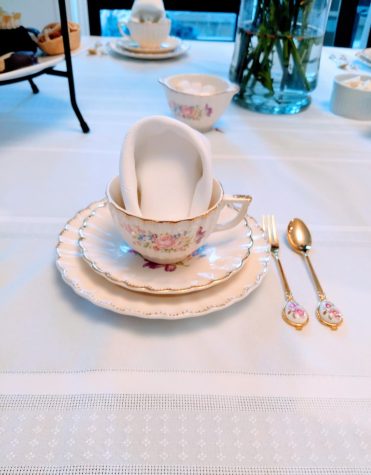 The Place-setting:
Make sure the place setting (the teacup, saucer, spoons, and napkins) look lovely! This will really add the finishing touch to your tea party. Fold the napkin and place it inside the teacup. For an extra flourish, I sometimes like to stick a little chocolate truffle inside the teacup to surprise guests.
The Theme:
Looking for a way to spice up your tea party even more? Choose a theme! I especially enjoy literary themes, such as Narnia, Lord of the Rings, or Redwall. Dishes become "Mr. Tumnus' Delectable Delight" or "Samwise Gamgee's Taters". Celebrate a saint's feast day with a tea party, and serve dishes themed around the saint! When you choose a theme, print a beautiful menu so guests can see what each dish is called.
Below are some of the recipes I used to create the tea party shown in the pictures!
Savories:
Ham and Cucumber Tea Sandwiches
Ingredients:
Makes 6-12 sandwiches
Room temperature butter (as needed)
6-12 oz of lunch-style ham
Baguette (I used a gluten-free baguette)
1 cucumber
Instructions:
Cut your baguette into 1-inch-thick rounds (if you prefer thicker slices, go for it!)
Spread butter evenly on each slice of bread
Slice cucumbers thinly and place 2-3 slices on each piece of bread
Depending on how large your ham slices are, you may need to cut them in order to fit them on the bread. Mine were rather large, so I cut them horizontally into 3 or 4 sections
Arrange each slice of ham on top of the bread, butter, and cucumbers. Stick with a toothpick and enjoy!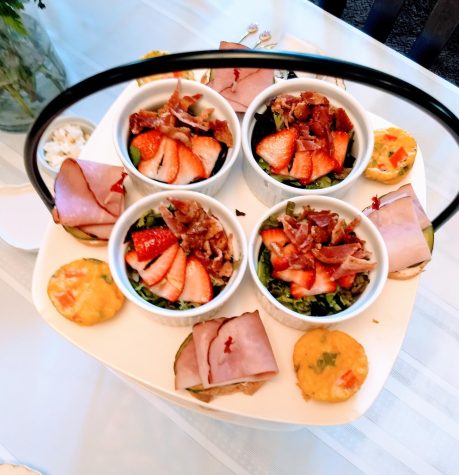 Bacon Strawberry Salad
Ingredients:
Baby Spinach
Cooked Bacon
Strawberries
Feta Cheese (Optional)
Your Favorite Vinaigrette! (I used blush wine vinaigrette)
Instructions:
Dice baby spinach into small sections. I used ceramic ramekins for my salads, but any individual-sized bowl works as well. Fill the ramekins ¾ of the way full with the chopped spinach.
Chop fresh strawberries vertically into thin slices. I find that this method makes for the prettiest salads! Arrange 3-4 slices of strawberry on each salad.
The most important part: bacon! Crumble cooked bacon and sprinkle it generously on top of the salads.
Top each salad with feta cheese (optional).
Drizzle blush wine vinaigrette over each salad and enjoy!
Crustless Quiche
Ingredients:
Recipe modified from Marit Harney's Crustless Quiche Recipe (https://www.yummly.com/recipe/Crustless-Quiche-9351684?prm-v1)
5 eggs
1 clove garlic
3-6 green onions
1 red bell pepper
½ cup milk (I used non-dairy milk)
¼ cup cheese (optional)
½ teaspoon baking powder
Salt
Pepper
Instructions:
Preheat the oven to 350 degrees.
Chop the bell pepper into small squares, chop the green onion, and mince the clove of garlic.
Combine the eggs, peppers, onions, garlic, milk, cheese, baking powder, salt, and pepper in a mixing bowl and whisk until combined.
I used a mini muffin pan for my quiches. Oil your pan and fill each section about ¾ of the way full with the egg mixture.
If using a mini muffin pan, bake for about 15 minutes (or until the center of the quiche is just firm). If you're using a larger pan, you may need to adjust the cook time.
Breads:
Traditional Scones
Ingredients:
From Julia Foerster's recipe
2 ½ cups flour (feel free to sub with gluten free flour if needed)
¼ teaspoon salt
3 ½ teaspoon baking powder
¾ stick cold butter (dairy free butter substitute works as well)
3 tbsp sugar
¾ cup milk (I used oat milk)
1 tsp lemon juice
1 tsp vanilla extract
1 egg, beaten
Instructions:
Preheat the oven to 400°F
In a large bowl mix flour with the salt, baking powder, and sugar. Add the butter, then rub it in with your fingers until the mixture looks like fine crumbs.
Heat up the milk on the stove until warm, but not hot. Add the vanilla and lemon juice, then set aside for a moment. Line a baking sheet with a silicone baking mat and put it in the oven.
Add the milk mixture to the dry mixture and combine them quickly with a fork.
Scatter some flour on the work surface and tip the dough out. Dredge the dough and your hands with a little more flour, then fold the dough over 2-3 times until it's a little smoother. Don't overwork the dough. Pat into a round about 1.5-inch high.
Use a 2 1/2 inch round cookie cutter and plunge into the dough, repeat until all the dough is used. You should get 8 scones.
Brush the tops with egg wash, then carefully place onto the hot baking tray.
Bake for 10-15 mins until risen and golden on the top.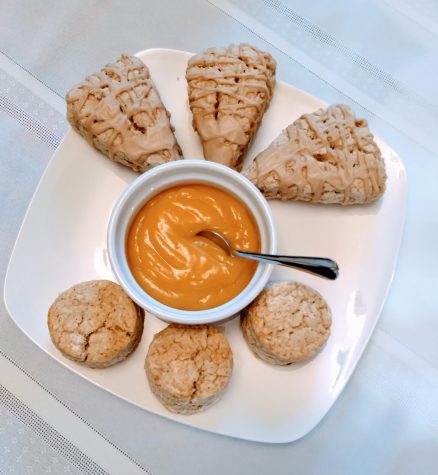 Lemon Curd
Ingredients:
From John Kanell's recipe
https://preppykitchen.com/lemon-curd/
1 cup granulated sugar
2 tbsp lemon zest
6 egg yokes
½ cup lemon juice
½ cup unsalted butter
Instructions:
Separate the yolks from the whites.
Zest the lemons.
Juice the lemons until you have about half a cup of lemon juice. Don't forget to strain out the seeds.
Strain egg yolks into a pot and beat lightly with a wire whisk. Whisk in the sugar and give it a good mix until lighter in color. Stir in lemon juice gradually.
Heat on low, while stirring constantly with a wire whisk until mixture thickens, just starts to bubble and coats back of wooden spoon.
Remove pot from heat, then add the cold, cubed butter and mix until melted.
This is optional but I like to strain the final mixture to remove any bits of zest, etc. The final curd will be SILKY SMOOTH and amazing.
Transfer the curd to a sealable container or bowl. If string in a bowl make sure to cover the surface with plastic wrap to prevent a skin from forming.
Maple Oat Scones
Ingredients:
The Saint James Tearoom
https://stjamestearoom.com/2021/09/27/easy-maple-oat-scone-recipe-with-maple-butter/
2 cups all purpose flour
½ cup whole wheat flour
½ cup old fashioned oats
¼ cup sugar
1 ½ tsp baking powder
½ tsp salt
6 oz cold butter
1 egg
2 ½ oz maple syrup
1 tsp maple extract (optional)
½ cup buttermilk
For the glaze:
1 cup powdered sugar
¼ cup maple syrup
Instructions:
Preheat oven to 375°F. Combine all dry ingredients: the flour, oats, baking powder, sugar, and salt.
Cut in the butter until small sized pieces remain.
In another bowl, whisk together the egg, maple syrup, maple extract (optional), and buttermilk.
Add wet mixture to dry and mix just until a dough forms.
Roll dough to ¾ inch thickness on a floured surface, and cut into your desired scone shape.
Place scones on parchment-lined baking sheet and brush the tops with egg wash.
Bake for 18 minutes and set aside to cool.
Once cooled, brush scones or drizzle with Maple Glaze.
Desserts: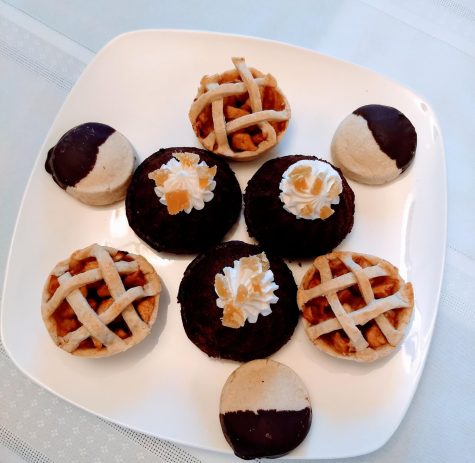 Mini Apple Pies
Ingredients:
From https://www.livewellbakeoften.com/mini-apple-pies/
2 pie crusts (homemade or store-bought)
2 ½ cups chopped apples
¼ cup granulated sugar
2 tbsp flour
1 tsp cinnamon
1 tsp vanilla extract
⅛ tsp ground nutmeg
Instructions:
Preheat oven to 425°F.
Roll the pie crusts out to 1/8″ thickness on a lightly floured surface. Using a 3.5-inch cookie cutter (or a cup) cut out 12 circles from the pie crusts. Re-roll any scrap pieces of pie dough as needed to cut out the circles.
Place each circle of pie crust in each cavity of a standard 12-count muffin pan. Gently press the dough down and around the sides, making sure the dough fits snuggly in each cavity of the muffin pan. Transfer the muffin pan and any leftover pie crust dough to the refrigerator while you make the filling.
In a large mixing bowl, mix together the chopped apples, sugar, flour, ground cinnamon, vanilla extract, and ground nutmeg until fully combined. Remove the muffin pan from the refrigerator and evenly distribute the apple pie filling between all of the cavities in the muffin pan (about 2-3 tablespoons per mini pie).
Remove the extra pie dough from the refrigerator, cut out your designs for the tops of the pies, and place them on top.
Bake at 425°F for 20-25 minutes or until the pie crust is lightly golden brown and the filling is bubbly. Remove from the oven and set aside to cool for 10-15 minutes. Carefully remove the mini pies from the pan and transfer to a wire rack to finish cooling.
Chocolate Ginger Cake
Ingredients:
Modified from https://thehappyfoodie.co.uk/recipes/gorgeous-ginger-and-chocolate-cake/
200g butter
50g cocoa powder
4 tbsp milk
3 eggs
175 g flour
1tsp ground ginger
1 tsp baking powder
250g sugar
Candied ginger (for topping)
Instructions:
Preheat the oven to 350 degrees.
Mix wet ingredients together, then add dry ingredients to wet.
Fill a mini bundt pan (or muffin pan) about ¾ of the way full with batter.
Bake for 15-20 minutes.
Top each cake with vanilla buttercream and chopped candied ginger.
Shortbread Cookies
Ingredients:
Recipe modified from https://www.31daily.com/shortbread-tea-cookies/
1 cup flour
½ cup confectioner's sugar
½ tsp salt
½ cup room-temperature unsalted butter
1 tsp vanilla
Melted chocolate chips to dip cookies in (optional)
Instructions:
Preheat the oven to 350 degrees. Combine wet and dry ingredients together.
Using a rolling pin, roll dough until it is about 1 inch thick.
Using a cookie or biscuit cutter, cut dough and place it on a baking tray.
Bake cookies for 12 minutes.
After the cookies cool, serve or dip half in melted chocolate and enjoy!
View Comments(1)
About the Contributor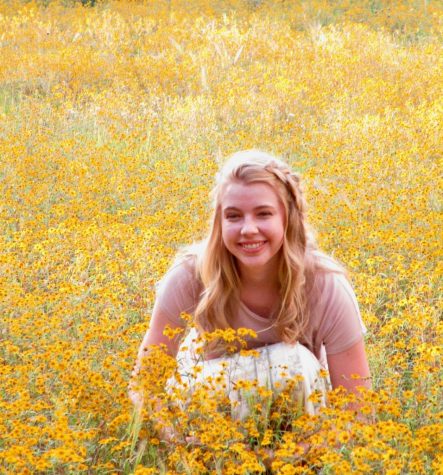 Maile Stroecker, Reporter
Maile Stroecker is a Senior at MODG. She enjoys reading, dancing, running, and spending time with friends and family.