MODG Student Businesses: Vocation Creations by Scholastica Niewald
MODG News is continuing its series on reaching out to our students who have started their own businesses! Scholastica Niewald is just one of these students!
1. In your own words, please explain your business and its mission!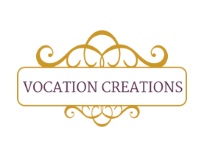 Vocation Creations is a Catholic business that creates gift items for special occasions. My mission statement is to spread different devotions as well as encourage holiness through one's vocation. All items are handmade and packaged by myself.
2. What inspired and led you to start your business?
It began with a craft project during a meeting of a group called the Maidens of Our Lady of the Blessed Sacrament. I enjoyed making these particular keychains that I now call Vocation Beads and thought, this would be a good way to promote a devotion to Our Lady as well as encourage holiness. The three beads that are a part of the keychain represent the 3 Hail Marys devotion. I continue to think of different devotions as well as learn more about them and make an item representing the devotion.
3. How has your business related to your faith, and what have you learned that has brought you closer to Christ through your business?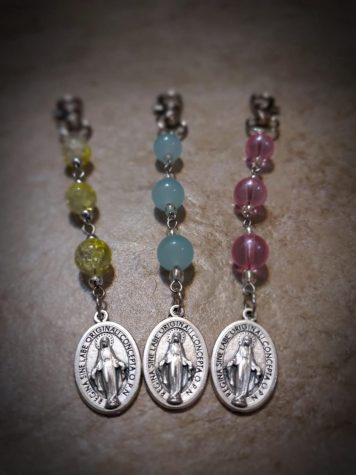 My mother knew of a priest who used the three Hail Mary devotion to guide him in his discernment to his vocation. During the practice of the three Hail Marys devotion, one must recite a particular prayer before each Hail Mary. The first Hail Mary in honor of God the Father, the second one in honor of God the Son, and the third one in honor of God the Holy Spirit. At the end of this devotion, one must recite this particular invocation: "Oh my Mother, preserve me from mortal sin during this day/night." Another item that will be coming out soon is what I like to call Count Your Blessings Bracelet. There are 5 beads on the bracelet which represent 5 blessings that one is to think of at the end of each day. How has God worked in your life that day? This may be done each day before you make your examination of conscience at night. This idea came about to my mother who mentioned it to me after it was spoken of in a sermon by Father Adams of Corpus Christi Chapel. Devotions have brought me closer to Christ as I continue to learn about them and learn their history as well as what they bring to those who pray them.
4. What has been the most challenging aspect of starting and sustaining your own business?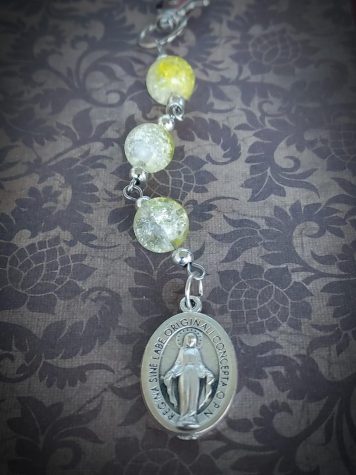 The most difficult part of starting this business and sustaining it is spreading the devotions because not very many people know of these devotions, but it is an amazing opportunity for me to spread the many beautiful devotions to those who have no knowledge of them. One other difficult part is coming up with a devotion and an item to resemble it. As of now, I only have one item which is the Vocation Beads keychain that you may order, but bracelets will be coming as well as other gift items. Sustaining my business includes participation in a local farmers market.
5. And finally, how can our readers get in contact with you? (Please list your contact information! 🙂 )
These keychains are great gifts for birthdays, graduations, small wedding gifts, Mother's Day, or even Father's Day; for Christmas or Easter. You can hang them in your car or on your car keys or even a purse or backpack. These beads are custom-made with many different colors. To place your order of your favorite color, please contact [email protected] Many more items are soon to come! You may also visit my Instagram page @vocation_creations.
If you are or know any MODG students or parents who have their own business and would like to be featured, please reach out to MODG News at [email protected]
Comment below which of Scholastica's creations is your favorite!
Leave a Comment
About the Contributor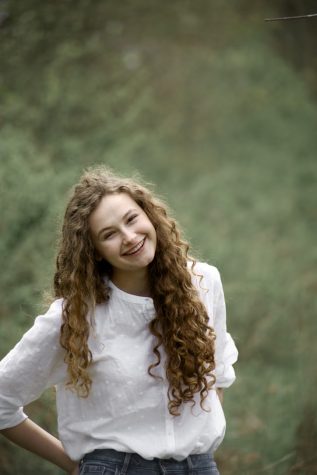 Kaity Gallagher, Reporter
Kaity Rose Gallagher is a News Production student and a senior at MoDG.  She has plans to attend higher education and major in theology.