Golf Scholarship for Dominic Yates
How long have you been playing golf?
I have been playing golf for ten years, and competitively for five years.
How did you first become interested in golfing?
My father has always played golf, and when I was younger he would take me with him sometimes. My interest in the game grew from there.
What is your favorite part about playing golf?
My favorite part about playing golf is there is no one else to blame but yourself. There are no referees who might have made a bad call\; when mistakes happen, it's all on you.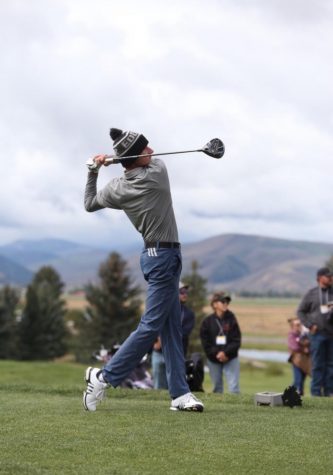 What life lessons has playing golf taught you?
The biggest life lesson golf has taught me is patience and the ability to control my emotions. Golf can be a very emotional sport, and if one wants to be great at it, the mental part of the game must be mastered. Here is a quote from one of the greatest golfers of all time Arnold Palmer. "Success in golf depends less on strength of body but more on strength of mind and character."
How often do you play golf?
When there is no snow on the ground, I try to play three-four times a week.
When did you first think about getting a golf scholarship?
I first started thinking about a golf scholarship when my high school golf coach brought it up to me as a possibility if I can get good enough.
What are some of the advantages that come with a golf scholarship?
Really there is only one advantage that comes with athletic scholarships and that is it helps reduce the cost of attending college by a considerable amount.
What are the requirements for obtaining a golf scholarship?
Most college coaches who are considering athletes for possible scholarships, care the most about good grades and ACT/SAT scores. After this, being good at the sport in question is the second thing they look at. I know many people who have been really good at a sport, but weren't able to receive a scholarship due to their poor GPA.
Which colleges (that you know of) offer a golfing scholarship?
Almost every D-1, D-2, D-3, NAIA, and two year college in America offers golf scholarships.
Have you ever thought about playing golf professionally in the future?
When I was younger that was a dream of mine, but to become a professional golfer requires extreme talents and thousands and thousands of practice hours which I was unfortunately unable to put in.
Finally, what advice would you give to a young golfer who aspires to obtain a golfing scholarship?
Start playing as soon as possible, the more time you spend playing the better. Also playing in golf tournaments is a must\; most college coaches are looking at kids who are able to perform well in tournament play. And lastly, always keep a good attitude when golfing. A good attitude will make for a fun time and better golfer.
Leave a Comment