Christmas and Winter Baking Ideas
Hello fellow bakers! A few of us Journalism students have decided to put out a Christmas and Winter Baking article, to help give you and your families ideas and hints for baking. In this article, there will be cakes, cookies, and other sweet treats! We hope you enjoy!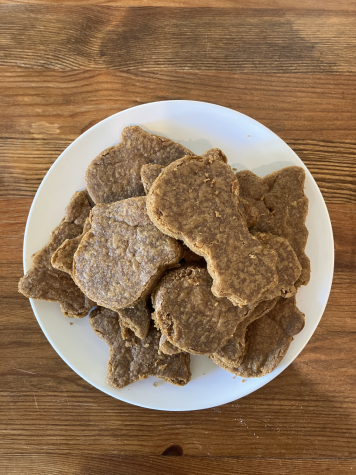 Gingerbread Cookies
Courtesy of Lucía Viloria
1 ¼ cup sugar
1 cup salted butter
1 egg
3 tablespoons molasses
3 cup flour
1 teaspoon baking soda
2 teaspoons cinnamon
2 teaspoons ginger
Pinch of salt
1 teaspoon vanilla extract
Preheat the oven to 350. Combine the first four ingredients in a stand mixer. Beat at medium speed until creamy. Add the next four ingredients; reduce speed to low. Beat until well mixed. Press dough onto a parchment paper lined baking sheet. Bake for 10-12 minutes or until lightly browned around edges. Cool and cut into desired shapes with cookie cutters.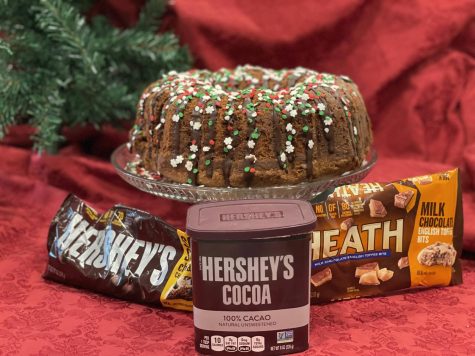 Chocolate Toffee Bundt Cake
Courtesy of Ava Clare Joly
Cake:
½ cup shortening
1 cup butter
3 cups white sugar
5 eggs
2 ½ teaspoons vanilla
5 tablespoons cocoa powder
3 cups flour
½ teaspoon baking powder
½ teaspoon salt
1 ¼ cup milk
8 ounce bag of crushed toffee pieces
Glaze:
1 cup milk chocolate chips
½ cup butter
¼ vanilla
Preheat the oven to 350 F. Combine shortening and butter and beat until blended. Slowly pour in the sugar. Add eggs and vanilla. In a separate bowl, combine all other dry ingredients: cocoa, flour, baking powder, and salt. Then alternate between adding dry ingredients and milk into the shortening/butter mixture. Add about ½ a bag of toffee pieces to the batter. Bake for 45-60 minutes. Once cooled, flip the cake out. For the glaze, melt butter and set aside. Melt the chocolate chips in the microwave for 15-20 second increments and stir each time. Combine butter, chocolate, and vanilla. Drizzle over cake and add holiday sprinkles!
Cappuccino Fudge
Courtesy of Olivia Hendersen
1 tablespoon heavy cream
1-2 tablespoons instant coffee
4 tablespoons unsalted butter
2 cups dark chocolate chips
16 ounce can of dark chocolate icing
2 cups white chocolate chips
16 ounce can of vanilla icing
49 chocolate covered coffee beans
In a small bowl microwave the heavy cream for just a few seconds, and then add the instant coffee, a little bit at a time. Set aside to dissolve.
Place the chocolate chips and 2 tablespoons butter in a saucepan over low heat. Stir until melted and creamy.
Place the container of chocolate frosting in the microwave for 1 minute. Stir and pour into the melted chocolate chips. Stir until creamy. Pour into a foil lined 8×8 pan and set aside.
Heat the white frosting in the microwave for 1 minute. Stir the heavy cream/coffee mixture into it.
Melt the white chips and 2 tablespoons butter in another saucepan over low heat until melted. Stir the coffee flavored frosting into the melted white chips. Stir until smooth and creamy.
Pour slowly on top of the chocolate layer. Let the fudge cool for 10-15 minutes, then place coffee beans every inch. Let sit until firm. Cut into 49 squares. Store in a sealed container.
Recipe source: BruCrew Life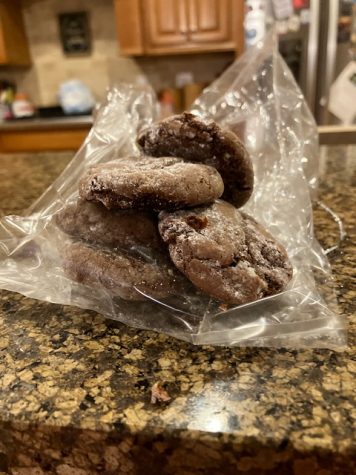 Spiced Eggnog Oatmeal Cream Pies
Courtesy of Olivia Schlater
Prep Time: 2 hours and 40 minutes (including chilling)
Cook Time: 11 minutes
Yield: 12 sandwiches
Cookie Ingredients:
1 and ½ cups all purpose flour
1 teaspoon ground cinnamon
½ teaspoon ground nutmeg
⅔ cups old fashioned whole rolled oats
¾ teaspoon baking soda
½ teaspoon salt
½ cup unsalted butter (softened)
1 cup light of dark brown sugar
2 Tablespoons eggnog (room temperature)
1 large egg (room temperature)
1 teaspoon pure vanilla extract
Frosting Ingredients:
10 Tablespoons unsalted butter
2 cups confectioners sugar
3 Tablespoons eggnog (room temperature)
¼ teaspoon pure vanilla extract
Pinch of salt, ground cinnamon, and ground nutmeg
In a small bowl combine the flour, cinnamon, nutmeg, oats, baking soda, and salt. Set aside.
In a stand mixer fitted with a paddle attachment, cream the butter and brown sugar on medium high speed for about 2 minutes. Add the egg, eggnog, and vanilla extract and beat on high speed until combined, about 1 minute. Scraped down the bowl and beat again as needed to completely combine.
Add the flour mixture to the wet ingredients and mix on low until combined. Dough should be sticky. Cover dough with plastic wrap and chill in the refrigerator for at least 2 hours.
Preheat the oven to 350˚F (177˚C). Line baking sheets with parchment paper or silicone baking mats.
Roll chilled cookie dough into balls, about 1 Tablespoon (24-25g), and place 3 inches apart on the baking sheets. (You should get 24 cookie dough balls)
Bake for 11-12 minutes, or until very lightly browned around the edges. The centers will look soft. Remove from the oven and allow cookies to cool on the baking sheets for 10 minutes before transferring to a wire rack to cool completely.
To make the buttercream filling: use a stand mixer fitted with a paddle or whisk attachment to beat softened butter on high speed until creamy, about 1 minute. Add the confectioners sugar and beat on medium speed for 1-2 minutes. Pour in eggnog and vanilla extract, and add a pinch each of cinnamon, nutmeg, and salt. Beat on high for 2-3 minutes until fluffy.
To assemble cookies: After the cookies have cooled completely, pipe or spread some of the cream filling on the bottom side of a cookie and top with another cookie. Repeat until all the cookies are assembled. Enjoy!
Recipe source: Sally's Baking Addiction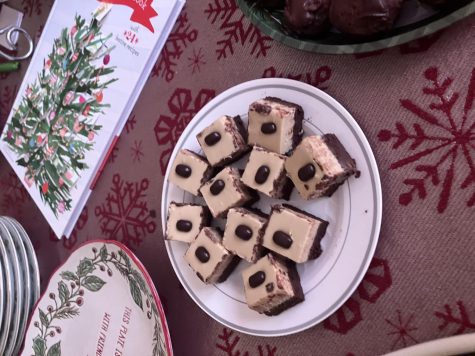 Oreo Truffles
Courtesy of Olivia Schlater
Prep Time: 45 minutes
Cool Time: 1 hour
Yield: 28-32 truffles
36 regular Oreo cookies (do not use double stuffed)
8 ounces block style cream cheese (room temperature)
12 ounces semi sweet, dark, or white chocolate, coarsely chopped
½ teaspoon vegetable oil or coconut oil
Sprikes, Orea crumbs, or additional melted chocolate for garnish (optional)
Place the oreos (the entire cookie, filling and all) in a food processor or blender. Pulse into a fine crumb.
Using a stand mixer fitted with a paddle attachment (you could also just continue using the food processor if it's large enough) beat/pulse the oreo crumbs with the softened cream cheese until combined.
Using a Tablespoon, scoop out a spoon of the mixture and, using your hands, roll into a ball. Place balls on baking sheets or plates lined with parchment paper. If the mixture is too sticky, refrigerate for 15 minutes before rolling into balls. Cover and refrigerate the balls for at least 1 hour or freeze for 30 minutes
Next, place chopped chocolate in a glass bowl or a 2 cup liquid measuring cup. Melt in 20 second increments in the microwave, stirring after each increment, until completely melted and smooth. You can also melt the chocolate using a double boiler. Let the warm chocolate sit for 5 minutes to slightly cool before dipping, otherwise it will melt the shaped Oreo balls.
Working with one Oreo ball at a time, submerge into the melted chocolate and swirl to coat, carefully lifted out using a fork or dipping tool. Tap the fork/tool gently on the side of the bowl/measuring cup to let the chocolate drip off. Use a toothpick to help slide the truffle off of the fork and onto a lined plate or baking sheet.
If desired: top truffles with sprinkles, oreo crumbs, or extra chocolate while the chocolate is still wet.
Refrigerate balls for at least 1 hour to allow the chocolate to set before serving.
Recipe Source: Sally's Baking Addiction