Saint Spotlight: St. Martin of Tours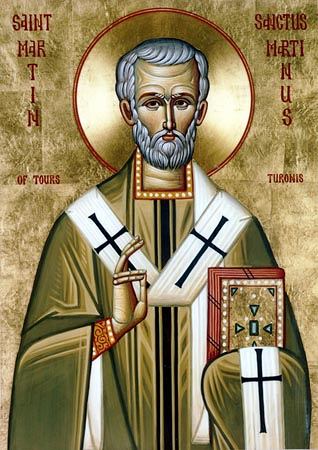 Today's Saint Spotlight is St. Martin of Tours!
St. Martin of Tours was born in Pannonia, somewhere around modern day Hungary. He belonged to a Roman family which, when he was about 16, was shocked to hear of his decision to become trained as a catechumen. However, his studies were put to a stop when he was forced to join the army. It is from his time in the army that he has his most famous story. Legend has it that during his travels in the army he saw a beggar dying of exposure. Martin then cut his large red cloak in half and gave one to the beggar. That night, Jesus visited Martin in a dream and told him that it was He whom Martin helped.
St. Martin was eventually made a priest and placed under the bishopric of St. Hilary, Bishop of Poitiers. Martin founded the first Gallic monastery there and went on to be a famous miracle worker. In 371, he was appointed Bishop of Tours. He went on to found the monastery of Marmoutier, in which he lived. His continued humility and support of the monastic lifestyle made him more and more popular. Many, including St. Benedict, called him the father of monasticism in Gaul, modern France.
Unfortunately, it was during his time as a bishop that a certain Bishop Priscillian and his followers were the first heretics to be executed, on charge of sorcery. St. Martin fought hard against the execution of heretics, believing it to be an issue that the Church should deal with, not the secular government.
St. Martin lived for more than eighty years and died in 397. He is one of the first non-martyrs to be canonized.
St. Martin of Tours, pray for us!
Fun Fact – Martin of Tours is one of the patron saints of France.
Leave a Comment
About the Contributor
Johannes Carrillo, Reporter
Johannes R. Carrillo is a junior of MODG. He has been called a weirdo, a leader, a brother, a student, and a lover of all things good and beautiful.