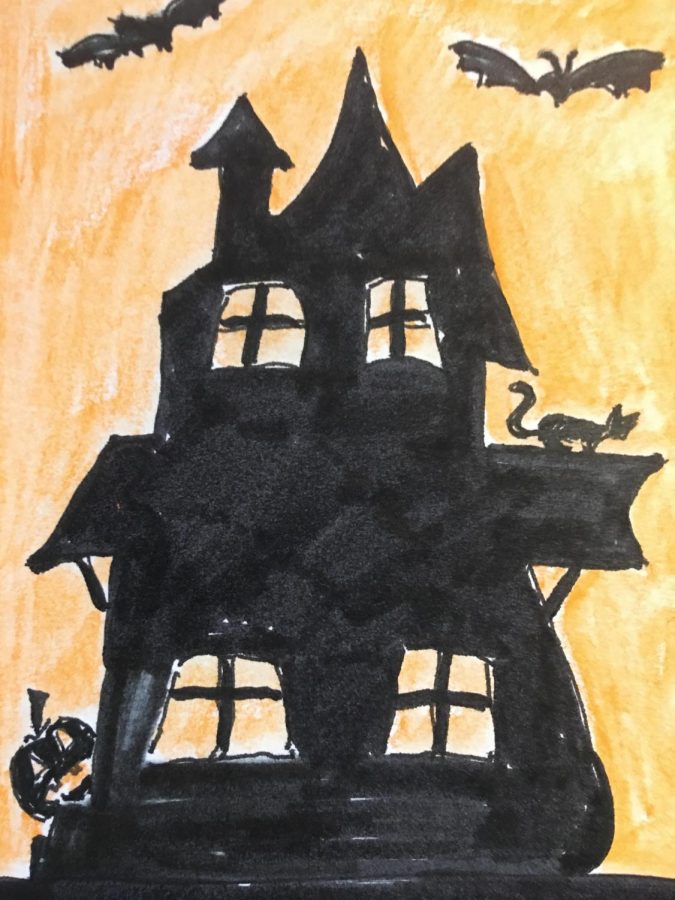 Winning Story on Writer's Quill
Winning Story: We have a winner! Congratulations to MODG student Morgan Dye!
Thanks to everyone who submitted a story for October's prompt!
Stay tuned for the upcoming November prompt!
Here is Morgan's spooky story.
Donavan had just parked his car in the school parking lot. He unbuckled the seat belt and picked up his phone. He jumped out of the car and didn't even bother to close the door.
He yelled into the phone as he pushed through the giant gym doors, "Where are you, Sam?"
The person on the phone answered through static, "I…in the.. science ..ab. Help!…coming….it's COMING!"
"What? You broke up." Donavan shouted again.
The phone call abruptly ended. Donavan felt his stomach drop. Donavan assumed that his friend Sam was trying to convey that he was in the science lab, so he sprinted across the gym and out through the other door into the dark hallway. Donavan was still in his pajamas and had a crusty drool stain coming from his mouth as he accidently ran into a locker.
The locker filled corridor was completely abandoned. It was so dark he could barely see his hand in front of his face. Yet Donavan persisted in running.
He knew the way to the science lab, and he definitely didn't want to stay in this hallway any longer. It was giving him major horror movie vibes with all the cobwebs and Halloween decorations.
That is when Donavan heard it; a moan so loud and so spine-chilling; he froze in his tracks.
'Okay. I understand why Sam was so terrified now,' he thought.
He heard loud scratches as if claws were destroying the metal lockers he had just passed.
He turned around as slowly as he could.
There, before Donavan's adrenaline-shot eyes was a large shadow with bright yellow eyes and a septic-tank stench you could smell for miles.
"Uh. Bye!" Donavan said aloud as he resumed his sprint which was now faster than ever before.
He could not hear anything following behind him, but that didn't make him slow down. No, if anything, it made him speed up.
Finally, he turned the corner and entered the science lab. The lights were off, and he ran into one of the two person tables.
"OW!" he said as he cradled his stomach.
Suddenly a hand cupped his mouth. Donavan tried to scream but he calmed down when he heard someone whisper into his ear,
"Don! It's me! Calm Down!"
The hand let go of his face.
"Oh my gosh! Sam! What was that thing?"
"I'll explain everything later! Right now, I need to know where you parked your car? We have to get out of here! You are lucky to be alive if you saw it."
"I parked next to the gym."
"Alright. Follow me then," Sam said, as he peered through the science lab's window.
He then opened it and started to sneak down the hallway, and a confused, sweat-drenched Donavan followed.
The hallway was dim, the cob-webs abundant, the dust thick, yet the two friends bravely pressed forward.
Suddenly, they heard a noise like a sepulchral moan from behind. "Run!" shrieked Sam.

Winning Story on Writer's Quill