The MasterChef: Dinner Rolls
Rebecca's dinner roll recipe: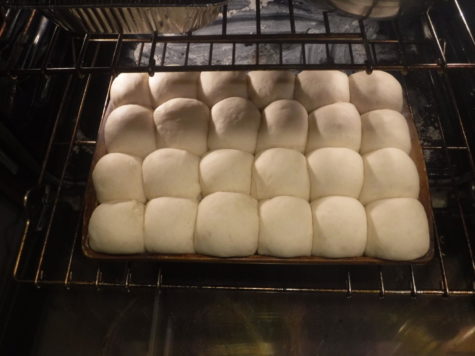 Ingredients:
1 cup warm milk
½ cup melted butter
¾ cup warm water
5 tsp. yeast
⅓ cup sugar
1 tsp. salt
4 – 4/½ cups flour
Directions:
Preheat oven to 350* F.
Mix the milk, butter, water, yeast, sugar, and salt until combined.
Add the flour one cup at a time until you have a soft and elastic dough.
Knead the dough by hand, for 3-5 minutes. Let sit and proof for 10 minutes until doubled in size.
Put in pans, separating dough into about 24 rolls.
Let proof until doubled.
(Note: if you have an oven with bread proof option, it works well for these rolls. If not, they rise just as well on the counter.)
Once it has risen, let rolls bake for 25 minutes, brushing the tops with butter about halfway through. (Note: if you brush tops earlier they will fall and not be so puffed up)
Once done baking, the only thing left to do is enjoy!!