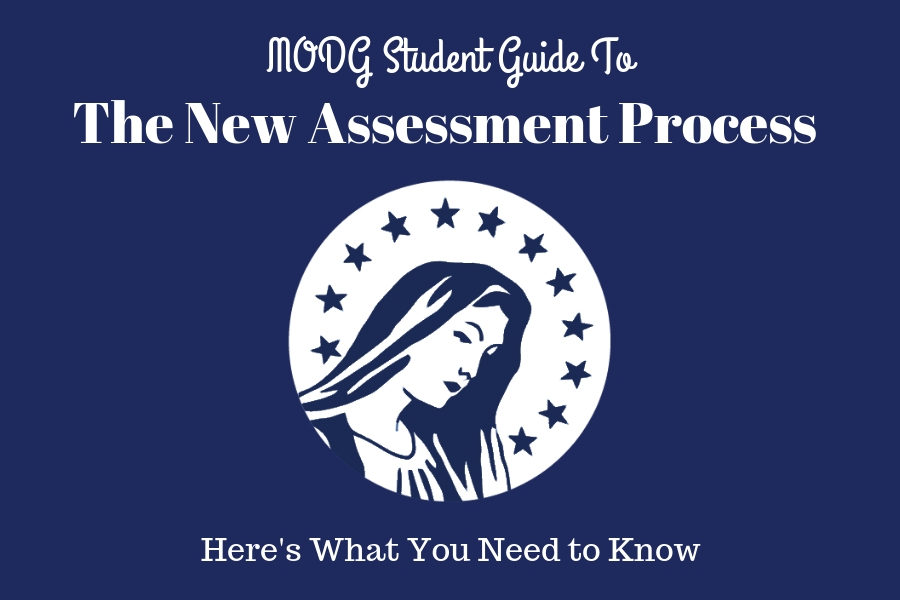 Graphic by Gwynith Hayden using Canva.
MODG Database Administrator Michaela Berquist tells MODG News Reporter Faith Costello what you need to know about the new assessment process.
Why has the assessment process been changed?
Our students in LS and TS have been using our family web-site for many years now to both take tests online and to submit papers for teacher review. Many families have asked us to allow them to submit assessments through our family site because they find the process so convenient. Our family site has allowed parents, students, consultants and teachers to easily share student work and communicate about key skills, mastery of content, and areas that need development. We wanted to extend this easy exchange of information to all of our families and our new online assessment provides this!
We also wanted to provide our parents, students and consultants with the additional support of assessors. Our assessors are experienced MODG consultants and teachers who can provide an additional level of review and feedback.
What are the major differences?
The major difference is that our new system makes use of both our online tests and our document uploading to facilitate both completing and submitting assessments. Many of the assessment assignments are unchanged from the past. They are the same syllabus assignments as before, but now the parent or student can submit them online as soon as the assignment is completed. Once uploaded there is no danger of losing that paper! We did revise some of our assessment tests as we moved them online. These are "changes" in presentation, but the assessments remain the same in type. We are still assessing our students on the same skills. We use the same rubrics as before. But our new online tests allows us to better accommodate students using a variety of standard and non-standard texts giving parents more flexibility while still allowing MODG to provide targeted feedback.
We have also added in the assessor review. This is an addition rather than a change from the past because the consultant remains heavily involved in the assessment process. The consultant sets up the assessments, she modifies them as needed through the year if changes are made and she still reviews student work through the year.
What should people know, and how do they go about getting information?
Our new system is designed to make the assessment process easier for families! I would encourage families to watch our short (7-8 min) videos. We have a video that provides an overview of the assessment process from the student's view. Parents and students can watch how to find assessments, how to upload papers, how to link up papers to assessments and where to take online tests. We also have some short videos on how to take online quizzes and some tips for using math quizzes! I would also encourage families to read Laura's Letter and our FAQ's. These are all on the family site. Families can also talk with our office staff by phone or chat. I encourage you to just try it out! Parents and students have commented on how easy it is to use the new system.