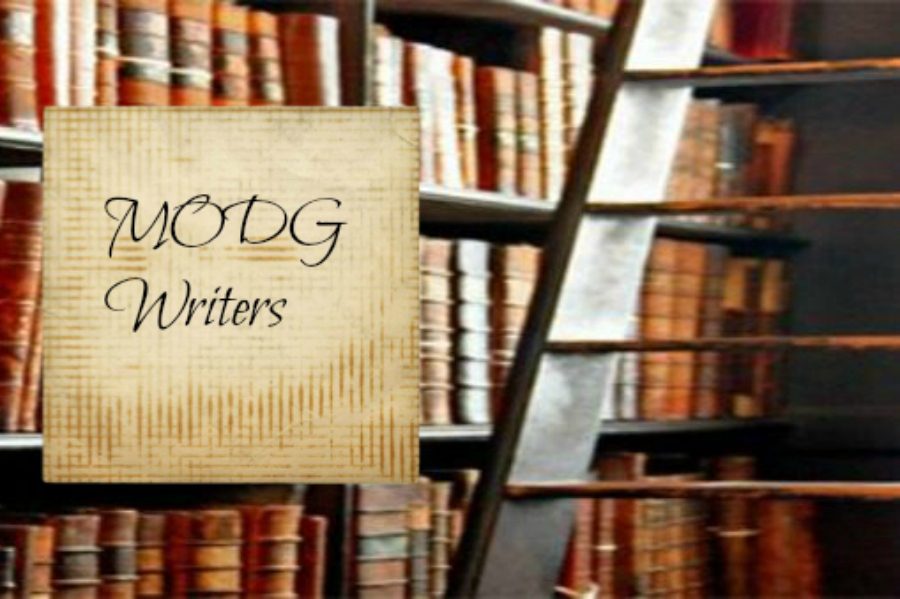 Being a homeschooler seems to induce being creative. Many Mother of Divine Grace students are involved and excel in different arts. VOX has covered calligraphers and manga artists, musicians and videographers. Now VOX will take a look at another art form: Creative Writing. Creative writing is the art of writing stories, usually in the fiction genre. Many MODG students practice this; just look at The Writer's Quill!
When asked what draws her to creative writing, 10th grader Audra Tulipana said, "The desire to give away a piece of my heart… I find a beautiful gem of creativity, a lovely plot line, or a special lesson I've learned, and I simply must share it with others. When I share what I write with others, I hope to uplift them and take them places they would never go otherwise." Lindsay Newman, grade 10, and Maura Martin, grade 9, added that they love the creativity involved, the self-expression, and the ability to make their own new worlds come alive.
These three writers mostly agree that fantasy is their favorite to write, and Lindsay added, "It's so much more fun to write those kinds of things."
When asked how often they are able to practice their craft, Maura commented, "I write about two hours a week. I'd like to write more, but it's kind of hard while I'm still recovering from getting thrown into high school."
Lindsay agreed, mentioning that, "school pretty much dominates 75% of my life."
Audra said that she usually writes every day after her siblings are asleep and that, "Almost every day I get a little bit more done." She added that, "Strangely enough, I find it easier to write during the school year, and difficult to write during the summer."
Each girl was asked to tell about their writing style and what makes it unique. Maura had this to say: "I am greatly influenced by J. R. R. Tolkien, C. S. Lewis, Christopher Paolini, Anne McCaffrey, J. K. Rowling, and Agatha Christie. I'd say I'm mostly fantasy, with some Si-Fi elements. I don't know if it's particularly unique, but I think my characters and descriptions are pretty believable."
"Well, I prefer to write in the first person and in the present tense," Lindsay explained, "because all of the "I's" make it seem like you're reading your own adventure. I also prefer to write as someone might think. It's easy to understand what I'm trying to say through my writing, and it's simple. It's also much easier to write in my opinion."
Audra answered, "My writing style might be unique from other writers because I believe in developing characters through conversation. I try to illustrate them through their conversations, through the relationships they have with other people. I want the reader to form their own image of my characters. I often do not bind them by strict descriptions, as I find that can be crippling to a story. I have a general idea in my mind of how they appear and as the story goes on their figure grows until the end when everyone can see for themselves what kind of person the character is.
All three of these talented girls have been writing for a long time. Lindsay says, "I've been writing short stories since third grade. That's when I really got interested in creative writing. I even won second place in a writing contest in fifth grade. I started writing bigger stories, like books, about two years ago."
"The first thing I wrote was a book about two rabbits when I was about six. The first real storyline I came up with was a sequel to Robin Hood when I was turning eight," said Maura.
Audra stated, "I have been writing for as long as I could spell my name. For years, I would dictate stories to my Mom. Once I was able to read I began writing short stories. It wasn't until I was twelve or thirteen however that I began to take creative writing seriously, and endeavored to branch out and write a full-length novel."
And write she did! Audra revealed that "The longest thing I have ever written was a collection of fairytales. The first draft came out to 61,000 words total. In a close second, however, is my last complete novel, Beyond The Horizon which is about 51,000 words long."
Lindsay explained that, "So far my longest project has been 73,122 words. It is 187 pages and is titled Kings Clan: War."
Maura said, "The longest thing I have finished writing was a poem/song about the history of the Ring from the Hobbit and Lord of the Rings. It is fifteen four-line stanzas. The longest thing I have written ever is a book, which I am writing currently."
When asked what they hope their future in writing would be, Lindsay said, "I would love to become a published author. This is on my bucket list. I want to become a teacher for English/grammar/other Language Arts stuff, and then tie that into my writing."
Maura explained that, "I would like it [book] published, and I'm not sure about it [writing] as a career yet."
Audra revealed,"I plan to continue writing until the day I die. Though becoming an author as my profession sounds like the most fantastic job on the face of the earth, I don't feel like I could really support myself through it. I also am extremely interested in becoming a doctor, so I feel like writing will be more of an additional occupation and less my primary source of income. My goal is to create adventures with purpose, romances with chastity, and stories that make the readers think of something greater. I have dreamt of becoming a published author since I was very little, and I pray that God will grant my wish sometime during my life. I write to bring glory to God, and my prayer is that He will shine through me to work small miracles in people's lives."