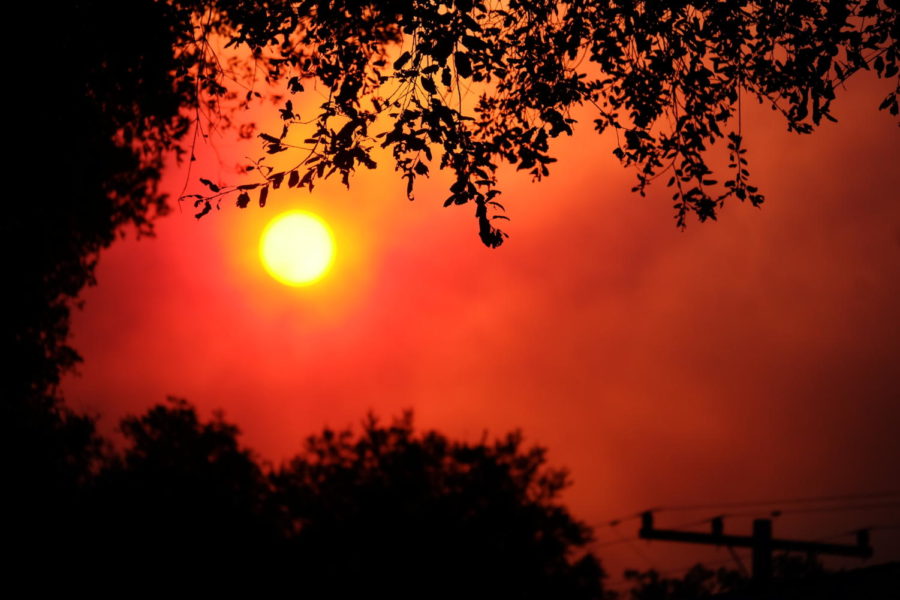 Gwynith Hayden
Thomas Rankin, MODG graduate, is fighting the California fires with the U.S. Forest Service. Thomas shares his story and thoughts on the California fires in this interview. 
GH: Tell me a little bit about your background. Where did you go to school?
TR: I grew up in Acton, California, which is located between Antelope Valley and Santa Clarita Valley. Growing up, my dad was a firefighter which was a big influence on my choice of career. I saw him going off to fires and doing the job he loved. I wanted to do emergency services to help people, and particularly to help with fires. It runs in the family.
My mom educated us through Mother of Divine Grace all through grade school and up through highschool as well. After highschool, I enrolled in Antelope Valley College. While there, I took some classes in wildland fire technology, and that solidified what I was going to do. Right now I'm still going to still working towards a degree in wildfire technology. I also went to EMT school and got a certificate, and took the national EMT test and got certified.  
GH: Was it always a dream of yours to join the Forest Service? 
TR: I'd say so. I enjoy this kind of stuff, as crazy as it sounds, I like going in and fighting fires. 
GH: When did you decide to join the US Forest Service?  Why did you join? 
TR: I joined because I'd heard that they were the best at doing wildland fires and the easiest to get into as far as they accept you right off the street. I put in my application and actually got rejected during the interview, but I kept trying and got accepted the second time.
GH: How have the California fires affected you? 
TR: Fires are like what snow is to people living on the Eastern shore. It's a part of the weather at this point. Personally, I've been affected several times by fires near my home, and had to evacuate twice. After that you kind of resent the fire, but at this point it seems like the fires are a good part of what's going on. 
GH: You have been fighting fires up in Northern California. What is that like? 
TR: It's very exciting. I enjoy it every morning, getting up and going to work. You never know what the day's going to hold for you. It has an exciting and scary feeling at the same time. In the Forest Service, we do the job the best we can and try to protect the public, and put public safety and our own safety first. 
GH: Have fire-fighting strategies changed since 2017, which had the highest number of fire incidents that has been seen over the past five years? 
TR: I'd say very slightly. Most of the time we are going to protect Forest Service land. Since more people have been moving onto Forest Service land, our main goal has changed a little bit so that not only we are protecting the forest but also those living in the forest. We are making sure they get out and doing our best to protect the structures. 
GH: What are your thoughts on some of the current measures in place for fire prevention, particularly the power outages? 
TR: From my point of view, I can't really say whether it's a good idea or not. I'm sure it affects a lot of people in very bad ways. A lot of fires this year were started around power lines, not to say it's the power company's fault, but I think it's the energy companies trying to prevent more fires. 
GH: Is there anything you wish people knew about fighting fires or working in the forestry service? 
TR: Some people think you have to have a clean background but the forest service is a very open hiring field. They are even open to hiring ex-convicts without a violent background. 
It's very rewarding. It's so rewarding to put out a fire and knowing that you helped something greater than yourself. 
GH: Would you encourage other people to join the Forest Service or the Fire Department in general? 
TR: I would encourage people, but only if they want to. It's very rewarding. It's rewarding but also difficult. You have to have your heart and soul knowing you want to do it… almost like a vocation to the priesthood.
GH: Is there anything you would like to add before we end this interview? 
TR: One of the most important parts of protecting yourself from fires is to look up what your county or city regulations are as far as fire clearance. A lot of the structures that get destroyed don't have clearance. It is a good step to helping your house stay protected.
Make sure you have your clearance up to code or further. It never hurts to do more. Always have your valuables ready to go in a spot where you can access them quickly. When you're told to evacuate, evacuate. You are not just protecting yourself, but also the firefighters who would have to go in if you don't evacuate.