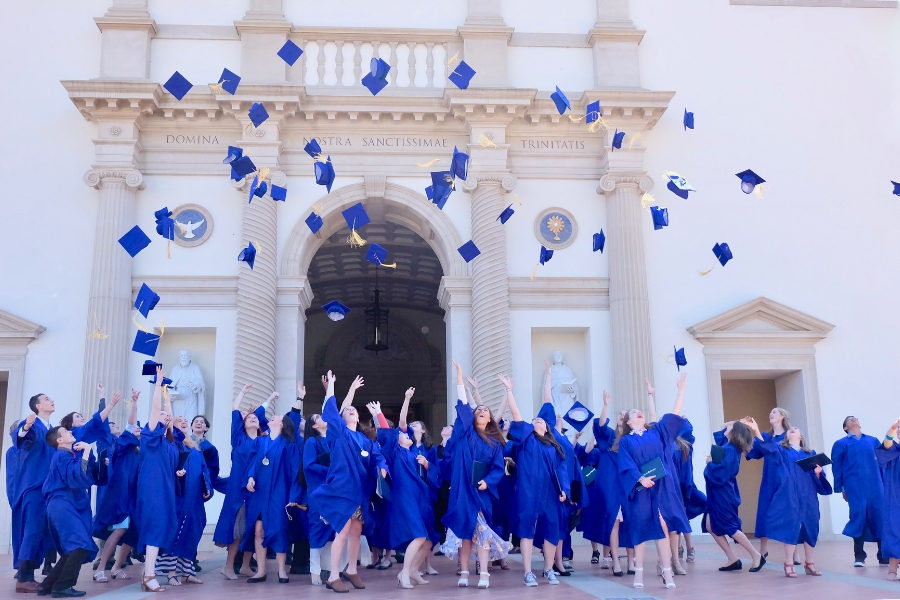 Gwynith Hayden
MODG will be holding two Graduations for the Class of 2020.
The first ceremony will be held at Benedictine College, located in Atchison, Kansas, on May 23, 2020.
A second graduation ceremony will happen a week later at Thomas Aquinas College, located in California on May 30, 2020.
Event details are still being planned, and MODG will send out information by email if you sign up through this link: https://www.modgnews.com/
Mother of Divine Grace School is very excited to offer these great opportunities!
Christopher Sebastian, MODG teacher and staff member said, "I really think it's fitting to celebrate the accomplishments of your rigorous high school experience with graduation festivities that match the hard work you put into it!
"On top of being able to join together with your classmates, friends, and family to recognize your achievements, it's also wonderful to be able to share our Catholic Faith with one another at two phenomenal Catholic colleges, Thomas Aquinas College and Benedictine College.
"We are always so thrilled to see the joy that our graduates share with each other when they meet in person, and find that there is no lack of conversation at any point!
"We are excited to be able to offer two locations this year, in order to allow more people to join us in prayer and fellowship to congratulate our graduates on what they have already done, and to look forward together at what they will do, in bringing Christ to all those around them!"